SUBSCRIBE to Swing Time's Weekly Email Newsletter
Swing Time Newsletter — Tuesday DEC 20th 2016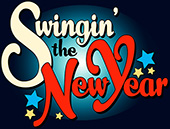 Tickets are selling at a record pace for Swingin' the New Year featuring The Jive Aces! The Swing Time section is now SOLD OUT. However, Swing Time regulars are taking over the entire right-hand side of the Coliseum, Section B, Alcoves, and all! If you want to join the fun and don't yet have your ticket, go online ASAP and purchase any of the remaining tickets in Section B. Both Section B & Section A will sell out soon. Or if you'll be dancing the entire evening and don't care where (or if) you sit, choose the Dancer Ticket option; we'll give you $2 off if you let us choose your seat.
This Wednesday at Gulfport, we'll be selling tickets in Alcove #10 (right hand side, closest to stage) for $35 each. Alcoves are a fun option, and it's become a tradition in the alcoves to bring a snack or dish to share. Or, if you'd like your very own private alcove (recommended for groups of 17+), we have two of those remaining, first-come, first-serve.
Balboa Boot Camp II Earlybird Deadline Reminder — Get your registration in by this Friday (Dec 23) to get the earlybird price and save $10. (Boot Camp happens Saturday afternoon, January 7th. Details below.)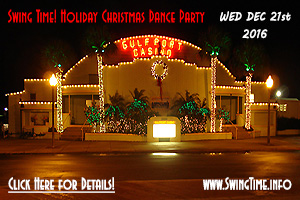 This Wednesday, December 21st, is Swing Time's Holiday Christmas Dance Party at the Gulfport Casino Swing Night. Celebrate the Christmas season with refreshments, lights & decor, plus we'll mix in the best of swingable holiday music! The whole City of Gulfport, especially the waterfront/Casino area, will be beautifully decorated for the holidays,... and wait 'til you see the Casino itself, with festive lights and decor both inside & out! Join us for this holiday dance celebration, with Foxtrot Lesson 6-7pm, Swing Lesson 7-8pm, Dancing 8-11pm, and a special tap dance performance at intermission by the Top Hat Tappers! Just $8 includes both lessons and the dance, students get $5 admission, and birthday people get free admission. All ages are welcome, and no partner is needed.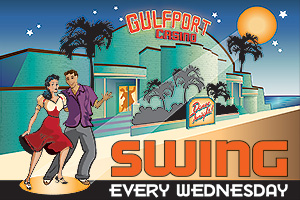 Next Wednesday, December 28th, is the Gulfport Casino Swing Night, with Shim Sham Lesson 6-7pm, Swing Lesson 7-8pm, and Dancing 8-11pm. Just $8 includes both lessons and the dance, and students get $5 admission. Is your birthday coming up? Celebrate your birthday at the Gulfport Casino Swing Night.
Get ready for Lindy Hop Lessons, happening every Wednesday in January, 6-7pm, at the Gulfport Casino Swing Night!
Join us Swingin' the New Year at the spectacular St. Petersburg Coliseum, featuring UK swing sensations, The Jive Aces! Bring your friends & family, bring your sweetheart, or bring yourself...any way you make it, it's going to be a great time! Purchase Tickets
SWINGIN' THE NEW YEAR 12/31/2016
New Year's Eve — Florida's Biggest Swing-Dance Event!


Purchase Tickets Now online to secure the best seats. Terms of sale
| Type of Ticket | Price (Click to Buy) | Description |
| --- | --- | --- |
| Reserved Seat | Buy Now 35.00 | Choose Your Own Seats...Going Fast! |
| Dancer Ticket | Buy Now 33.00 | Don't care to sit (much)? You'll receive a random seat |
| Singles Table | Buy Now 35.00 | You'll be assigned a seat at a Singles Table |
| VIP Alcove | Buy Now 700.00 | Includes 28 Tickets + FREE ALCOVE + Deluxe Chocolates! |
Group discounts are available for parties of 10 or more and will be applied automatically.
Have a Party of 17 or More People? — Reserve a VIP Alcove — Only 2 Alcoves Remain
GRAND NEW YEAR'S EVE CELEBRATION FOR ALL AGES



Photos from prior Swingin' the New Year celebration by Steve Wilcox
---
SWINGIN' THE NEW YEAR...BONUS ATTRACTIONS
Photo Booth Vintage Fashion Contest Prize Giveaway
VINTAGE FASHION CONTEST — $400+ WORTH OF PRIZES: Prizes will be awarded to the Top Female Contestant, Top Male Contestant, and Top Vintage Couple, plus runners up in all three categories. Prizes include a Sunset Sail or Dolphin Watch Cruise for Two courtesy of Dolphin Landings Charter Boat Center, $50 Gift Certificates to La Cote Basque Winehouse & Restaurant, deluxe gift boxes of chocolate, and dance event tickets! To enter the Vintage Fashion Contest, dress up from the era of your choice, and be at the Photo Booth at the first band break (typically around 9:45pm). Judging will happen at the photo booth, plus you'll get your pictures taken. Finalists will be featured on stage later in the evening.

PRIZE GIVEAWAY: Enter the Prize Drawing to win a Dolphin Watch or Sunset Sail Cruise for Two courtesy of Dolphin Landings Charter Boat Center! Additional prizes include deluxe gift boxes of chocolate, and swing/dance event tickets! Drawings will happen at band intermission.

PHOTO BOOTH: All ticketholders are encouraged to visit the Photo Booth at some point during the Celebration to get your pictures taken. Dress to impress!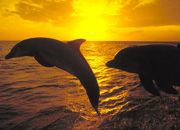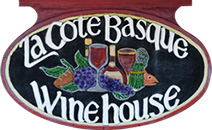 Dolphin Landings Charter Boat Center offers a variety of public day cruises and private charters including the ever popular Dolphin Watch and Sunset Sails, all departing from St Pete Beach. Dolphin Landings is located at 4737 Gulf Blvd, St Pete Beach, FL 33706 (Phone 727-360-7411).
Dine before you dance at La Cote Basque Winehouse. La Cote Basque features fine French & Continental Cuisine, walking distance from the Wednesday Swing Nights at the Gulfport Casino. La Cote Basque is located at 3104 Beach Blvd S, Gulfport, FL 33707 (Phone 727-321-6888).
---
Live Music & Dancing + Celebration! 9pm-1am
Swing Dance Lesson: 8-9pm (no partner needed)
Doors Open 7:30pm
Midnight Countdown & BALLOON DROP
Vintage Fashion Photo Shoot & Contest!
Party Favors ~ Noisemakers ~ Chocolates ~ Prize Giveaways
Full Cash Bar w/ Champagne Bottles & Toasts Available
All Ages * Smoke-Free * New Year's Decor * Free Parking
Dress to Impress! New Year's and Vintage Attire Encouraged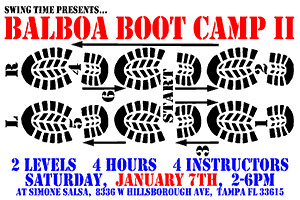 Saturday, January 7th, is Balboa Boot Camp II, a complete four-week Balboa course, all in one afternoon! Learn Balboa, the top dance craze in the swing world. Two levels are offered, beginning and intermediate. Balboa Boot Camp happens 2-6pm at Simone Salsa studio in Tampa. Registration is $25 through December 23rd (Earlybird Special), $30 through January 6th at 6:00pm (Advance Registration), or $35 at the door (Day of Event). Register online right now to save $10. Practice Your Balboa Bonus — All Balboa Boot Camp participants get free admission to the next Saturday Swing dance, held Saturday January 21st at Simone Salsa. More Info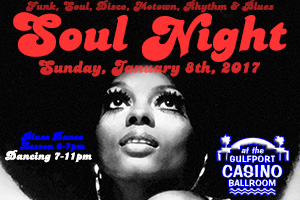 Sunday, January 8th, is Soul Night at the Gulfport Casino Ballroom! Dance to the best in Funk, Soul, Disco, Motown, Rhythm & Blues, with an exciting mix of retro and modern music. Dance West-Coast Swing, Hustle, Blues, Cha Cha, Rumba, Swing, Carolina Shag, and more! Music and dancing happens 7-11pm. Special guest instructors, Dana Ryann & Seth Dietzel, teach a Blues Dance Lesson 6-7pm. Just $8 includes the dance AND the lesson. Students get $5 admission. Soul Night is held the Second Sunday of every month at the Gulfport Casino. (It replaces the prior Ballroom Fusion Night.)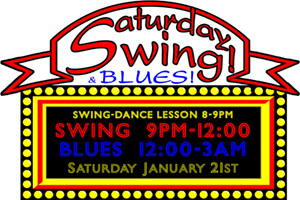 Saturday, January 21st, is Saturday Swing & Blues in Tampa, with Swing Dancing 9pm-12:00, plus Blues Dancing Midnight-3:00am. Join us at 8pm, prior to the dancing, for the Swing Dance Lesson. Admission is $10 before midnight (includes lesson, swing dancing, and blues dancing), or $5 after midnight (includes blues dancing only). All ages are welcome, no partners are needed, and prizes are given away at intermission. Saturday Swing & Blues happens the 3rd Saturday of every month at Simone Salsa studio, 8336 W. Hillsborough Ave., Tampa, FL 33615. Simone Salsa features awesome atmosphere, lighting, and sound; its own free parking lot; and a large smooth hardwood dance floor.
---
Spread the word! Join our events on Facebook and invite friends:
Holiday Christmas Dance Party — WED 12/21
Swingin' the New Year Celebration featuring Jive Aces — SAT 12/31
Balboa Boot Camp II — SAT 1/7
Soul Night — SUN 1/8
---
GET THE SWING NEWS Delivered to Your Email

© All contents of this web site (www.SwingNews.com) except where otherwise stated are Copyright 1998-2017 Retro Production Company with all rights reserved
---