SUBSCRIBE to Swing Time's Weekly Email Newsletter
Swing Time Newsletter — Monday OCTOBER 28th 2019
HALLOWEEN COSTUME BALL — THIS WEDNESDAY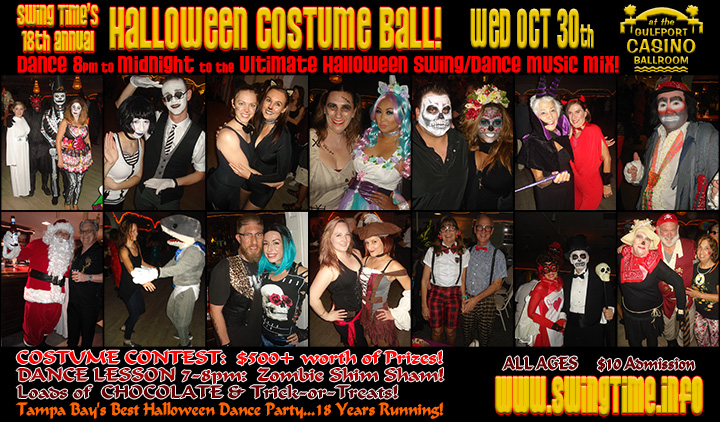 See photos from last year's Halloween Costume Ball
This coming Wednesday, October 30th, is Swing Time's 18th Annual Halloween Costume Ball at the Gulfport Casino Swing Night. Put on your best costume and get ready to swing with all sorts of exciting characters! The Ball starts with a one-of-a-kind dance lesson: Shim Sham (with Special Zombie Styling!) 7-8pm; no partner needed. Starting at 8pm, dance 'til the midnight hour to the Ultimate Halloween Swing/Dance Music Mix... that's right! — all Halloweeny music, all the way to midnight! The Halloween Costume Ball features a Costume Parade & Contest with $500+ worth of Prizes for the best costumes. (See categories.) The Ball features loads of Chocolate, Candy & Trick-or-Treats; Door Prizes; a Zombie Shim Sham; a Steal Dance Mixer; plus Special Halloween Decor & Atmosphere. Just $10 admission includes EVERYTHING, and all ages are welcome. (No free passes or student specials accepted at this special event.) Experience Tampa Bay's Best Halloween Dance Party... eighteen years running! See photos from the last three Halloween Costume Balls.
Costume Contest — Prizes for: Best (Overall), Best Hollywood, Best SciFi, Best Disney/Cartoon, Best Superhero, Best Historical, Scariest, Funniest, and Most Original. Enter contest before 9:30pm. Prizes include a Dolphin Watch or Sunset Sail Cruise for Two courtesy of Dolphin Landings Charter Boat Center, a $50 Don Cesar Gift Card (good for everything from food to drinks to the Ice Cream Parlor), plus lots of dance tickets and other great stuff!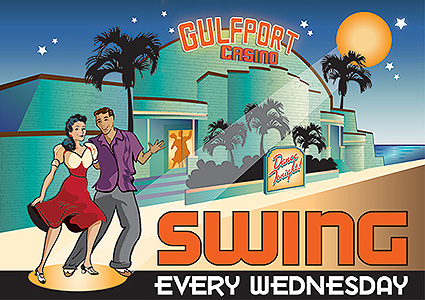 Wednesday, November 6th, is the Gulfport Casino Swing Night, with Charleston Lesson 6-7pm, Swing Lesson 7-8pm, and Dancing 8-11pm. Just $8 includes both lessons and the dance, students get $6 admission, and birthday people get free admission.
Charleston Lessons happen every Wednesday in November, 6-7pm, at the Gulfport Casino Swing Night instructed by Sam. Charleston is a vital extension of both East-Coast Swing and Lindy Hop, so everything you learn in these Charleston classes can be added onto either dance, extending your repertoire. The first three weeks of Charleston lessons will be low impact, so nearly anyone can do the moves and learn the essential Charleston, with very little athletic ability required. Here's the schedule — Week 1: Triple-Time Charleston, Week 2: Touch Charleston + 20's-Style, Week 3: Rock-Step Charleston, Week 4: Charleston with a Kick!
New Year's Eve tickets are on sale Wednesdays in the Swing Time Section. We've reserved a central block of great seats for Swing Time regulars at Swingin' the New Year (St. Petersburg Coliseum). Tickets in the Swing Time Section are available to dancers who attend (and purchase them in person at) prior Swing Time events.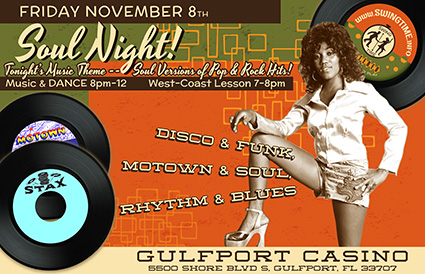 Friday November 8th is Soul Night at the Gulfport Casino. Dance 8pm-midnight to the best in Funk, Soul, Disco, Motown, Rhythm & Blues, featuring an exciting mix of retro & modern dance music, great for a variety of partner dances (Swing, Hustle, West-Coast, Blues, etc) plus group, line, and freestyle dancing! Arrive early for a West-Coast Swing Lesson 7-8pm. Just $10 includes the dance AND the lesson. Students get $6 admission if they show up by 7pm and take the lesson. Look for a special dance performance at 9pm by Danielle Blouin & Team Floorplay.
Tonight's music theme is Soul Versions of Pop & Rock Hits. We'll mix in soul versions of songs that were mega-hits on the pop charts...in many cases, the soul version is the original version! Come hear some fresh grooves, and get ready to dance!
Swing Time welcomes special guest instructor, Renee Lipman, who'll teach the 7pm West-Coast Swing lesson. Renee is a mover and shaker in the West-Coast world who's largely responsible for the resurgence of West-Coast Swing in Tampa Bay.&nbsp Since 2006, she's won numerous competitions, including a silver medal in the 2007 U.S. Open Swing Dance Championships.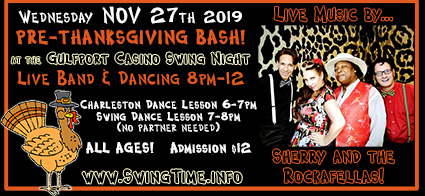 Wednesday, November 27th — With Thanksgiving on Thursday, the weekend starts Wednesday night, when Swing Time hosts a special evening of live music and swing dancing! Join in celebration at the Gulfport Casino Swing Night for Swing Time's Pre-Thanksgiving Bash! This huge swing-dance party is always one of the biggest Wednesday Swing Nights of the year, attracting not just locals but out-of-towners who are home for the holidays.
The Bash features live & swingin' music by Sherry & the Rockafellas! The evening starts with a Charleston Lesson 6-7pm, followed by Swing Lesson 7-8pm, then Live Music & Dancing 8pm-midnight. Admission's just $12 (get your tickets at the door), all ages are welcome, no partner is needed, and it all happens in the spectacular waterfront ballroom of the Gulfport Casino!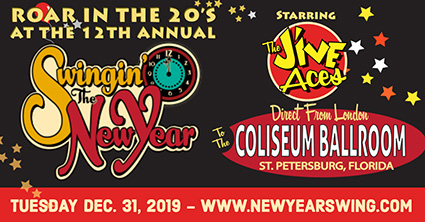 Earlybird Deadline Thursday — Save $8/Ticket — Purchase by October 31st
Make plans now to attend Swingin' the New Year at the spectacular St. Petersburg Coliseum featuring UK swing sensations, The Jive Aces! This year's grand celebration features a midnight balloon drop, dance performances, a Roaring 20's costume contest, live music, unbeatable atmosphere, and dancing with your favorite friends! Ticket options include: A) Start or Join a Group, B) Choose Your Own Seats, C) VIP Round Tables, D) Alcoves and more. Buy tickets now to reserve the best seats, or to start a group that others can join. Swingin' the New Year is Tampa Bay's best New Year's Eve dance party...get ready for the fun to begin! See www.NewYearSwing.com for full celebration info.
Interested in an Alcove? Alcoves are going quickly. Reserve yours by October 31st and you'll get a full 28 tickets, plus deluxe chocolates and free alcove rental. (After 10/31, you'll get 24 tickets. After 12/10, if any alcoves remain, you'll get 20 tickets.)
---
GET THE SWING NEWS Delivered to Your Email

© All contents of this web site (www.SwingNews.com) except where otherwise stated are Copyright 1998-2019 Retro Production Company with all rights reserved
---