SUBSCRIBE to Swing Time's Weekly Email Newsletter
Swing Time Newsletter — Tuesday AUGUST 7th 2012
This WEDNESDAY August 8th is the Gulfport Casino Swing Night! CHARLESTON LESSONS 6-7pm kick off the evening. Last Wednesday, we worked Charleston fundamentals like crazy; this week's all about MOVES: 5 minutes on basics, then 55 minutes of moves & variations! EVERYONE, even advanced dancers & dance teachers, will learn something new! Swing Dance Lessons follow 7-8pm, then it's Dancing 8-11pm. Just $7 includes EVERYTHING and Students Get 2-for-1 Admission! Is your birthday coming up? Celebrate Your Birthday at the Gulfport Casino Swing Night!

This FRIDAY August 10th, Swing Time CELEBRATES THE 1960's! Original rock'n'roll artists The Impacs bring their entire 1960's repertoire of hundreds of songs, including Beach/Surf hits, Motown, Twist & Fad dances, Impacs originals, and more! By popular demand, the band has vowed to play one song at a time, thereby allowing dancers to change partners. Speaking of the '60's, The Impacs lived it, making their start playing teen hops at hot spots like the Gulfport Casino, touring the USA as part of Dick Clark's Cavalcade of Stars, recording 13 singles, and backing famous singers ranging from Roy Orbison to Jan & Dean! On Friday, August 10th, The Impacs bring the 1960's back to the Gulfport Casino! Be sure to dress 1960's-style...and limber up for that limbo contest! The event starts with a swing-dance lesson 8-9pm and continues with live music & dancing 9pm-midnight. Doors open 7:45pm.
Sea Swing Sensation 2013 Caribbean cruise sails January 20-27 out of New Orleans!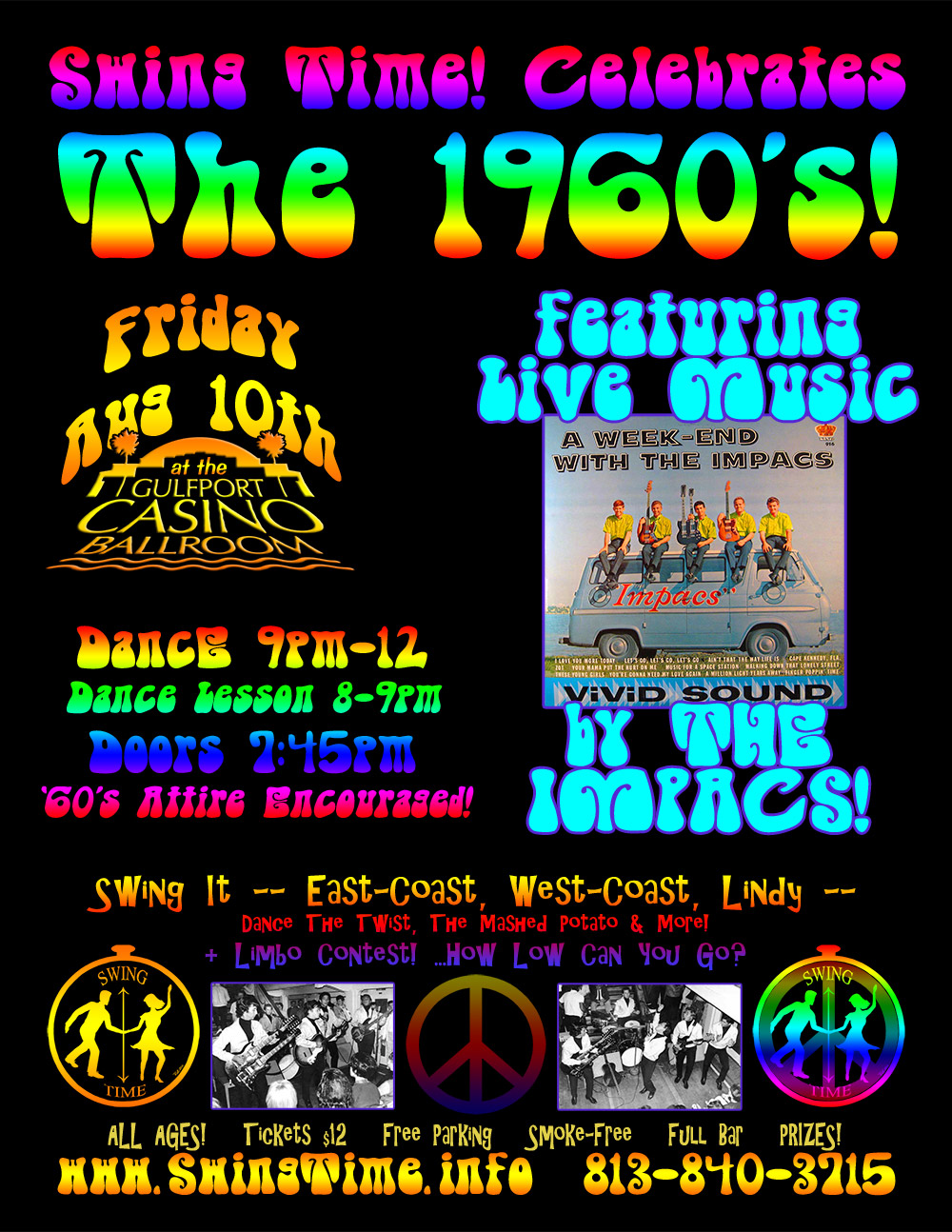 Upcoming Bonus Lessons: (6-7pm Wednesdays at the Gulfport Casino Swing Night)
AUG 2012 - Charleston
SEP 2012 - Triple-Time Swing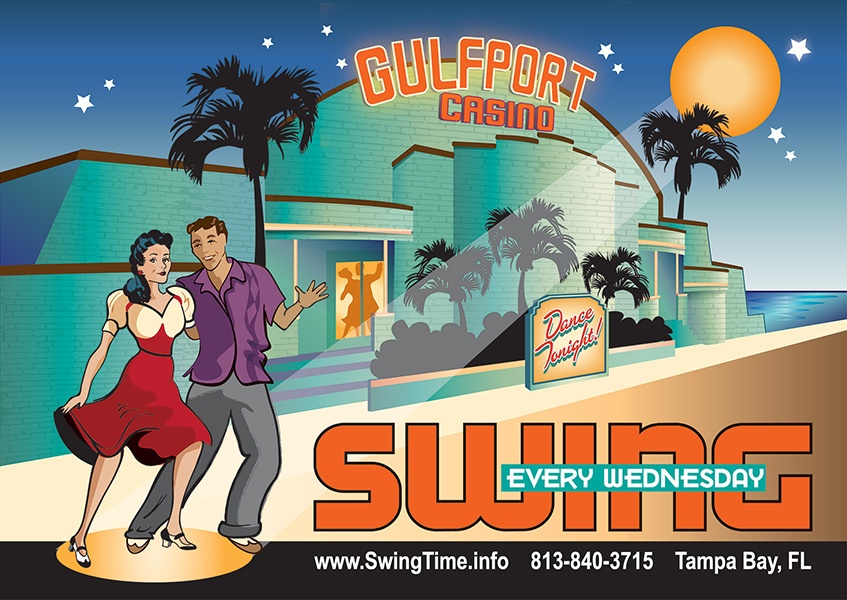 ---
GET THE SWING NEWS Delivered to Your Email

© All contents of this web site (www.SwingNews.com) except where otherwise stated are Copyright 1998-2019 Retro Production Company with all rights reserved
---