SUBSCRIBE to Swing Time's Weekly Email Newsletter
Swing Time Newsletter — Friday SEPTEMBER 14th 2012
ONLY 64 RESERVED SEATS REMAIN for Swing Time's 12th Anniversary Celebration! Buy yours before they sell out! Purchase Tickets If you don't want a seat, General-Admission tickets (dancing/standing room only) will be available at the door or can be bought now in advance to save $3. The Celebration is 7 DAYS AWAY...NEXT FRIDAY!

New Photos! Photos are now up from last month's 1960's theme night featuring The Impacs!

This WED Sep 19th, learn TRIPLE-TIME SWING 6-7pm at the Gulfport Casino Swing Night! Then it's Swing Dance Lessons 7-8pm, followed by Dancing 8-11pm. Just $7 includes EVERYTHING and Students Get 2-for-1 Admission! Is your birthday coming up? Celebrate Your Birthday at the Gulfport Casino Swing Night!
LIKE TO DANCE? Then Eight to the Bar is the band for you! An all-time favorite of Tampa Bay swing dancers, the band plays a fun mix of originals and classics in a variety of tempos and styles. The band's repertoire is huge...they could play 10 different events without ever repeating a song!

Never before has a Tampa Bay swing-dance event been packed with so much talent & excitement! Friday September 21st, Swing Time's 12th Anniversary Celebration happens in a huge way LIVE at the Gulfport Casino Ballroom! We're bringing, all the way from New England, Swing Legends, Eight to the Bar! Performing at band intermission (and signing autographs) is dance sensation...America's Got Talent's LINDSEY NORTON! This all-ages celebration features a Jack & Jill Dance Contest at band intermission with $100 Cash 1st Prize! Doors open 7:45pm, followed by Swing Dance Lesson 8-9pm (no partners needed), then Live Concert & Dancing 9pm-Midnight! The Celebration includes Anniversary Cake, Door Prizes, and a full cash bar; parking is free. Buy your tickets now online -or- in person Wednesday 9/19 at the Gulfport Casino Swing Night.
Swing Time's
12TH ANNIVERSARY CELEBRATION!
Friday, September 21st, 2012
at the Gulfport Casino Ballroom
featuring New England's Swing Legends...
EIGHT TO THE BAR!


Click Here to purchase ADVANCE TICKETS
Want Seating? We highly recommend you purchase advance tickets now!

America's Got Talent's LINDSEY NORTON
will perform live at band intermission at Swing Time's 12th Anniversary Celebration!
After performing, Lindsey will be in the house to greet fans and sign autographs!


Eight to the Bar is a pioneer of the modern swing resurgence, together for 35 years and recording 12 albums! The band swings with a jump jive, jump blues, and boogie woogie sound that inspires dancers wherever they go. The band is known for the vocal harmonies created by their two female singers and backed by boogie-woogie piano, sax, and an all-star rhythm section. Eight to the Bar plays about 200 events each year, including prestigious shows, venues, festivals, and dances across the globe! They love to perform for swing dancers! They've appeared in concert with Ray Charles, Manhattan Transfer, Roy Orbison, Big Bad Voodoo Daddy, Robert Cray, and Neil Young, to name a few. And a fun fact for the road... Eight to the Bar's sax player, Collin Tilton, was a collaborator of superstar, Van Morrison, playing sax and flute on the multi-platinum Moondance album! Last time they played Swing Time, they rocked the house at the Gulfport Casino, with many dancers naming them their favorite new band! Catch Eight to the Bar LIVE, in this rare Florida appearance, at Swing Time's 12th Anniversary Celebration!

Lindsey Norton is a rising star of acrobatic dance whose numerous accolades include representing Team USA and bringing home 2 Gold Medals in the 2010 World Dance Championships! She recently finished among the Top 25 contestants of what was no doubt the world's toughest talent competition, this season's America's Got Talent on NBC, where Lindsey performed for millions of television (and live-audience) viewers in four rounds of Auditions, Eliminations, Quarterfinals, and Wildcards. But you never see the full performance on TV; of Lindsey's 4 performances, 50, 20, 90, and 90 seconds were actually televised. So here's the best part...On Friday September 21st, you'll see Lindsey's best performance, full song and dance, in its entirety, live at the Gulfport Casino Ballroom!

The Gulfport Casino Ballroom is one of the world's top dance destinations, offering social dance excitement in a picturesque beachfront setting. It features a rich history, a grand dance floor, a full bar, a smoke-free atmosphere, and free parking. The Gulfport Casino Ballroom is located in the St. Petersburg, Florida area at 5500 Shore Blvd. S., Gulfport, FL 33707.

For more info, visit www.SwingTime.info on the web, or click the links below:
TICKETS Dance Lesson Map & Directions More Info

Wanna cruise? Next year's Sea Swing Sensation dance cruise leaves January 20th 2013 out of New Orleans with stops in Jamaica, Grand Cayman, and Cozumel! This week-long cruise brings together swing dancers from California, Florida, and Louisiana, with pre-cruise dancing the night before in New Orleans! Deposits are due ASAP; 50% refundable deposit reserves your spot, and prices run as low as $751 all-inclusive (which includes the cruise fare, dance fee, taxes, port fees, and gratuities). Call Brenda (our lindy hopping travel agent and cruise coordinator) at 562-217-1371 to reserve your space, if you're looking for cabin mate, or for more info.

Upcoming Bonus Lessons: (6-7pm Wednesdays at the Gulfport Casino Swing Night)
SEP 2012 - Triple-Time Swing
OCT 2012 - Shim Sham
NOV 2012 - Blues Dancing
DEC 2012 - Foxtrot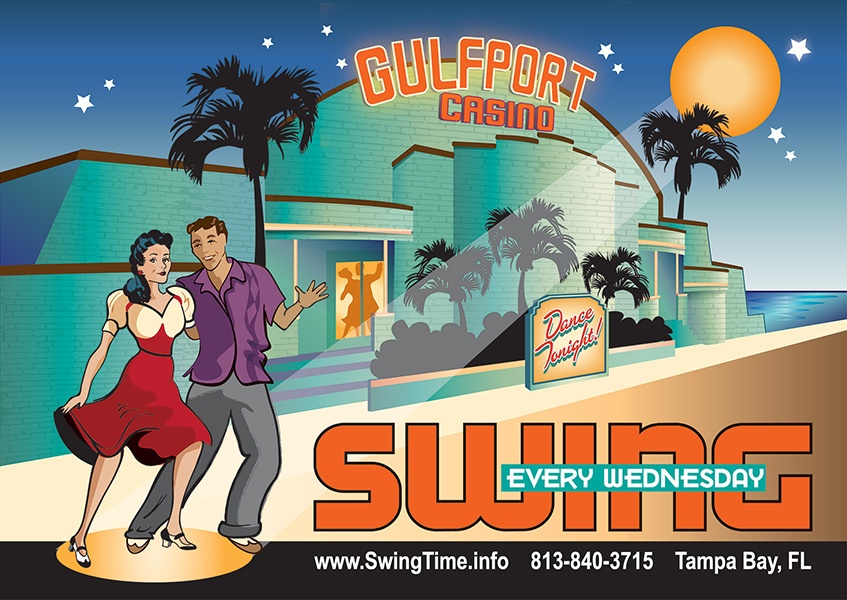 ---
GET THE SWING NEWS Delivered to Your Email

© All contents of this web site (www.SwingNews.com) except where otherwise stated are Copyright 1998-2019 Retro Production Company with all rights reserved
---