SUBSCRIBE to Swing Time's Weekly Email Newsletter
Swing Time Newsletter — Friday SEPTEMBER 28th 2012
A big THANK-YOU goes out to all who attended last Friday's Swing Time 12th Anniversary Celebration at the Gulfport Casino! Preview the PHOTOS. Considering the night's talent, the incredible turnout, and the overall level of dancing fun and excitement, it was definitely one of Swing Time's top events ever! Special thanks go to swinging sensations Eight to the Bar, acrobatic-dance superstar Lindsey Norton, photographer extraordinaire Aja Rae, videographer Jim Webb, the Swing Time staff, and YOU the dancers for making this event an occasion to remember!



SWING TIME! 12TH ANNIVERSARY DVD
Professional Video from Swing Time's 12th Anniversary Celebration
Bonus — Includes All 240+ Full-Resolution Photos from the Event!
Click Here to PREVIEW ALL PHOTOS



Item #ST2012-V


Price : $20.00


Shipping: FREE


Total : $20.00

ORDER YOUR DVD NOW
Pre-order your DVD by October 15th
to get FREE SHIPPING and NO SALES TAX


(we'll pay the sales tax for you)...DVD's will ship in November 2012.






LEARN the SHIM SHAM in JUST 60 MINUTES! This WED Oct 3rd, learn SHIM SHAM 6-7pm at the Gulfport Casino Swing Night! Then it's Swing Dance Lessons 7-8pm, followed by Dancing 8-11pm. Just $7 includes EVERYTHING and Students Get 2-for-1 Admission! Is your birthday coming up? Celebrate Your Birthday at the Gulfport Casino Swing Night!

Swing Time's 12th Anniversary DVD is in the works! Swing Time is now accepting pre-orders. Order your DVD now and you'll get the full event video, professionally shot and edited. PLUS, you'll get all 240+ Event Photos, professionally shot and edited, in full 2-7 megapixel size & resolution! So for the price of a single photo from many photographers, you'll get ALL the photos and ALL the video from this amazing event! Pre-order pricing is just $20 (securely online via credit card; October 15th deadline) and that includes shipping and sales tax. You can also order your DVD in person the next two Wednesdays (10/3 & 10/10) at the Gulfport Casino Swing Night for just $15 (cash or check only; shipping not included) for pickup at a future Swing Night. After October 15th, DVD's will go up to the regular price of $25 and shipping and sales tax will no longer be included. So order your DVD today!

Mark Your Calendars: (Special Wednesdays at the Gulfport Casino Swing Night)
WED OCT 31st 2012 - Swing Time's 11th Annual HALLOWEEN COSTUME BALL
WED NOV 21st 2012 - Pre-Thanksgiving Swing Bash w/ ST PETE BLUES ALL-STARS

Upcoming Bonus Lessons: (6-7pm Wednesdays at the Gulfport Casino Swing Night)
OCT 2012 - Shim Sham
NOV 2012 - Blues Dancing
DEC 2012 - Foxtrot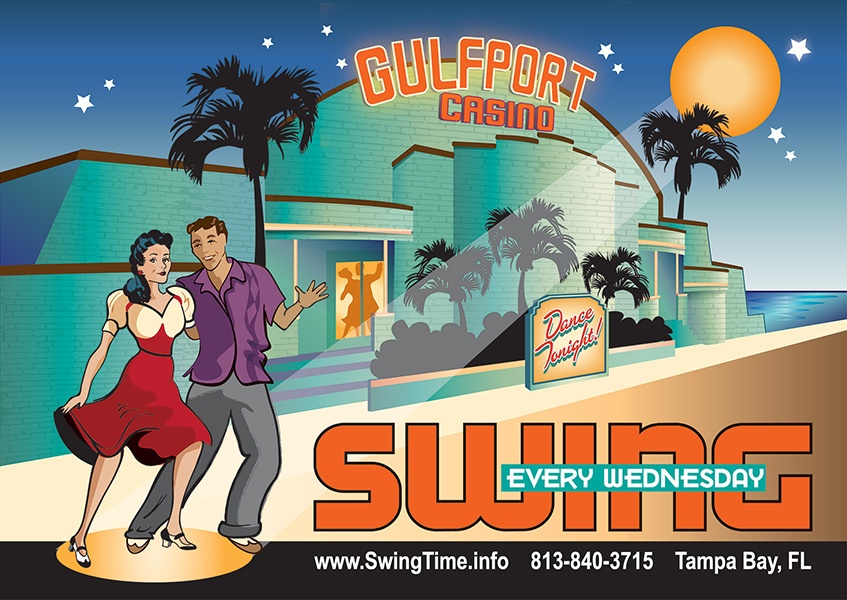 ---
---
Wanna cruise? Next year's Sea Swing Sensation dance cruise leaves January 20th 2013 out of New Orleans with stops in Jamaica, Grand Cayman, and Cozumel! This week-long cruise brings together swing dancers from California, Florida, and Louisiana, with pre-cruise dancing the night before in New Orleans! Deposits are due ASAP; 50% refundable deposit reserves your spot, and prices run as low as $751 all-inclusive (which includes the cruise fare, dance fee, taxes, port fees, and gratuities). Call Brenda (our lindy hopping travel agent and cruise coordinator) at 562-217-1371 to reserve your space, if you're looking for a cabin mate, or for more info.
---
GET THE SWING NEWS Delivered to Your Email

© All contents of this web site (www.SwingNews.com) except where otherwise stated are Copyright 1998-2019 Retro Production Company with all rights reserved
---