SUBSCRIBE to Swing Time's Weekly Email Newsletter
Swing Time Newsletter — Monday OCTOBER 29th 2012
This Wednesday OCT 31st is Swing Time's 11th Annual HALLOWEEN COSTUME BALL, with $500+ worth of Cash & Prizes for best costumes! Experience Tampa Bay's Best Halloween Dance Party...11 years running! NOTE THE DIFFERENT FORMAT THIS WEDNESDAY ONLY... doors open 6:45pm, one lesson 7-8pm (Shim Sham, Zombie-Style!), $8 admission, dance 8pm 'til midnight! (details below)
Get your costume ready for Wednesday's Halloween Costume Ball! 1st Prize ($200+ value) for Best Costume takes home $50 cash, a $50 Gift Certificate to Buffalo Gal Vintage, a Dolphin Watch or Sunset Sail cruise for two ($80 value) courtesy of Dolphin Landings Charter Boat Center, a deluxe 10 oz block of Belgian Dark Chocolate, a free pass to the Gulfport Casino Swing Night, and a Great Pumpkin ceramic trophy bowl! 2nd Prize ($100+ value) for Best Costume takes home a $50 Gift Certificate to La Cote Basque restaurant, 2 tickets ($36 value) to the Friday Swing Dance at the Suncoast Jazz Classic, and 2 free passes to the Gulfport Casino Swing Night! Additional prizes for 3rd, 4th, and 5th Place, plus Scariest, Hottest, Funniest, Swingiest, and Most Original costumes are valued at over $200!

BLUES DANCE LESSONS START WED NOV 7TH at the Gulfport Casino Swing Night! Blues Dance instructor, Will Flanery, practically started Tampa Bay's blues-dance scene with his legendary house parties in Gulfport. Now he shares his expertise on this exciting form of social dancing at the Gulfport Casino Swing Night! Come any week, or take all four for the full experience! Topics are:
Nov 7 - Advanced Basics: Speak Clearly in the Language of Dance
Nov 14 - Body Physics: Use Inertia & Balance to Gain Leading/Following Expertise
Nov 21 - Fun with Rotation!
Nov 28 - Musicality: Play with Speed, Timing, Hijacking, and Predicting the Music
Blues Dance Lessons 6-7pm are followed by Swing Dance Lessons 7-8pm (taught by Sam & Katy) and Swing Music & Dancing 8-11pm. Just $7 includes EVERYTHING and Students Get 2-for-1 Admission! Is your birthday coming up? Celebrate Your Birthday at the Gulfport Casino Swing Night!

Swing Time is gearing up to dance at the Suncoast Jazz Classic, happening NOV 15th-18th and featuring the best swingin' jazz bands from across the USA! Join us for the Swing Dance Friday NOV 16th, 7pm-midnight, at the Marriott on Sand Key! The dance features 5 bands ranging in style from Swinging Jazz to Cajun to Western Swing! Best yet, all bands playing the swing dance have been instructed to gear their music toward dancers! If that weren't enough, at any time during the 5 hours, you're also free to wander over to four other stages at the Marriott and at the Sheraton across the street, to catch and dance to numerous other live jazz acts! Nowhere else can you get such a sweet musical and dance experience for just $12 in advance or $18 at the door. Purchase tickets here. The Friday swing-dance lineup is Carolyn Martin's Swing, Tom Rigney & Flambeau, Bill Allred's Classic Jazz Band, Cornet Chop Suey, and Wally's Warehouse Waifs. Students (up to age 23) can get an astonishingly good deal and save 90% with a Weekend Pass for just $10! Swing Time will give away a free ticket to the Jazz Classic's Friday Swing Dance at all of our Gulfport Casino events between now and the festival; enter the prize drawing for your chance to win!

JAN 20th-27th 2013, the Sea Swing Sensation dance cruise sails out of New Orleans with stops in Jamaica, Grand Cayman, and Cozumel! Join Swing Time and dancers from California to Florida for the cruising and dancing experience of a lifetime, with pre-cruise dancing the night before in New Orleans! Don't miss the boat...register today! Call Brenda (our lindy hopping travel agent and cruise coordinator) at 562-217-1371 to reserve your space, if you're looking for a cabin mate, or for more info.
---
SPECIAL THANKS TO OUR HALLOWEEN COSTUME BALL PRIZE SPONSORS:
La Cote Basque Winehouse, French & Continental Cuisine, Fine dining walking distance from the Gulfport Casino
Dolphin Landings, Dolphin Watch Cruises, Sunset Cruises & More, Luxury Sailing Yachts from St Pete Beach
Buffalo Gal, Vintage Clothing, Accessories & Gifts, Get your Halloween Costumery at 911 Central Ave in St Petersburg
Suncoast Jazz Classic, Spectacular Annual Festival for Music Lovers & Dancers, Marriott & Sheraton on Sand Key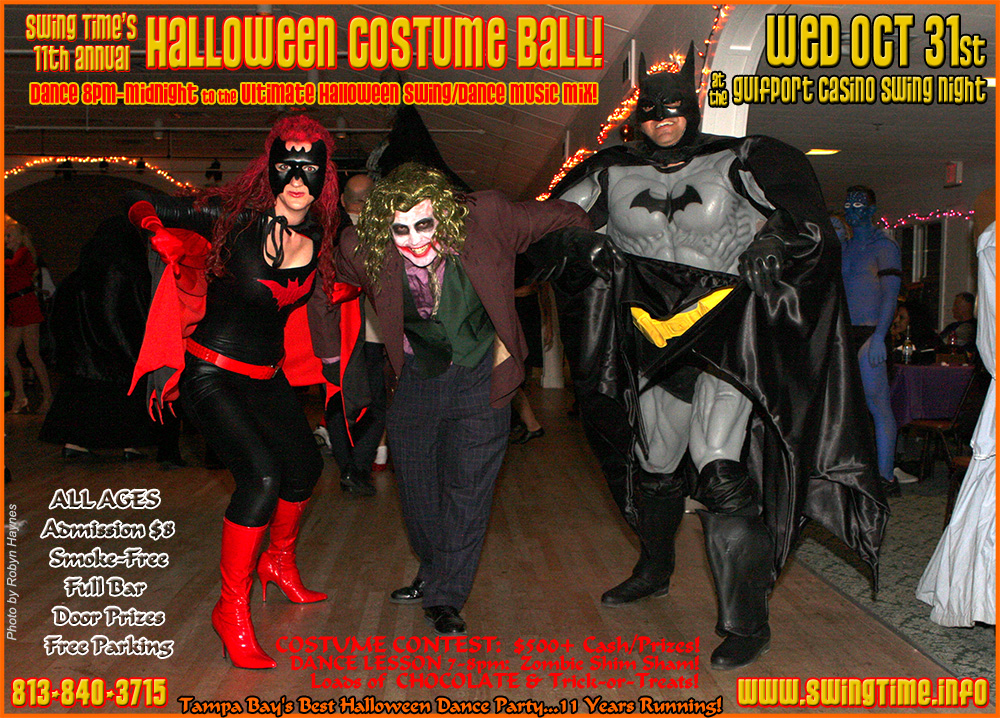 This Wednesday, October 31st, put on your best costume and get ready to swing with all sorts of exciting characters! It's Swing Time's 11th Annual Halloween Costume Ball at the Gulfport Casino Swing Night! The Ball starts with a one-of-a-kind dance lesson: Shim Sham (with Special Zombie Styling!) 7-8pm; no partner needed. Starting at 8pm, dance 'til the midnight hour to the Ultimate Halloween Swing/Dance Music Mix... that's right! -- all Halloweeny music, all the way to midnight! The Halloween Costume Ball features a Costume Parade & Contest with $500+ worth of Cash & Prizes for the Best, Scariest, Hottest, Funniest, Swingiest, and Most Original costumes! The Ball features loads of Chocolate, Candy, & Trick-or-Treats; Door Prizes; a Zombie Shim Sham; a Steal Dance Mixer; plus Special Halloween Decor & Atmosphere! Gulfport Casino's vintage waterfront grand ballroom is smoke-free and provides a full bar and free parking. Just $8 admission includes EVERYTHING, and all ages are welcome! Experience Tampa Bay's Best Halloween Dance Party... eleven years running!

The Gulfport Casino Ballroom is one of the world's top dance destinations, offering social dance excitement in a picturesque beachfront setting. It features a rich history, a grand dance floor, a full bar, a smoke-free atmosphere, and free parking. The Gulfport Casino Ballroom is located in the St. Petersburg, Florida area at 5500 Shore Blvd. S., Gulfport, FL 33707.
---
Mark Your Calendars: (Special Wednesdays at the Gulfport Casino Swing Night)
WED OCT 31st 2012 - Swing Time's 11th Annual HALLOWEEN COSTUME BALL
WED NOV 21st 2012 - Pre-Thanksgiving Swing Bash w/ ST PETE BLUES ALL-STARS

Upcoming Bonus Lessons: (6-7pm Wednesdays at the Gulfport Casino Swing Night)
NOV 2012 - Blues Dancing
DEC 2012 - Foxtrot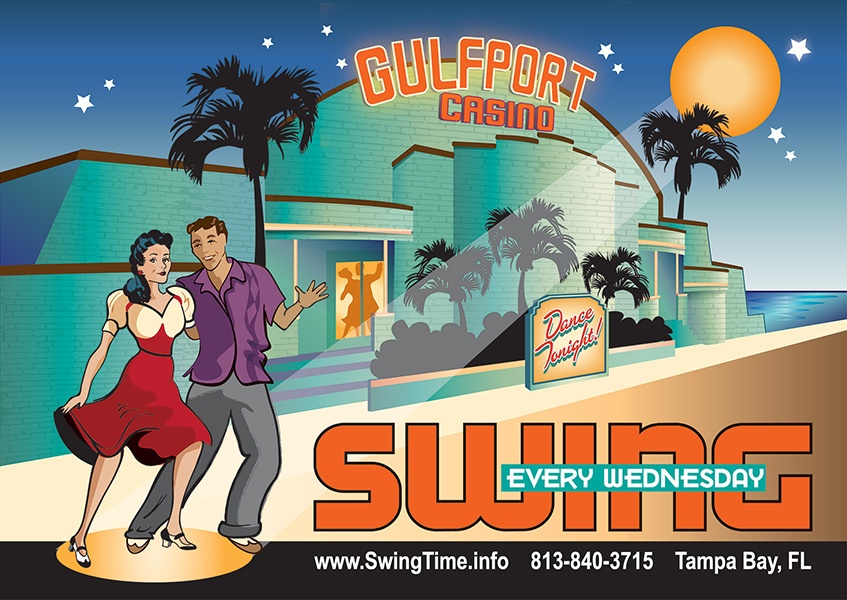 ---
GET THE SWING NEWS Delivered to Your Email

© All contents of this web site (www.SwingNews.com) except where otherwise stated are Copyright 1998-2017 Retro Production Company with all rights reserved
---