SUBSCRIBE to Swing Time's Weekly Email Newsletter
Swing Time Newsletter — Monday NOVEMBER 12th 2012
This Wednesday NOV 14th learn BLUES DANCING 6-7pm at the Gulfport Casino Swing Night! Then it's Swing Dance Lessons 7-8pm, followed by Dancing 8-11pm. Just $7 includes EVERYTHING and Students Get 2-for-1 Admission! Is your birthday coming up? Celebrate Your Birthday at the Gulfport Casino Swing Night! Enter the prize drawing to win one of 4 free tickets to Friday's Swing Dance at the Suncoast Jazz Classic! Blues Dance instructor, Will Flanery, practically started Tampa Bay's blues-dance scene with his legendary house parties. Now he shares his expertise on this exciting form of social dancing at the Gulfport Casino Swing Night! Come any week, or take all three for the full experience! Topics are:
Nov 14 - Body Physics: Use Inertia & Balance to Gain Leading/Following Expertise
Nov 21 - Fun with Rotation!
Nov 28 - Musicality: Play with Speed, Timing, Hijacking, and Predicting the Music


This Friday NOV 16th, Swing Time invites you to dance at the Suncoast Jazz Classic! This annual festival happens NOV 15th-18th and features many of the best swingin' jazz bands from across the USA! Join us for this Friday's Swing Dance, 7pm-midnight, at the Marriott on Sand Key! The swing dance features 5 bands ranging in style from Swinging Jazz to Cajun to Western Swing! Best yet, all bands playing the swing dance have been instructed to gear their music toward dancers! If that weren't enough, at any time during the five hours, you're also free to wander over to four other stages at the Marriott and at the Sheraton across the street, to catch and dance to numerous other live jazz acts! Nowhere else can you get such a sweet musical and dance experience for just $12 in advance or $18 at the door. Purchase tickets here. The Friday swing-dance lineup is Carolyn Martin's Swing, Tom Rigney & Flambeau, Bill Allred's Classic Jazz Band, Cornet Chop Suey, and Wally's Warehouse Waifs. Students (up to age 23) can get an astonishingly good deal and save 90% with a Weekend Pass for just $10! Swing Time will give away 4 free tickets to the Jazz Classic's Friday Swing Dance at this Wednesday's Gulfport Casino Swing Night! Enter the prize drawing for your chance to win!

Next Wednesday NOV 21st is Swing Time's Pre-Thanksgiving Bash at the Gulfport Casino Swing Night! With Thanksgiving on Thursday, the weekend starts Wednesday night...join in celebration at this special evening of live music and swing dancing! This huge swing-dance party is always one of the biggest Wednesday Swing Nights of the year, attracting not just locals but out-of-towners who are home for the holidays. The Bash features live and swinging music by the St. Pete Blues All-Stars! It starts with a Blues Dance Lesson 6-7pm, followed by Swing Dance Lesson 7-8pm, then Live Music & Dancing 8-11pm. All ages are welcome, no partner is needed, admission is $10 (free passes and student specials are not accepted on band nights), and it all happens in the spectacular waterfront ballroom of the Gulfport Casino!

ZOMBIE SHIM SHAM VIDEO WANTED! At the Halloween Costume Ball, we noticed several people taking video of the Zombie Shim Sham. If you captured it on video, or know someone who did, we would love to get a copy! Please let us know by replying to this newsletter.

SWING CRUISE...FEMALE CABIN MATE WANTED...SHIP SELLING OUT — Want to go on the swing cruise but need someone to split a cabin? We have another female dancer in the same boat. Just reply to this email and we'll put you both in touch! JAN 20th-27th 2013, the Sea Swing Sensation dance cruise sails out of New Orleans with stops in Jamaica, Grand Cayman, and Cozumel! Join Swing Time and dancers from California to Florida for the cruising and dancing experience of a lifetime, with pre-cruise dancing the night before in New Orleans! Don't miss the boat...register today! Call Brenda (our lindy hopping travel agent and cruise coordinator) at 562-217-1371 to reserve your space, if you're looking for a cabin mate, or for more info.

NEW YEAR'S EVE PREVIEW — Details are now available and tickets are now on sale for Swingin' the New Year at the spectacular St. Petersburg Coliseum! This Grand New Year's Eve Celebration for All Ages has become Tampa Bay's biggest annual swing-dance event! New this year, the Celebration features a 20-Piece Big-Band Orchestra with female & male singers! All tickets provide reserved seats. Group discounts and VIP Alcoves and Tables are available for parties of 10 or more, so start organizing your group today! Free Alcove SuperSpecial — Save $155! This year's Swingin' the New Year promises to be the greatest ever! Purchase tickets online now and you'll have your choice of the best seats! Make plans now to join us! Get Details & Purchase Tickets at www.TampaBaySwing.com

DVD PROJECT TO BE CANCELLED? So far, we've received orders for only a dozen Swing Time 12th Anniversary Celebration DVD's. We need to sell at least 20 more to pay editing and other costs and make the DVD a reality. Many of you who are prominently featured have not bothered ordering, which means your video footage may never see the light of day. So here's the deal...step up and order by the Thanksgiving Deadline and if we get 20 more orders, the DVD will be produced and you'll get yours by year-end. If we don't hit this target by Thanksgiving, all orders will be promptly refunded, and regrettably, the DVD project will be cancelled.

St. Pete Blues All-Stars are a jump/blues/boogie/swing band featuring Boogie Woogie Hall-of-Famers, Liz Pennock on piano and Dr. Blues on guitar. They're joined by blues veterans, Mike Delaney on sax, Kim Harpo on harmonica, Don Cox on upright bass, and Dennis McCarthy on drums. The All-Stars each have decades of experience playing locally and touring internationally, playing prestigious events, clubs, and festivals too numerous to mention. Renowned for musical expertise in their own bands, the All-Stars came together a couple of years back, and have been swinging ever since. A dancer favorite, they're one of the most popular bands to have ever played a Swing Time event! So get ready to dance and swing to music ranging from the Chicago Blues of Muddy Waters and Little Walter, to the Jump Blues of Big Joe Turner and Louis Jordan, to the band's own boogie-woogie infused compositions!
---
Mark Your Calendars: (Special Wednesdays at the Gulfport Casino Swing Night)
WED NOV 21st 2012 - Pre-Thanksgiving Swing Bash w/ ST PETE BLUES ALL-STARS
WED DEC 19th 2012 - Swing Time's HOLIDAY CHRISTMAS DANCE PARTY

Upcoming Bonus Lessons: (6-7pm Wednesdays at the Gulfport Casino Swing Night)
NOV 2012 - Blues Dancing
DEC 2012 - Foxtrot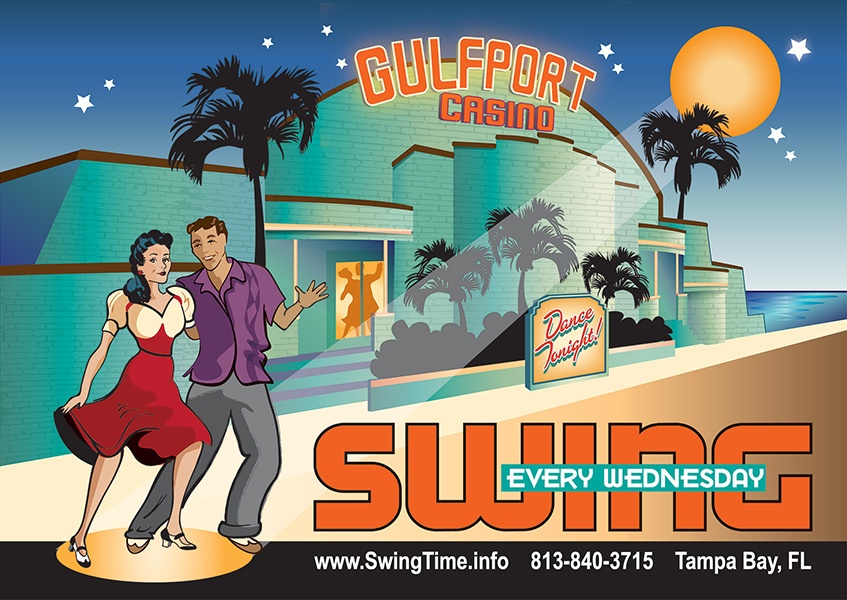 ---
GET THE SWING NEWS Delivered to Your Email

© All contents of this web site (www.SwingNews.com) except where otherwise stated are Copyright 1998-2017 Retro Production Company with all rights reserved
---