SUBSCRIBE to Swing Time's Weekly Email Newsletter
Swing Time Newsletter — Tuesday NOVEMBER 20th 2012

Saturday DEC 1st, the Carrollwood Cultural Center hosts a Big-Band Swing Dance & Concert with live music by the Sounds of Swing Orchestra. Dancing starts at 7:30pm. Swing Time opens the event with a Dance Lesson 6:30-7:30pm. Tickets are $11-$16. Visit the link above for tickets or more information. The Carrollwood Cultural Center is located at 4537 Lowell Rd, Tampa, FL 33618; Phone 813-269-1310.


DVD PROJECT — ORDER TODAY TO AVERT CANCELLATION! So far, we've received orders for 14 Swing Time 12th Anniversary Celebration DVD's. But we need to sell 18 more to pay editing and other costs and make the DVD a reality. So here's the deal...step up and order by the Thanksgiving Deadline and if we get 18 more orders, the DVD will be produced and you'll get yours by year-end. If we don't hit this target by Thanksgiving, all orders will be promptly refunded, and regrettably, the DVD project will be cancelled.


ZOMBIE SHIM SHAM VIDEO WANTED! At the Halloween Costume Ball, we noticed several people taking video of the Zombie Shim Sham. If you captured it on video, or know someone who did, we would love to get a copy! Please let us know by replying to this newsletter.

---
Mark Your Calendars: (Special Wednesdays at the Gulfport Casino Swing Night)
WED NOV 21st 2012 - Pre-Thanksgiving Swing Bash w/ ST PETE BLUES ALL-STARS
WED DEC 19th 2012 - Swing Time's HOLIDAY CHRISTMAS DANCE PARTY

Upcoming Bonus Lessons: (6-7pm Wednesdays at the Gulfport Casino Swing Night)
NOV 2012 - Blues Dancing
DEC 2012 - Foxtrot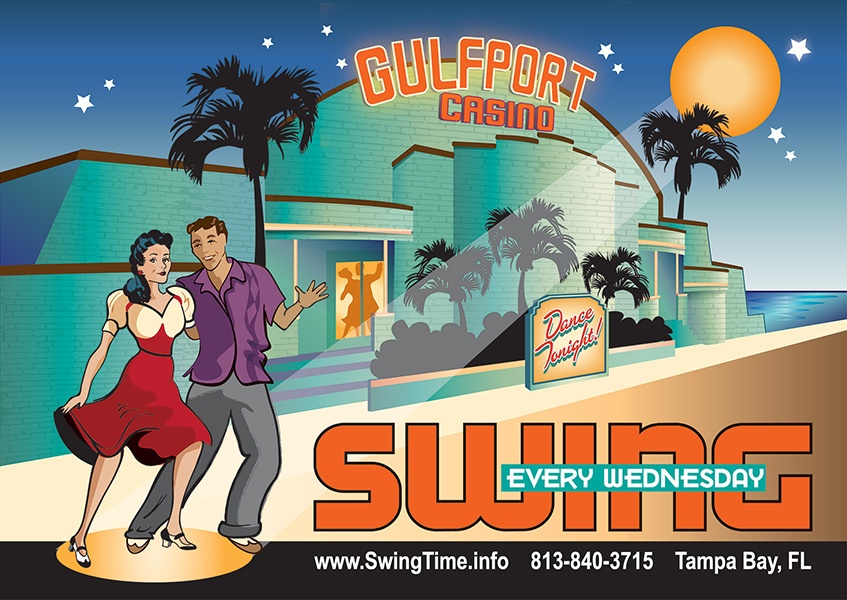 ---
GET THE SWING NEWS Delivered to Your Email

© All contents of this web site (www.SwingNews.com) except where otherwise stated are Copyright 1998-2017 Retro Production Company with all rights reserved
---