SUBSCRIBE to Swing Time's Weekly Email Newsletter
Swing Time Newsletter — Friday DECEMBER 28th 2012
Hi Everyone, Swingin' the New Year is on track to be the greatest swing-dance event in modern Florida history, and yes, even bigger than 2009's record-breaking event! Join us for this spectacular swing-dance party & celebration! Time is running out...purchase your advance tickets securely online now! We're gearing up for an incredible night this New Year's Eve.... See you at the Coliseum! —Sam

Alcoves — Sold Out... Swing Time Section — Sold Out
Reserved Seats Are Selling Out! Get them while they last

Can you buy a ticket at the door? Yes, if you don't want a seat (or you don't mind sitting in the balcony). General Admission tickets will be available at the door the night of event.


Swingin' the New Year!
GRAND NEW YEAR'S EVE CELEBRATION FOR ALL AGES
Monday, December 31st, 2012
at the ST PETERSBURG COLISEUM
with Swingin' the New Year Orchestra!
20-PIECE ALLSTAR BIG-BAND
featuring vocalists Lorri Hafer & Ron Pond & Emily Gail


Live Music & Dancing + Celebration! 9pm-1am
Swing Dance Lesson: 8-9pm (no partner needed)
Doors Open 7:30pm

Midnight Countdown & BALLOON DROP
Vintage Fashion Photo Shoot & Contest!
Party Favors ~ Noisemakers ~ Chocolates ~ Prize Giveaways
Full Cash Bar w/ Champagne Bottles & Toasts Available
* All Ages * Smoke-Free * New Year's Decor * Free Parking *
Dress to Impress! New Year's and Vintage Attire Encouraged

TICKETS: $29 (+ $1 Coliseum surcharge)
Purchase Advance Tickets:
Securely Online at www.TampaBaySwing.com
By Phone at 727-669-7830 or 727-773-0064

Groups of 10+ get $2/Ticket Discount!

Group Discounts & VIP Reservations: Group discounts and Reserved VIP Tables are available for parties of 10 or more, with complimentary deluxe chocolates included! To receive your group discount of $2/ticket with deluxe chocolates at your table on New Year's Eve, just purchase 10 or more reserved-seat tickets in one transaction. If you purchase 10 or more tickets online, your group discount will be applied automatically.

Food & Drinks: You may bring your own food to this event, or purchase a variety of snacks from the Coliseum's snack bar (everything from popcorn to ice cream to coffee). For drinks, the Coliseum will run a full cash bar, with beer, wine, mixed drinks, soft drinks, bottled water, and champagne. No outside beverages are allowed into the Coliseum, and no coolers are allowed.

The spectacular St. Petersburg Coliseum provides historic swing-era ambiance and an unparalleled 15,000 square foot oak dance floor! It's located at 535 4th Ave. N., St. Petersburg FL 33701.

---
Wednesday JAN 2nd, enjoy the first Gulfport Casino Swing Night of 2013! It starts with an Advancing-Your-Swing Lesson 6-7pm, followed by Swing Dance Lesson 7-8pm, then Dancing 8-11pm. Just $7 includes EVERYTHING and Students Get 2-for-1 Admission! Is your birthday coming up? Celebrate Your Birthday at the Gulfport Casino Swing Night!

Advancing Your Swing is the 6-7pm Bonus Lesson topic every Wednesday in January at the Gulfport Casino Swing Night! Learn Cool Moves, Footwork Variations, Multiple Turns, Dips, Leans, and more! Add style to your swing dancing. Become a better leader or follower, and get asked to dance much more often!
---
SWINGIN' THE NEW YEAR...BONUS ATTRACTIONS!
Photo Booth Vintage Fashion Contest Prize Giveaway
VINTAGE FASHION CONTEST — $600+ WORTH OF PRIZES: To enter the Vintage Fashion Contest, dress up from the era of your choice, and be at the Photo Booth at Exactly 9:45pm (first band break). Pre-judging will happen at the photo booth, plus you'll get your pictures taken if you haven't already! Finalists will be featured on stage later in the evening! GRAND PRIZE PACKAGES for both the top female and male contestants will include a $100 Gift Certificate to Buffalo Gal Vintage, your choice of Dance Shoes (Aris Allen, Very Fine, etc) from On Pointe Dancewear, swing event tickets, and more! Additional prize packages will be awarded to 2nd and 3rd place male & female contestants.

PHOTO BOOTH: All ticketholders are encouraged to visit the Photo Booth at some point during the Celebration to get your pictures taken. Dress to impress!

PRIZE GIVEAWAY: Enter the Prize Drawing to win a Dolphin Watch or Sunset Sail Cruise for Two courtesy of Dolphin Landings Charter Boat Center, a $50 Gift Certificate to La Cote Basque restaurant, plus swing event tickets and other fabulous prizes! Drawing will happen at band intermission.

We encourage everyone to visit our prize sponsors....

Outfit yourself for New Year's Eve at Buffalo Gal Vintage. Buffalo Gal carries a stylish selection of vintage clothing and reproductions from the 1900s through the 1970s, in a wide variety of styles, including the Stop Staring! line of dresses (photo at left). Buffalo Gal is located at 911 Central Ave, St Petersburg, FL 33705 (Phone 727-290-8468).

Get your swing dance shoes at On Pointe Dancewear. On Pointe carries the full line of Aris Allen, Very Fine, Stephanie, and other dance shoes, plus dance clothing and accessories for everything from Swing to Latin, Ballroom, Ballet, Tap & Jazz. Tired of internet shipping fees and poor-fitting shoes? At On Pointe, you save money AND you get to try before you buy! On Pointe is located at 2113 Central Ave, St Petersburg, FL 33713 (Phone 727-895-1111).

Dine before you dance at La Cote Basque Winehouse. La Cote Basque features fine French & Continental Cuisine, walking distance from the Wednesday Swing Nights at the Gulfport Casino. La Cote Basque is located at 3104 Beach Blvd S, Gulfport, FL 33707 (Phone 727-321-6888).

Experience local adventures at Dolphin Landings Charter Boat Center. Dolphin landings offers a variety of public day cruises and private charters including the ever popular Dolphin Watch and Sunset Sails, all departing from St Pete Beach. Dolphin Landings is located at 4737 Gulf Blvd, St Pete Beach, FL 33706 (Phone 727-360-7411).
---

JAN 20th-27th 2013, the Sea Swing Sensation dance cruise sails out of New Orleans with stops in Jamaica, Grand Cayman, and Cozumel! Join Swing Time and dancers from California to Florida for the cruising and dancing experience of a lifetime, with pre-cruise dancing the night before in New Orleans! THE SHIP IS SELLING OUT, so register ASAP! Call Brenda (our lindy hopping travel agent and cruise coordinator) at 562-217-1371 to reserve your space, if you're looking for a cabin mate, or for more info.
---
Upcoming Bonus Lessons: (6-7pm Wednesdays at the Gulfport Casino Swing Night)
JAN 2013 - Advancing Your Swing
FEB 2013 - Balboa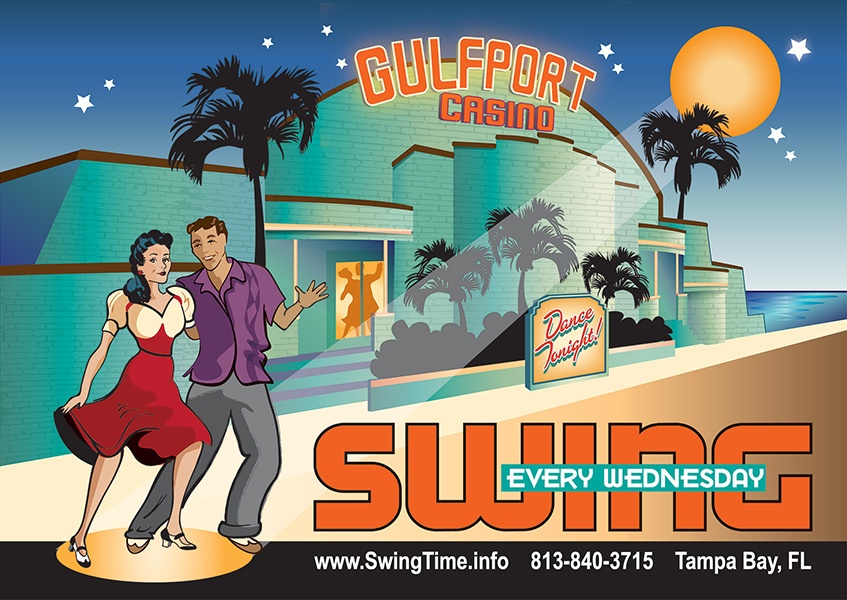 ---
GET THE SWING NEWS Delivered to Your Email

© All contents of this web site (www.SwingNews.com) except where otherwise stated are Copyright 1998-2019 Retro Production Company with all rights reserved
---