SUBSCRIBE to Swing Time's Weekly Email Newsletter
Swing Time Newsletter — Wednesday JANUARY 2nd 2013
TONIGHT — Wednesday JAN 2nd, enjoy the first Gulfport Casino Swing Night of 2013! It starts with an Advancing-Your-Swing Lesson 6-7pm, followed by Swing Dance Lesson 7-8pm, then Dancing 8-11pm. Just $7 includes EVERYTHING and Students Get 2-for-1 Admission! Is your birthday coming up? Celebrate Your Birthday at the Gulfport Casino Swing Night!

Advancing Your Swing is the 6-7pm Bonus Lesson topic every Wednesday in January at the Gulfport Casino Swing Night! Learn Cool Moves, Footwork Variations, Multiple Turns, Dips, Leans, and more! Add style to your swing dancing. Become a better leader or follower, and get asked to dance much more often!
Upcoming Bonus Lessons: (6-7pm Wednesdays at the Gulfport Casino Swing Night)
JAN 2013 - Advancing Your Swing
FEB 2013 - Balboa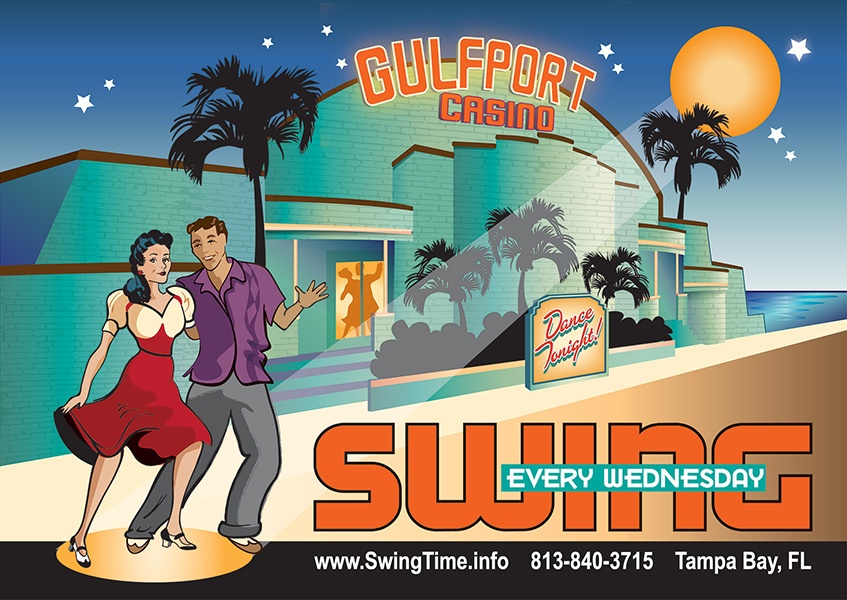 ---

JAN 20th-27th 2013, the Sea Swing Sensation dance cruise sails out of New Orleans with stops in Jamaica, Grand Cayman, and Cozumel! Join Swing Time and dancers from California to Florida for the cruising and dancing experience of a lifetime, with pre-cruise dancing the night before in New Orleans! THE SHIP IS SELLING OUT, so register ASAP! Call Brenda (our lindy hopping travel agent and cruise coordinator) at 562-217-1371 to reserve your space, if you're looking for a cabin mate, or for more info.
---
GET THE SWING NEWS Delivered to Your Email

© All contents of this web site (www.SwingNews.com) except where otherwise stated are Copyright 1998-2017 Retro Production Company with all rights reserved
---