SUBSCRIBE to Swing Time's Weekly Email Newsletter
Swing Time Newsletter — Monday FEBRUARY 11th 2013
This Wednesday FEB 13th is the Gulfport Casino Swing Night! Learn BALBOA 6-7pm. (All Balboa lesson participants, please bring a pillow to this week's lesson; it can be a throw pillow, bed pillow, any pillow you don't mind dropping a few times; you'll see what it's for once we start.) Swing Dance Lessons follow 7-8pm, then it's Dancing 8-11pm. Just $7 includes EVERYTHING and Students Get 2-for-1 Admission! Is your birthday coming up? Celebrate Your Birthday at the Gulfport Casino Swing Night!

This Friday FEB 15th is Swing Time! LIVE at the Gulfport Casino Ballroom featuring Blair Carman & the Belleview Boys, an amazing 1950's-style Rock'n'Roll act out of Cincinnati! Do you have your Advance Tickets? Ticket sales are going strong but time is running out. Purchase Advance Tickets for just $13 by Tuesday's midnight deadline! Wednesday the price goes to $14, and Friday at the door it'll be $15. A Swing Dance Lesson kicks off the evening 8-9pm (no partner needed). Then it's Live Music & Dancing 9pm-midnight, plus a Hula Hoop Contest at band intermission! 1950's attire is encouraged, prize giveaways happen throughout the evening, and all ages are welcome!

Balboa Lessons: "It was great to see so many dancers learning Balboa last Wednesday! I counted over 100 dancers taking the lesson AND dancing Balboa later in the evening! If you made it last week, please continue this week and you'll develop your Balboa to where you're more comfortable dancing it. If you missed last week, you're welcome to start this week...we'll review and practice the basics before moving on to new material." –Sam Balboa is the 6-7pm Bonus Lesson topic every Wednesday in February at the Gulfport Casino Swing Night. Balboa is one of the world's three most popular swing dances (in addition to East-Coast Swing and Lindy Hop) and it can be danced to music ranging from slow to very fast, without expending a lot of energy or taking up a lot of space. Balboa is a fun dancer's dance, with footwork, lead-follow, and patterns that range from simple to intricate. Most instructors needlessly complicate this dance...but try our simple approach and you'll find yourself dancing Balboa the first night! A lot of songs you hear, not just at swing dances but out in the general public, are MEANT FOR BALBOA...so use this dance to greatly expand your repertoire!


BLAIR CARMAN & THE BELLEVIEW BOYS are an authentic 1950's-style Rock'n'Roll / Rockabilly band in the piano-pumpin' style of Jerry Lee Lewis. The band boasts a huge rockin'-and-rollin' repertoire, ranging from their own original songs to hundreds of classics from Elvis Presley to Carl Perkins, Hank Williams, Jerry Lee Lewis, and many more! Piano player and singer, Blair Carman, brings raw energy and talent to the show, and he's backed by some of the Midwest's rockin'est cats on guitar, bass, drums, and vocals. This band is hot... and in huge demand across the USA! Don't miss Blair Carman & the Belleview Boys in a rare Florida appearance, in classic dance hall atmosphere, at Swing Time!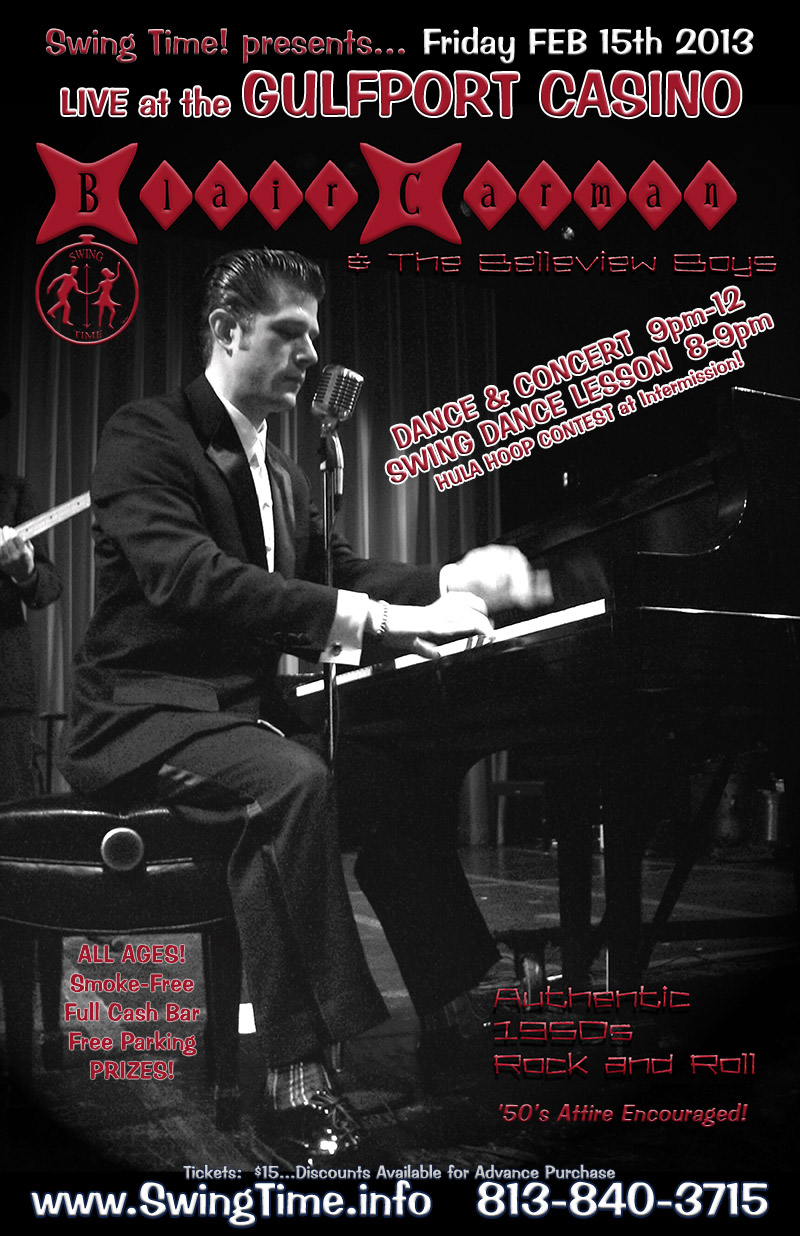 Swing Time! presents...
BLAIR CARMAN & THE BELLEVIEW BOYS
LIVE at the Gulfport Casino Ballroom
Friday, February 15th, 2013
Piano-Pumpin' Rock'n'Roll in the Style of Jerry Lee Lewis!

The Gulfport Casino Ballroom is one of the world's top dance destinations, offering social dance excitement in a picturesque beachfront setting. It features a rich history, a grand dance floor, a full bar, a smoke-free atmosphere, and free parking. The Gulfport Casino Ballroom is located in the St. Petersburg, Florida area at 5500 Shore Blvd. S., Gulfport, FL 33707.

TICKETS Dance Lesson — Free with Admission! Map & Directions

---
Upcoming Bonus Lessons: (6-7pm Wednesdays at the Gulfport Casino Swing Night)
FEB 2013 - Balboa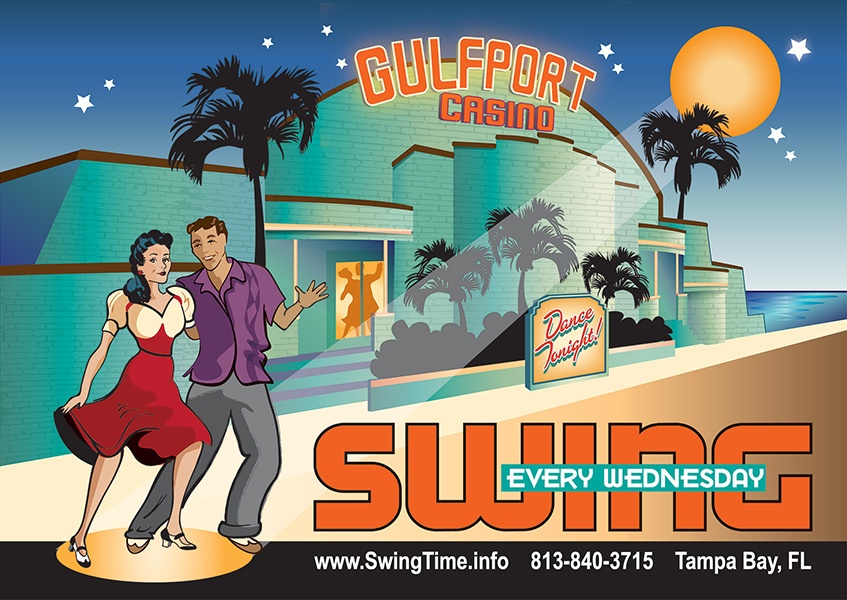 ---
GET THE SWING NEWS Delivered to Your Email

© All contents of this web site (www.SwingNews.com) except where otherwise stated are Copyright 1998-2017 Retro Production Company with all rights reserved
---