SUBSCRIBE to Swing Time's Weekly Email Newsletter
Swing Time Newsletter — Sunday APRIL 14th 2013
This Wednesday APR 17th is the Gulfport Casino Swing Night! Learn West-Coast Swing 6-7pm ...followed by Swing Dance Lessons 7-8pm ...then Dance 8-11pm. It's Katy's Birthday Wednesday, so get ready to celebrate! Just $7 includes EVERYTHING and Students Get 2-for-1 Admission! Is your birthday coming up? Celebrate your birthday at the Gulfport Casino Swing Night!

Upcoming Bonus Lessons: (6-7pm Wednesdays at the Gulfport Casino Swing Night)
APRIL 2013 - West-Coast Swing
MAY 2013 - Lindy Hop
JUNE 2013 - Collegiate Shag

This Saturday APR 20th, the Carrollwood Cultural Center hosts a Big-Band Swing Dance & Concert with live music by the Sounds of Swing Orchestra. Dancing runs 8-10pm. Swing Time opens the event with a Dance Lesson at 6:30pm. Tickets are $11-$16. Visit the link above for tickets or more information. The Carrollwood Cultural Center is located at 4537 Lowell Rd, Tampa, FL 33618; Phone 813-269-1310.

Next Saturday April 27th, Spring for the Arts, Creative Clay's premier fundraising event of the year, happens 7-10pm on the 3rd floor of the beautiful St. Petersburg Pier. The event includes live music by La Lucha, swing dancing and lessons with Swing Time, celebrity MC Danielle McBroom of 97X, food tastings at chef stations by Jonny Reno's & The Kitchen & Ricky P's & Gateau O Chocolat, live painting demos, free portraits by Creative Clay artists, live magician, artwork door prizes & raffles & sales, silent auction, cash bar, and "Retrospect" art exhibit with 200+ paintings by Creative Clay artists of the past five years. Cocktail attire is recommended. Tickets are $35/advance or $45/door. Visit the link above for tickets or more info.

---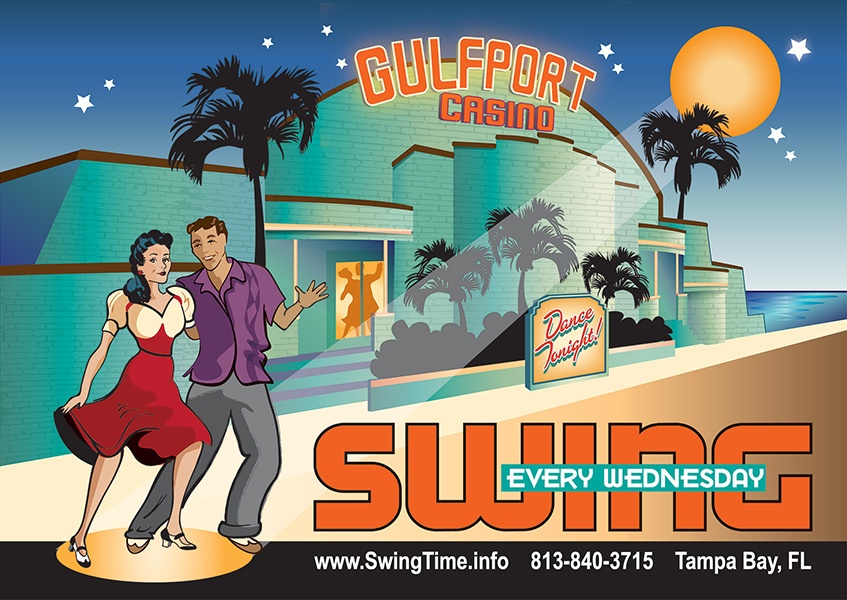 * ALL AGES * No Partners Needed * PRIZES *

Map & Directions Dance Lessons More Info

The Gulfport Casino Ballroom is one of the world's top dance destinations, offering social dance excitement in a picturesque beachfront setting. It features a rich history, a grand dance floor, a full bar, a smoke-free atmosphere, and free parking. The Gulfport Casino Ballroom is located in the St. Petersburg, Florida area at 5500 Shore Blvd. S., Gulfport, FL 33707.

---
GET THE SWING NEWS Delivered to Your Email

© All contents of this web site (www.SwingNews.com) except where otherwise stated are Copyright 1998-2017 Retro Production Company with all rights reserved
---