SUBSCRIBE to Swing Time's Weekly Email Newsletter
Swing Time Newsletter — Monday JULY 1st 2013
This Wednesday July 3rd, The Hot Rod Hornets play Swing Time's PRE-INDEPENDENCE-DAY CELEBRATION at the Gulfport Casino Swing Night! Dress up in red, white & blue! One of Tampa Bay's hottest rockabilly bands, the Hot Rod Hornets draw upon the influences of Sun Records greats from Johnny Cash to Elvis Presley and rockabilly rebels from Gene Vincent to Eddie Cochran. The Hot Rod Hornets replicate that authentic 1950's sound and bring high-energy music to every performance! Charleston Dance Lesson 6-7pm... Swing Dance Lesson 7-8pm... Live Music & Dancing 8-11pm. Admission is just $10 (no free passes accepted on band nights); get your tickets at the door. Attention Students — Show your student ID when buying your ticket and receive a FREE PASS to the following Wednesday's Gulfport Casino Swing Night!
Charleston is the 6-7pm bonus topic every Wednesday in July at the Gulfport Casino Swing Night! Take our Charleston classes and you'll learn:
How to dance Charleston and dance it well
How to dance all the major Charleston Moves & Variations
How to mix Charleston into your Swing Dancing (East-Coast & Lindy Hop)
How to dance Partner & Solo Charleston
How to dance Swing-Style & 20's-Style Charleston
How to dance the Charleston Lines ("Sing, Sing, Sing")
Charleston Dance Lessons — More Info

Carleene Returns — Be on the lookout for Swing- & Charleston-dancer extraordinaire, Carleene, who'll join us as special guest instructor the first three Wednesdays in July!

Mark your calendars for the first-ever Tampa Bay Lindy Exchange! It's 3 days & 3 nights of nonstop dancing happening the weekend before Thanksgiving (Fri-Sun NOV 22-24 2013) at locations across Tampa Bay. Stay tuned for more info!

---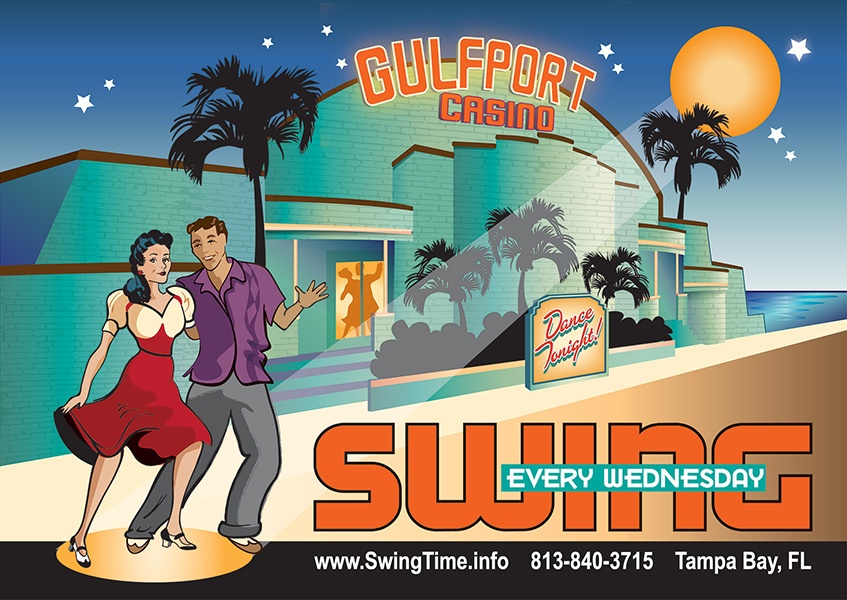 * ALL AGES * No Partners Needed * PRIZES *

Map & Directions Dance Lessons More Info

The Gulfport Casino Ballroom is one of the world's top dance destinations, offering social dance excitement in a picturesque beachfront setting. It features a rich history, a grand dance floor, a full bar, a smoke-free atmosphere, and free parking. The Gulfport Casino Ballroom is located in the St. Petersburg, Florida area at 5500 Shore Blvd. S., Gulfport, FL 33707.

---
GET THE SWING NEWS Delivered to Your Email

© All contents of this web site (www.SwingNews.com) except where otherwise stated are Copyright 1998-2019 Retro Production Company with all rights reserved
---