SUBSCRIBE to Swing Time's Weekly Email Newsletter
Swing Time Newsletter — Friday JULY 12th 2013
Get ready for the first-ever Tampa Bay Lindy Exchange — 3 days & 3 nights of nonstop dancing happening the weekend before Thanksgiving (Nov 22-24) at locations across Tampa Bay! Registration opens this Monday July 15th at 1:00pm. The first 50 dancers who register get the entire weekend for just $65! This excitement-filled weekend features spectacular venues, dancing 'til you drop, and an amazing band lineup with live music at every ticketed event! Full Info — www.TampaLindy.com

Crash Courses — Need to brush up on Lindy? The upcoming seven Wednesdays at the Gulfport Casino Swing Night, Swing Time is offering six crash courses in dances that you'll find extremely useful at a Lindy Exchange. All crash courses cover the basics in the easiest/fastest way possible, then proceed with as many add-on moves as one hour will allow. Crash courses offer ample practice opportunity and give you the foundation you need, with further practice, to excel at each dance. Crash courses run 6-7pm each Wednesday and are included free (with each ticket purchased) to the Swing Night!
JUL 17: Charleston Moves for Lindy Hoppers Crash Course
JUL 24: Charleston Lines ("Sing, Sing, Sing")
JUL 31: 20's-Style Partner-Charleston Crash Course
AUG 7: Lindy Hop Crash Course
AUG 14: Balboa Crash Course
AUG 21: Blues Dancing Crash Course
AUG 28: Shim Sham Crash Course
---
Summer's in full swing at the Gulfport Casino Swing Night! Every Wednesday, learn special bonus topics 6-7pm (see above for schedule) ...followed by Swing Dance Lessons 7-8pm ...then Dance 8-11pm! Just $7 includes EVERYTHING and Students Get 2-for-1 Admission! Is your birthday coming up? Celebrate Your Birthday at the Gulfport Casino Swing Night!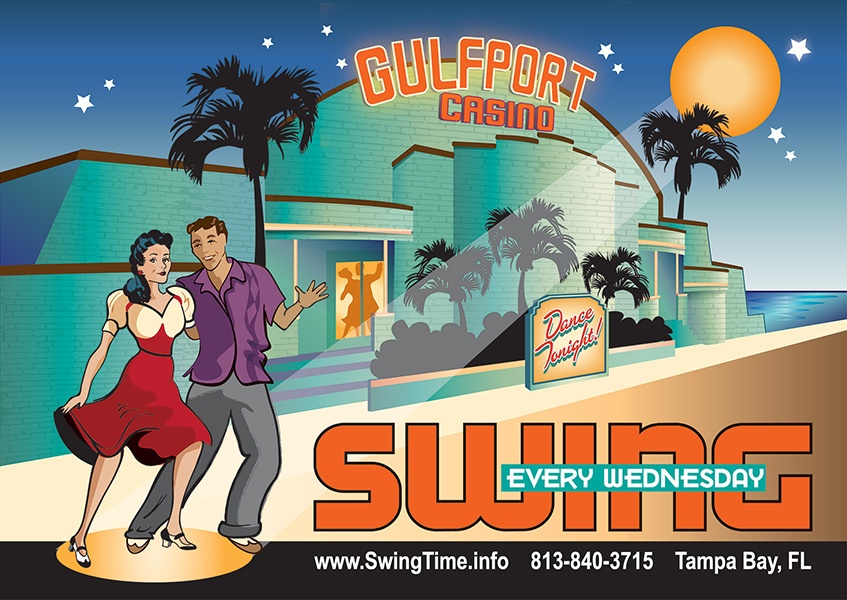 * ALL AGES * No Partners Needed * PRIZES *

Map & Directions Dance Lessons More Info

The Gulfport Casino Ballroom is one of the world's top dance destinations, offering social dance excitement in a picturesque beachfront setting. It features a rich history, a grand dance floor, a full bar, a smoke-free atmosphere, and free parking. The Gulfport Casino Ballroom is located in the St. Petersburg, Florida area at 5500 Shore Blvd. S., Gulfport, FL 33707.

---
GET THE SWING NEWS Delivered to Your Email

© All contents of this web site (www.SwingNews.com) except where otherwise stated are Copyright 1998-2017 Retro Production Company with all rights reserved
---