SUBSCRIBE to Swing Time's Weekly Email Newsletter
Swing Time Newsletter — Monday SEPTEMBER 9th 2013
This Wednesday Sep 11th, join us for the Gulfport Casino Swing Night! Learn Triple-Time Swing 6-7pm ...followed by swing-dance lessons 7-8pm ...then dancing 8-11pm! Enter the prize drawing to win a free ticket to the Blair Crimmins Benefit Concert. Just $7 includes EVERYTHING and students get 2-for-1 admission! Is your birthday coming up? Celebrate your birthday at the Gulfport Casino Swing Night!

Kick your dancing up a notch with Triple-Time Swing! Triple-time swing forms the basis for most advanced swing dancing (including Lindy Hop, West-Coast Swing, and advanced East-Coast Swing), for the simple reason that if you add more steps, you can perform more intricate moves. But triple-time is not just steps; it's a whole new attitude of dancing! In these classes, we focus on movement. We show you how to easily impress your partner. We show you a variety of more advanced six-count moves. Our overall goal is to raise your dancing to the next level! Triple-Time Swing Classes run 6-7pm the upcoming 3 Wednesdays only (Sep 11th, 18th & 25th) at the Gulfport Casino Swing Night. Just buy your ticket to the dance and you get each class, a $10 value, for free!

LAST WEDNESDAY at the GULFPORT CASINO...Congratulations to Will & Katy on their Engagement!
---
Blair Crimmins Benefit Concert — This Saturday September 14th, one of the hottest 1920's-style bands in the nation plays the St. Petersburg Coliseum in a benefit for UPARC Foundation, complete with dancing. (Band Info) Get advance tickets for just $15 (save $6) this Wednesday at the Gulfport Casino Swing Night!
---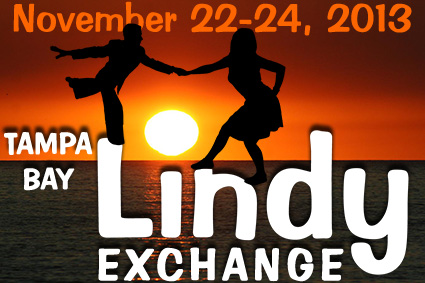 REGISTER by this SUNDAY SEPTEMBER 15TH for the Tampa Bay Lindy Exchange to get: 1) Savings of 33% on your Weekend Pass; 2) Free Entry in the Jack & Jill Dance Contest; and 3) Guaranteed Admission to Friday's & Saturday's Late-Night Dances! Weekend-Pass prices are subject to increase starting September 16th. Register here

Get ready for 3 days & 3 nights of nonstop dancing with more live music than any other dance weekend on the planet! With spectacular venues, SWINGING ON THE BEACHES, an amazing band lineup, dancing 'til you drop with 9 events & 40+ hours of dancing, live jazz & swing & blues, 3 late-night dances (live gypsy jazz & blues, live blues, & modern), and a Jack & Jill contest, the Tampa Bay Lindy Exchange will be an excitement-filled weekend to remember! It all happens the weekend before Thanksgiving in sunny Tampa Bay, Florida. So far, registrations have come in from CA, PA, TN, and FL...25+ cities ranging from South Florida to Orlando to Pensacola to Tampa Bay!
---
Upcoming Bonus Lessons: (6-7pm Wednesdays at the Gulfport Casino Swing Night)
SEP 11th,18th,25th 2013: Triple-Time Swing
OCT 2nd,9th,16th 2013: Blues Dancing
OCT 23rd,30th 2013: Shim Sham
---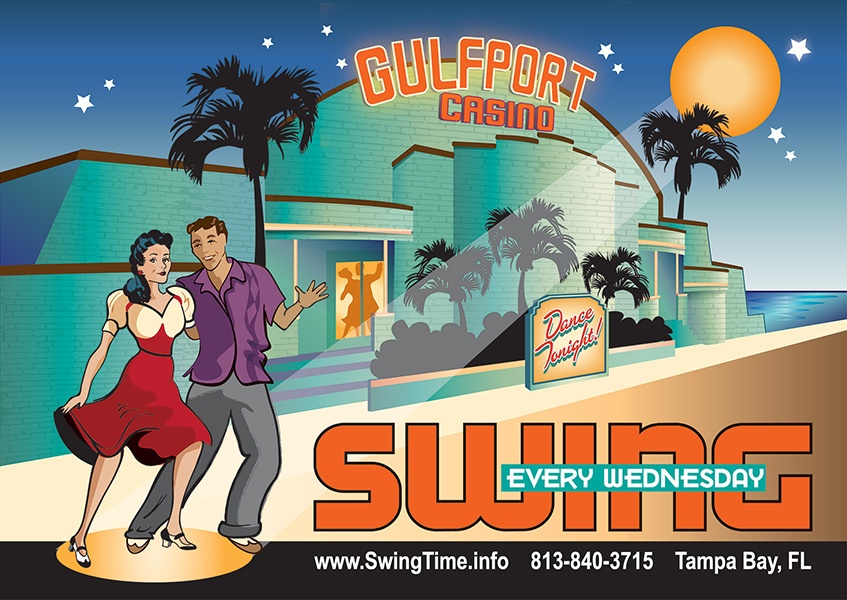 ---
GET THE SWING NEWS Delivered to Your Email

© All contents of this web site (www.SwingNews.com) except where otherwise stated are Copyright 1998-2017 Retro Production Company with all rights reserved
---