SUBSCRIBE to Swing Time's Weekly Email Newsletter
Swing Time Newsletter — Friday SEPTEMBER 27th 2013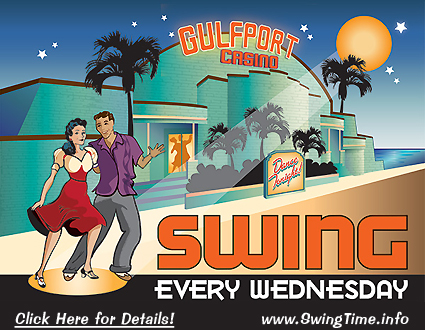 Blues Dance Lessons start this Wednesday at the Gulfport Casino Swing Night, featuring blues expert & instructor, Steve Stone. (Steve just moved here from Orlando where he ran blues-dancing events for 10+ years!) The first 3 Wednesdays in October (Oct 2nd, 9th & 16th) feature Blues Dance Lessons 6-7pm with new moves/steps/techniques taught each week! That's followed by Swing Dance Lessons 7-8pm with Sam & Katy, then Dancing 8-11pm. Just $7 admission includes both lessons and the dance!
Dance this Wednesday OCT 2nd at the Gulfport Casino Swing Night! Learn Blues Dancing 6-7pm featuring special guest instructors, Steve & Tricia Stone ...followed by Swing Dance Lessons 7-8pm with Sam & Katy ...then Dancing 8-11pm! Just $7 includes EVERYTHING and students get 2-for-1 admission! Is your birthday coming up? Celebrate your birthday at the Gulfport Casino Swing Night!
---
Upcoming Bonus Lessons: (6-7pm Wednesdays at the Gulfport Casino Swing Night)
OCT 2nd,9th,16th: Blues Dancing
OCT 23rd: Shim Sham
---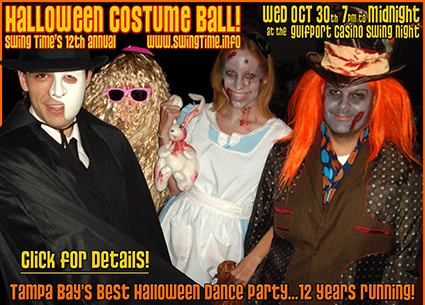 Wednesday, October 30th, put on your best costume and get ready to swing with all sorts of exciting characters! It's Swing Time's 12th Annual Halloween Costume Ball at the Gulfport Casino Swing Night! The Ball starts with a one-of-a-kind dance lesson: Shim Sham (with Special Zombie Styling!) 7-8pm; no partner needed. Starting at 8pm, dance 'til the midnight hour to the Ultimate Halloween Swing/Dance Music Mix! The Halloween Costume Ball features a Costume Parade & Contest with $300+ worth of Cash & Prizes for the Best, Scariest, Hottest, Funniest, Swingiest, and Most Original costumes! The Ball features loads of Chocolate, Candy, & Trick-or-Treats; Door Prizes; a Zombie Shim Sham; a Steal Dance Mixer; plus Special Halloween Decor & Atmosphere! Gulfport Casino's vintage waterfront grand ballroom is smoke-free and provides a full bar and free parking. Just $8 admission includes EVERYTHING, and all ages are welcome! Experience Tampa Bay's Best Halloween Dance Party... twelve years running! More Info / Photos from last year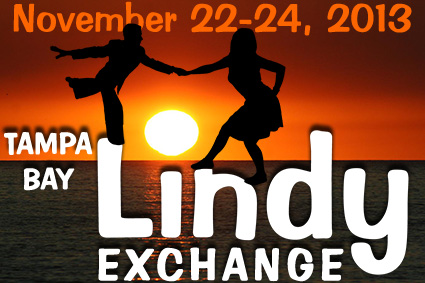 Get ready for 3 days & 3 nights of nonstop dancing with more live music than any other dance weekend on the planet! With spectacular venues, SWINGING ON THE BEACHES, an amazing band lineup, dancing 'til you drop with 9 events & 40+ hours of dancing, live jazz & swing & blues, 3 late-night dances (live gypsy jazz & blues, live blues, & modern), and a Jack & Jill contest, the Tampa Bay Lindy Exchange will be an excitement-filled weekend to remember! It all happens the weekend before Thanksgiving in sunny Tampa Bay, Florida. Register now and get the Deep Discount Deal on your Weekend Pass!

WHERE TO STAY (A Guide for Out-of-Town Dancers): Clearwater Beach is your best bet. You'll be walking distance to 3 of the dances and a short (5 mile) drive to 3 more. Dancers are welcome to use the Suncoast Jazz Classic's official hotels (ask for the Jazz Classic Rate) which start at $99 for the Chart House Suites and can accommodate up to 4 people. Or you can check your favorite travel sites (Orbitz, for example, lists Clearwater Beach h/motels starting at $65). Clearwater Beach Chamber of Commerce has a more comprehensive lodging list including places you won't find on those travel sites. Those who want the true lindy exchange experience (crashing on a fellow dancer's floor or couch) can request housing when they register (local dancers can volunteer to host out-of-towners too upon registration). Register by October 1st (deadline this Tuesday) to request housing.
---
GET THE SWING NEWS Delivered to Your Email

© All contents of this web site (www.SwingNews.com) except where otherwise stated are Copyright 1998-2017 Retro Production Company with all rights reserved
---