SUBSCRIBE to Swing Time's Weekly Email Newsletter
Swing Time Newsletter — Friday NOVEMBER 8th 2013
Get ready for the ultimate swing-dance weekend, coming November 22nd-24th to Tampa Bay! Not just Lindy Hop, but all kinds of swing dancing, blues dancing, and other dancing will be danced! With 3 days & 3 nights of nonstop dancing, and more live music than any other dance weekend on the planet, the Tampa Bay Lindy Exchange will be an excitement-filled weekend to remember! Read all about it here, and keep this email as your comprehensive guide to the weekend. Spectacular venues...swinging on the beaches...amazing band lineup...major music festival...fun dance contest...daytime dances...evening dances...nightly dances...late-night dances! Buy a Weekend Pass -or- Advance Tickets to individual dances (advance-purchase deadline 11:59pm Thursday 11/21/2013).

Many of you have asked "When's the next LIVE BAND event?" and "When's the next WEEKEND swing dance?" Coming soon is your rare chance to dance to live music AND sleep in the next day! Support the Friday-night & Saturday-night dances if you want more bands and weekend dances in the future.
---
NIGHTLY DANCES
---
Swing Sunday LIVE
Sunday November 24th, 8:00pm-Midnight, at Zendah Grotto in Tampa
The Swing Gang presents a special live edition of Tampa's longest-running swing dance, featuring the band, Kid Dutch & his Blusicians! Finalists in the Jack & Jill Dance Contest will dance/compete at band intermission! Tickets are $17 in advance (deadline to purchase advance tickets is 11:59pm Thursday 11/21/2013) -or- $20 at the door. Advance tickets are available online or at prior Swing Gang dances. Buy Advance Tickets: $17/each
This upbeat, 6-piece, acoustic group features saxes, brasses, guitar, upright bass, and drums played by a seasoned team of high-energy musicians! Formed in 1995, Kid Dutch & his Blusicians have been swinging ever since, with a repertoire that encompasses Jump & Jive, Rhythm & Blues, Jazz & Big Band, Boogie Woogie and Rock & Roll! All of these styles are rooted in the blues, hence the "Blusicians" name. In addition to original tunes by Kid Dutch, himself, the band also covers the music of past greats including Louis Jordan, Fats Domino, Cab Calloway, Smiley Lewis, Fats Waller, B.B. King, and Slim Gaillard. Who is Kid Dutch? Bandleader, Multi-Instrumentalist, Vocalist, Entertainer, Bluesman, Jazz Historian, Engineer, World Traveler, Vintage Wind Instrument Expert, and all-round swell guy, Kid Dutch has been active in the music business since 1978. "Kid Dutch... is able to... create and perform vivid, exuberant and vivacious crowd pleasers.... Kid Dutch has an evocative and abundant repertoire that dazzles and amuses listeners...." — Dr. Ken Rabac, WUCF-FM
---
LATE-NIGHT DANCES
---
Late-Night Swing & Blues
Friday Late Night (aka Saturday morning), 12:30am-4:30am, at Dancer's Co-op
Live music by the Rebecca Zapen Trio. Get your lindy, balboa, and blues grooves on at Friday's Late-Night event, dancing to the live gypsy-jazz-infused numbers of the Rebecca Zapen Trio! Friday's Late-Night Swing & Blues dance is presented by Swing Time. Tickets are $13 in advance (deadline to purchase advance tickets is 11:59pm Thursday 11/21/2013) -or- $15 at the door (cash only). Advance tickets are available online only. Buy Advance Tickets: $13/each
Rebecca Zapen is an award-winning singer, songwriter, classical- & jazz-trained violinist, and multi-instrumentalist whose talents range from guitar to ukelele. In addition to pop, classical, swing, and various styles of jazz music, Rebecca has spent years studying and playing gypsy jazz, going as far as France's Django Reinhart Festival. Formerly from Jacksonville, some might remember her as vocalist and violinist for Jacksonville swing and gypsy-jazz band, Pretty Boy Freud. Rebecca has appeared on NPR, with the Hollywood Philharmonic Orchestra, and at the Florida Folk Festival, Jacksonville Jazz Festival, and Clearwater Jazz Holiday. She's released 4 CDs and has numerous recordings, videos, and creative projects to her credit. Rebecca is joined by jazz professor and composer, LaRue Nickelson on guitar, and Joe Porter on double bass.
---
Late-Night Blues Dance
Saturday Late Night (aka Sunday morning), 12:30am-4:30am, at Dancer's Co-op
Live music by the Betty Fox Band. After a full day of lindy hopping, settle into some bluesy, funky, and soulful grooves, courtesy of Florida's hottest up-and-coming blues singer, Betty Fox, and her band. Saturday's Late-Night Blues Dance is presented by The Gathering. Tickets are $13 in advance (deadline to purchase advance tickets is 11:59pm Thursday 11/21/2013) -or- $15 at the door (cash only). Advance tickets are available online only. Buy Advance Tickets: $13/each
She's been compared to Etta James, Aretha Franklin, Bessie Smith and Janis Joplin, ...called a "bluesy Christina Aguilera", ...but whatever the comparisons and influences, Betty Fox is a phenomenon in her own right. Betty Fox brings modern-day vocal stylings and incredible soul to singing the blues...and she doesn't just sing it, but she performs — and seemingly experiences — each song. With an extensive background in gospel and a lifelong passion for soul music, Betty Fox has burst onto the Florida music scene in a whirlwind of controlled yet unabashed passion and has taken the hearts of anyone wise enough to lend their ear. In two short years, she has: become "one of the most acclaimed singers in the Tampa Bay area" [Randy Wynne, Director, WMNF 88.5]; recorded a CD of mostly originals that has won the praise of blues publications worldwide; been voted "Best of the Bay" by Creative Loafing readers; and played blues festivals, venues, and gigs across Florida for audiences of up to 6000+ fans! Betty has put together a hugely talented band that includes the phenomenal guitar playing of Josh Nelms, the rhythmic bass of Matt Walker, and the beating drums of Sam Farmer. Dance to this band while you can, because stardom is likely in their future!
---
Midnight Modern Mixer
Sunday Late Night (aka Monday morning), Midnight-4:00am, at Simone Salsa
DJ Natch, pioneer of the late-night modern room at lindy exchanges, spins a modern musical mix for your lindy hopping and partner dancing pleasure! This grand finale of the Tampa Bay Lindy Exchange happens at Simone Salsa, an exciting dance venue located just a short hop (5 miles) from the prior dance at Zendah Grotto, and featuring the perfect ambiance for this modern-themed late-night dance! You'll want to take the day off Monday for this one! Sunday's Midnight Modern Mixer is presented by Swing Time. Tickets are $5; buy them at the door (cash only).
---
DAYTIME DANCING
---
Suncoast Jazz Classic Festival
Saturday November 23rd, 9:30am-5:00pm, at Sheraton Sand Key & Marriott Sand Key
*** 5 Stages * 25 Acts * 30 Sets of Music * 3 Dance Floors! ***
Dance to many of the USA's top swinging jazz bands! Experience the excitement of the Suncoast Jazz Classic festival, with live music happening simultaneously on FIVE different stages! Step outside, take a break, and you'll be on the lovely Sand Key Beach! Your Lindy Exchange Weekend Pass gets you in all daytime Saturday to the Jazz Classic festival, where half the fun is wandering from stage to stage experiencing the music....AND most of the stages have a dance floor nearby, so daytime dance opportunities will abound! Traditional (and danceable) jazz (such as New Orleans Jazz, Dixieland, and Swing) is what this festival's all about. The festival also features a few acts "outside the box", from smooth jazz to rockabilly to Cajun/Zydeco. With all the music (and dance) talent at the festival, you never know when a jam session is going to break out! Saturday's daytime festivities are presented by the Suncoast Jazz Classic. Daytime tickets are $22 (valid 9:30am-5:00pm); buy them at the door. The following 25 acts appear LIVE Saturday November 23rd, 9:30am-5:00pm (click here for full band schedule):

Tom Rigney & Flambeau (San Francisco, CA)
Midiri Brothers (Northeast USA)
Sony LaRosa & America's Youngest Jazz Band (Tampa Bay, FL)
John Lamb w/ Dan Harris & Jim Lawlor
Randy Morris & Paul Reed Pianorama
Caroline Dahl (San Francisco, CA) Pianorama
High Sierra Jazz Band (Three Rivers, CA)
Bob Draga (Clearwater, FL) Special Guest Artist
Dave Majchrzak (St Louis, MO) Pianorama
Hopkins' & Miller's Sunset Stomp (Indianapolis, IN)
John Lamb w/ Terry Myers, Ed Metz & Dan Harris
Joel Schiavone (New Haven, CT) Keeper of the American Songbook
Your Father's Mustache Alumni Reunion Band (Northeast USA)
St. Louis Stompers (St Louis, MO) present Jelly Roll Lives
Jane Campedelli & the Jubilee Jazz Band (East-Coast USA)
Ed Clute (NY) Pianorama
Lakewood High School Jazz Combo (St Petersburg, FL)
Red Garter Jazz Band (Ocala, FL)
Naples Dixieland Jazz Band (Naples, FL)
Kelly/Scott Sextet (Jacksonville, FL) w/ Special Guest Dave Steinmeyer
Dave Bennett & the Memphis Boys (Detroit, MI)
Bill Allred's Classic Jazz Band (Orlando, FL)
Wally's Warehouse Waifs (Otis, MI)
Cornet Chop Suey (St Louis, MO) presents Tribute to Louis Armstrong
Kelly/Scott w/ Dave Tatrow & Brian Casserly present Tribute to Trumpet Heavyweights
---
Sunset Swing Beach Bash
Saturday November 23rd, 5pm-8pm, at Pier 60 Pavilion on Clearwater Beach
(Weather Permitting)
Get ready for the first-ever swing dance held under the outdoor Pier 60 Pavilion! Dance on the wooden deck of this huge covered pavilion, or if the urge strikes, in the beach sand nearby. The Lindy Connection will be spinning the tunes to keep the floor hopping! "Sunsets at Pier 60" is a world-famous Tampa Bay icon, "a nightly sunset celebration that takes place in Pier 60 Park on Clearwater Beach". This free family event features artisans, crafters, street performers, musical entertainment, THE BEACH, beach playground (bring the kids), and a fabulous sunset over the Gulf of Mexico! Dress for the outdoors. In case of bad weather (rarely happens in November, but keep your fingers crossed), this outdoor event will be cancelled (and we'll skip forward to the next event). Sunset Swing is presented by Sunsets at Pier 60.
---
Swinging with the Bulls
Sunday November 24th, 11am-4pm, at USF Marshall Center
Sunday, the party moves to Tampa and the University of South Florida, as USF's swing-dance club, The Swinging Bulls, present a fun-day Sunday of dancing at the Marshall Center Amphitheater, a huge, covered, outdoor location in the heart of campus. The club's DJs will spin a swinging musical mix that starts vintage and gets progressively modern. Preliminaries will be held for the Jack & Jill Dance Contest, and the afternoon includes a special dance performance. Autumn in Florida, there's nothing like dancing outdoors! Dancing starts at noon, and is preceded by a swing-dance lesson 11am-noon. Admission is free, though there's a $5 per car fee for parking on campus.
JACK & JILL DANCE CONTEST — Prizes include $100 CASH 1ST PRIZE, prize packages for 1st/2nd/3rd place, tickets to Swingin' the New Year at the spectacular St. Petersburg Coliseum, swing-event tickets, and more! Enter at USF's Marshall Center Amphitheater by 1:30pm Sunday of the Exchange. Entry fee is $5/person, with all proceeds returned to the winners as cash prizes! Prelims happen at 2pm, and top couples advance to the finals Sunday night at Zendah Grotto.
---
SCHEDULE OF EVENTS
---
Buy a Weekend Pass! Weekend Passes get you into ALL EVENTS of the Tampa Bay Lindy Exchange, and are $88 in advance (Advance-Purchase Deadline 11:59pm Thursday 11/21/2013) or $99 at the door.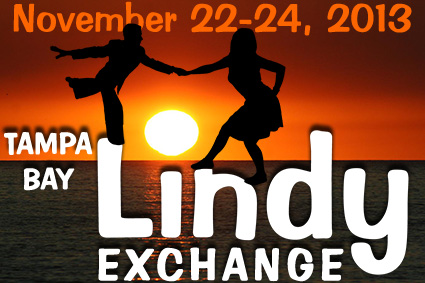 ---
GET THE SWING NEWS Delivered to Your Email

© All contents of this web site (www.SwingNews.com) except where otherwise stated are Copyright 1998-2017 Retro Production Company with all rights reserved
---