SUBSCRIBE to Swing Time's Weekly Email Newsletter
Swing Time Newsletter — Friday NOVEMBER 22nd 2013
It's here....The ultimate swing-dance weekend is happening right now in Tampa Bay! Not just Lindy Hop, but all kinds of swing dancing, blues dancing, and other dancing will be danced. Join us for tonight's dances!
Tonight! — FRIDAY NIGHT SWING DANCE
at the Suncoast Jazz Classic festival
Friday November 22nd, 6pm-Midnight+, at Marriott Sand Key
Dance to FIVE superbly swinging bands from across the USA! Each band performs one full set of music for your dancing pleasure! The lineup is:

6:15- 7:15pm - Cornet Chop Suey (St. Louis, MO)
7:30- 8:30pm - Dave Bennett & the Memphis Boys (Detroit, MI)
8:45- 9:45pm - Bill Allred's Classic Jazz Band (Orlando, FL)
10:00-11:00pm - Kelly/Scott Sextet (Jacksonville, FL)
11:15-12:15am - Wally's Warehouse Waifs (Michigan)

HUGE DANCE FLOOR — This dance takes place in the big Sand Key Ballroom (2nd Floor) of the fabulous Marriott on Sand Key. For one night only, the Sand Key Ballroom will be set up dance-style, with chairs moved to the walls and the entire floor cleared for dancing! Doors open 6pm.

SOMETHING FOR EVERYONE: Attention Dancers! — Your ticket gets you into both the Swing Dance AND the other four music halls of the festival! Cajun/Zydeco fans will want to catch Tom Rigney & Flambeau, one of the hottest bands on the American roots music scene, playing two sets of music (6:15-7:15pm & 10-11pm) at the Sheraton across the street (which has a dance floor). Rock'n'Roll/Rockabilly fans will want to check out Dave Bennett & the Memphis Boys, an incredibly talented act also playing two sets of music (7:30-8:30pm @ Marriott & 11:15pm-12:15am @ Sheraton). Big Band Swing fans will find an abundance of music in the big-band style. Jazz lovers will delight to the variety of swinging jazz bands. Complete Band Schedule

Tickets are $25; purchase them tonight at the door.
Tonight! — LATE-NIGHT SWING & BLUES
Friday Late Night (aka Saturday morning), 12:30am-4:30am, at Dancer's Co-op

Live music by the Rebecca Zapen Trio. Get your lindy, balboa, and blues grooves on at Friday's Late-Night event, dancing to the live gypsy-jazz-infused numbers of the Rebecca Zapen Trio! Friday's Late-Night Swing & Blues dance is presented by Swing Time. Tickets are $15; purchase them tonight at the door (cash only).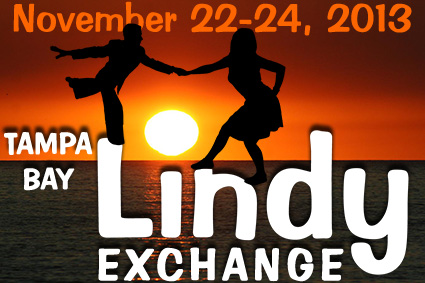 With 3 days & 3 nights of nonstop dancing, and more live music than any other dance weekend on the planet, the Tampa Bay Lindy Exchange will be an excitement-filled weekend to remember! Spectacular venues...swinging on the beaches...amazing band lineup...major music festival...fun dance contest...daytime dances...evening dances...nightly dances...late-night dances!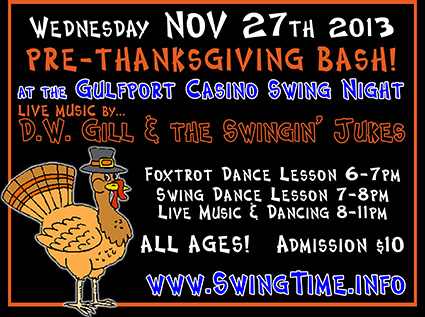 Next Wednesday, November 27th — With Thanksgiving on Thursday, the weekend starts Wednesday night, when Swing Time hosts a special evening of live music and swing dancing! Join in celebration at the Gulfport Casino Swing Night for Swing Time's Pre-Thanksgiving Bash! This huge swing-dance party is always one of the biggest Wednesday Swing Nights of the year, attracting not just locals but out-of-towners who are home for the holidays.

The Bash features live jump/blues and swing music by D.W. Gill & the Swingin' Jukes. It starts with a Foxtrot Dance Lesson 6-7pm, followed by Swing Dance Lesson 7-8pm, then Live Music & Dancing 8-11pm. Admission's just $10 (get your tickets at the door), all ages are welcome, no partner is needed, and it all happens in the spectacular waterfront ballroom of the Gulfport Casino!

D.W. Gill & the Swingin' Jukes are a five-piece outfit featuring D.W. Gill on vocals, harmonica & sax, plus the area's finest jump-blues veterans: Matt Swenson on guitar, Tom "TBone" Hamilton on bass, Dennis "Jungle Denny" McCarthy on drums, and Marshall DeMott on saxophone. Get ready to dance to a diverse mix of jump, swing, and blues originals & classics, with a bit of New Orleans flavor thrown in!
Swingin' the New Year happens 12/31/2013 at the spectacular St. Petersburg Coliseum! This annual Grand New Year's Eve Celebration for All Ages has become Florida's biggest swing-dance event. This year's Celebration features the 18-Piece Tom Kats Big Band! Get details & purchase tickets at www.TampaBaySwing.com. This year's Swingin' the New Year promises to be the greatest ever...make plans now to join us!

Purchase Tickets Now securely online to save $5 AND secure the best seats! Tickets are $25 if purchased by December 10th, or $30 after December 10th. Group discounts and VIP Alcoves and Tables are available for parties of 10 or more, so start organizing your group today.

Free Alcove SuperSpecial — Save $155! — Only 6 Alcoves Remain

SWING TIME SECTION — Only 33 tickets remain in this section. We've reserved a central block of 60 of the best seats in the house for Swing Time regulars, and are selling these Wednesdays at the Gulfport Casino Swing Nights, while they last! So if you'd like to hang with the Swing Time crowd, get your ticket(s) this Wednesday! Tickets in the Swing Time Section are available exclusively to dancers who attend (and purchase them in person at) prior Swing Time events.
---
GET THE SWING NEWS Delivered to Your Email

© All contents of this web site (www.SwingNews.com) except where otherwise stated are Copyright 1998-2017 Retro Production Company with all rights reserved
---