SUBSCRIBE to Swing Time's Weekly Email Newsletter
Swing Time Newsletter — Monday NOVEMBER 25th 2013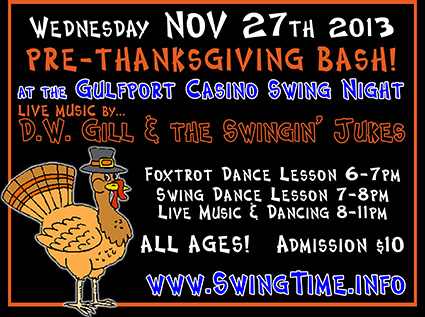 This Wednesday, November 27th — With Thanksgiving on Thursday, the weekend starts Wednesday night, when Swing Time hosts a special evening of live music and swing dancing! Join in celebration at the Gulfport Casino Swing Night for Swing Time's Pre-Thanksgiving Bash! This huge swing-dance party is always one of the biggest Wednesday Swing Nights of the year, attracting not just locals but out-of-towners who are home for the holidays.

The Bash features live jump/blues and swing music by D.W. Gill & the Swingin' Jukes. It starts with a Foxtrot Dance Lesson 6-7pm, followed by Swing Dance Lesson 7-8pm, then Live Music & Dancing 8-11pm. Admission's just $10 (get your tickets at the door), all ages are welcome, no partner is needed, and it all happens in the spectacular waterfront ballroom of the Gulfport Casino!

D.W. Gill & the Swingin' Jukes are a five-piece outfit featuring D.W. Gill on vocals, harmonica & sax, plus the area's finest jump-blues veterans: Matt Swenson on guitar, Tom "TBone" Hamilton on bass, Dennis "Jungle Denny" McCarthy on drums, and Marshall DeMott on saxophone. Get ready to dance to a diverse mix of jump, swing, and blues originals & classics, with a bit of New Orleans flavor thrown in!

ADVANCING YOUR SWING lessons start Wednesday DEC 4th at the Gulfport Casino Swing Night! Take 3 Wednesdays in December (12/4, 12/11 & 12/18) and become a better dancer! Advancing Your Swing lessons run 6-7pm in December and cover intermediate-level Cool Moves, Footwork Variations, Multiple Turns, Dips, Leans, and more! You'll add style to your swing dancing, become a better leader or follower, and get asked to dance much more often! That's followed by Swing Dance Lessons 7-8pm and Dancing 8-11pm. Just $7 includes both lessons and the dance and students get 2-for-1 admission! Is your birthday coming up? Celebrate your birthday at the Gulfport Casino Swing Night!
Swingin' the New Year happens 12/31/2013 at the spectacular St. Petersburg Coliseum! This annual Grand New Year's Eve Celebration for All Ages has become Florida's biggest swing-dance event. This year's Celebration features the 18-Piece Tom Kats Big Band! Get details & purchase tickets at www.TampaBaySwing.com. This year's Swingin' the New Year promises to be the greatest ever...make plans now to join us!

Purchase Tickets Now securely online to save $5 AND secure the best seats! Tickets are $25 if purchased by December 10th, or $30 after December 10th. Group discounts and VIP Alcoves and Tables are available for parties of 10 or more, so start organizing your group today.

Free Alcove SuperSpecial — Save $155! — Only 6 Alcoves Remain

SWING TIME SECTION — Only 33 tickets remain in this section. We've reserved a central block of 60 of the best seats in the house for Swing Time regulars, and are selling these Wednesdays at the Gulfport Casino Swing Nights, while they last! So if you'd like to hang with the Swing Time crowd, get your ticket(s) this Wednesday! Tickets in the Swing Time Section are available exclusively to dancers who attend (and purchase them in person at) prior Swing Time events.
---
GET THE SWING NEWS Delivered to Your Email

© All contents of this web site (www.SwingNews.com) except where otherwise stated are Copyright 1998-2017 Retro Production Company with all rights reserved
---