SUBSCRIBE to Swing Time's Weekly Email Newsletter
Swing Time Newsletter — Monday DECEMBER 9th 2013
DISCOUNT DEADLINE TUESDAY! (12/10) — Purchase Tickets Today securely online to SAVE $5 and secure the best seats! Tickets are $25 if purchased before midnight Tuesday, or $30 after Tuesday.

ONLY 2 ALCOVES REMAIN! — Free Alcove SuperSpecial...Save $155

SWING TIME SECTION...ONLY 26 TICKETS REMAIN — We reserved a central block of 60 of the best seats in the house for Swing Time regulars, and have been selling these Wednesdays at the Gulfport Casino Swing Nights. Now only 26 remain. So if you'd like to hang with the Swing Time crowd, get your ticket(s) this Wednesday, while they last! Tickets in the Swing Time Section are available exclusively to dancers who attend (and purchase them in person at) prior Swing Time events. SPECIAL: Attend Wednesday's Swing Night, buy your ticket in person, and we'll extend the $25/ticket discount deadline for you until 11pm this Wednesday!

NEW TICKET OPTIONS! * BALCONY * SINGLES TABLES * ALCOVES * SEAT ME ANYWHERE *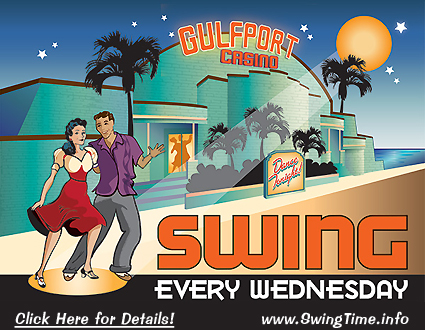 This Wednesday (Dec 11) — Gulfport Casino Swing Night! Advancing-Your-Swing Lesson 6-7pm...Swing-Dance Lesson 7-8pm... Dancing 8-11pm. Just $7 includes both lessons and the dance and students get 2-for-1 admission! Is your birthday coming up? Celebrate your birthday at the Gulfport Casino Swing Night!

ADVANCING YOUR SWING lessons happen this Wednesday DEC 11th & next Wednesday DEC 18th at the Gulfport Casino Swing Night! Take 2 Wednesdays and become a better dancer! Advancing Your Swing lessons run 6-7pm and cover intermediate-level Cool Moves, Footwork Variations, Multiple Turns, Dips, Leans, and more! You'll add style to your swing dancing, become a better leader or follower, and get asked to dance much more often!

SWING CHALLENGE — Win a free private lesson! Take this Wednesday's Advancing-Your-Swing lesson in its entirety (6-7pm), and sometime during the dance (8-11pm) demonstrate the lesson's moves to the instructors. Anyone who can dance all the lesson's material reasonably well wins a free private lesson on the topic of your choice! While we don't expect to give away many of these, we encourage dancers to give it a try...even if you don't win the lesson, you'll come away with some valuable pointers.
---
This Thursday (Dec 12) — Holiday Charity Ball in Riverview (Brandon area). Swing Time's Sam & Katy will perform! This semi-formal event benefits Toys For Tots and includes Dinner, Open Dancing, Dance Performances, and more, in the beautiful & elegant atmosphere of The Regent. Tickets are $50. Visit the link above for tickets and more info.
---

GULFPORT CASINO SWING NIGHT
Holiday Christmas Dance Party! — Wednesday, December 18th, 2013

Celebrate the Christmas season at Wednesday December 18th's Gulfport Casino Swing Night with refreshments, lights & decor, plus we'll mix in the best of swingable holiday music! The whole City of Gulfport, especially the waterfront/Casino area, will be beautifully decorated for the holidays,... and wait 'til you see the Casino itself, with beautiful lights and festive decor both inside & out! Join us for this holiday dance celebration!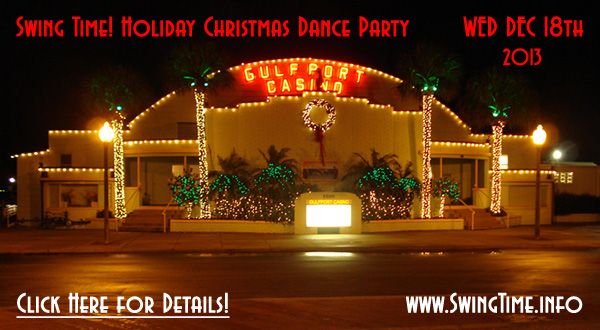 The Gulfport Casino is one of the world's best ballrooms, offering up social dance excitement in a picturesque beachfront setting

"Advancing Your Swing" Dance Lesson 6-7pm
Swing Dance Lesson 7-8pm
Swing Music & Dance 8-11pm

Admission $7 (includes 2 Free Lessons!)
Students get 2-for-1 Admission!


Swingin' the New Year!
GRAND NEW YEAR'S EVE CELEBRATION FOR ALL AGES
Tuesday, December 31st, 2013
at the ST PETERSBURG COLISEUM
featuring The Tom Kats 18-PIECE BIG BAND
with vocalists Sasha Tuck & Ronnie P


Live Music & Dancing + Celebration! 9pm-1am
Swing Dance Lesson: 8-9pm (no partner needed)
Doors Open 7:30pm

Midnight Countdown & BALLOON DROP
Vintage Fashion Photo Shoot & Contest!
Party Favors ~ Noisemakers ~ Chocolates ~ Prize Giveaways
Full Cash Bar w/ Champagne Bottles & Toasts Available
* All Ages * Smoke-Free * New Year's Decor * Free Parking *
Dress to Impress! New Year's and Vintage Attire Encouraged
---
SAVE $5 PER TICKET — Buy tickets by December 10th for just $25 each!
---
Group Discount — Groups of 10+ take an extra $2 off per ticket!
---
Rent an Alcove for $99 (holds up to 28 seats; tickets not included)
Only 2 alcoves remain
---

TICKETS: $25/by DEC 10th -or- $30/after DEC 10th
Purchase Advance Tickets:
Securely Online at www.TampaBaySwing.com
By Phone at 727-669-7830 or 727-773-0064
In Person at the Gulfport Casino Swing Night, Wednesdays 6-11pm

---
FREE ALCOVE SuperSpecial — Save $155! Buy 28 tickets and get $2 off per ticket plus a Free VIP Alcove with 28 reserved seats and deluxe chocolates included! You must buy all 28 tickets in ONE transaction over the internet or phone (727-669-7830). Act now while alcoves last! Only 2 Alcoves remain.
---

Group Discounts & VIP Reservations: Group discounts and Reserved VIP Alcoves & Tables are available for parties of 10 or more, with complimentary deluxe chocolates included! To receive your group discount of $2/ticket with deluxe chocolates at your table (or alcove) on New Year's Eve, just purchase 10 or more tickets in one transaction (all tickets provide reserved seating). If you purchase 10 or more tickets online, your group discount will be applied automatically. Parties reserving VIP Alcoves (alcoves provide anywhere from 0 to 28 seats) may arrive early to custom decorate their alcoves, and may contact us for custom seating arrangements, reserving multiple adjacent alcoves, etc. Click here to reserve an alcove.

Food & Drinks: You may bring your own food to this event, or purchase a variety of snacks from the Coliseum's snack bar (everything from popcorn to ice cream to coffee). For drinks, the Coliseum will run a full cash bar, with beer, wine, mixed drinks, soft drinks, bottled water, and champagne. No outside beverages are allowed into the Coliseum, and no coolers are allowed.

The spectacular St. Petersburg Coliseum provides historic swing-era ambiance and an unparalleled 15,000 square foot oak dance floor! It's located at 535 4th Ave. N., St. Petersburg FL 33701.

---
GET THE SWING NEWS Delivered to Your Email

© All contents of this web site (www.SwingNews.com) except where otherwise stated are Copyright 1998-2019 Retro Production Company with all rights reserved
---