SUBSCRIBE to Swing Time's Weekly Email Newsletter
Swing Time Newsletter — Monday DECEMBER 23rd 2013
---
Reminder...Gulfport Casino Swing Night will be CLOSED Christmas Day (Wed Dec 25) and OPEN New Year's Day (Wed Jan 1). Merry Christmas!
---
Join us New Year's Eve for Florida's biggest swing-dance event!

ONLY 1 ALCOVE REMAINS — Free Alcove SuperSpecial...Save $155
NEW TICKET OPTIONS * SINGLES TABLES * BALCONY * ALCOVES * SEAT ME ANYWHERE *
Tickets to Swingin' the New Year are selling rapidly! Purchase Your Tickets Today!
BALBOA LESSONS START JANUARY 1ST!
featuring Special Guest Instructor Nathan Foreman
Balboa is the 6-7pm Bonus Lesson topic every Wednesday in January at the Gulfport Casino Swing Night! Balboa is one of the world's three most popular swing dances (in addition to East-Coast Swing and Lindy Hop) and it can be danced to music ranging from slow to very fast, without expending a lot of energy or taking up a lot of space. Balboa is a fun dancer's dance, with footwork, lead-follow, and patterns that range from simple to intricate. Many songs you hear, not just at swing dances but out in the general public, are MEANT FOR BALBOA...so use this dance to greatly expand your repertoire!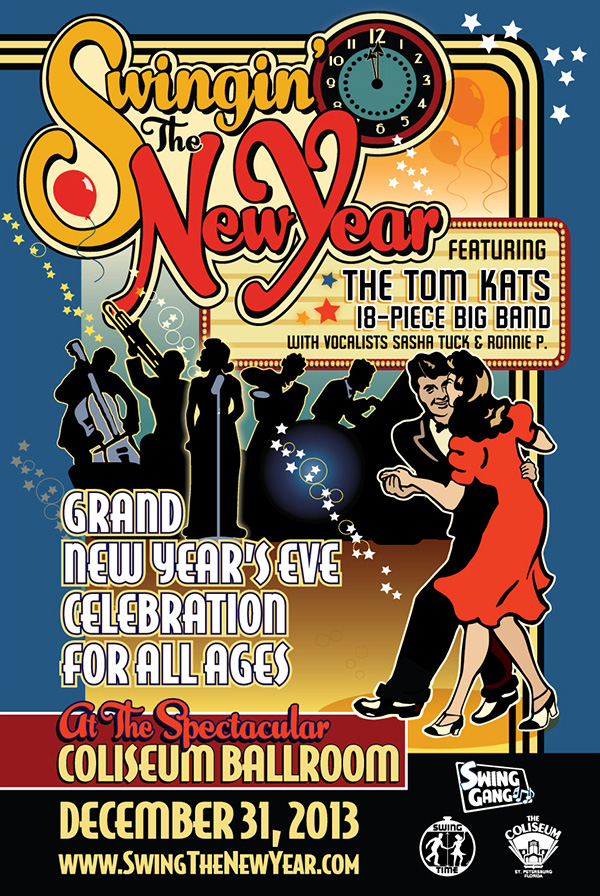 Swingin' the New Year!
GRAND NEW YEAR'S EVE CELEBRATION FOR ALL AGES
Tuesday, December 31st, 2013
at the ST PETERSBURG COLISEUM
featuring The Tom Kats 18-PIECE BIG BAND
with vocalists Sasha Tuck & Ronnie P


Live Music & Dancing + Celebration! 9pm-1am
Swing Dance Lesson: 8-9pm (no partner needed)
Doors Open 7:30pm

Midnight Countdown & BALLOON DROP
Vintage Fashion Photo Shoot & Contest!
Party Favors ~ Noisemakers ~ Chocolates ~ Prize Giveaways
Full Cash Bar w/ Champagne Bottles & Toasts Available
* All Ages * Smoke-Free * New Year's Decor * Free Parking *
Dress to Impress! New Year's and Vintage Attire Encouraged
---
TICKETS: $30
Purchase Advance Tickets:
Securely Online at www.TampaBaySwing.com
-or- By Phone at 727-669-7830 or 727-773-0064
---
Group Discount — Groups of 10+ take an extra $2 off per ticket!
---
Rent an Alcove for $99 (holds up to 28 seats; tickets not included)
Only 1 alcove remains
---
FREE ALCOVE SuperSpecial — Save $155! Buy 28 tickets and get $2 off per ticket plus a Free VIP Alcove with 28 reserved seats and deluxe chocolates included! You must buy all 28 tickets in ONE transaction over the internet or phone (727-669-7830). Act now while alcoves last! Only 1 Alcove remains.
---

Group Discounts & VIP Reservations: Group discounts and Reserved VIP Alcoves & Tables are available for parties of 10 or more, with complimentary deluxe chocolates included! To receive your group discount of $2/ticket with deluxe chocolates at your table (or alcove) on New Year's Eve, just purchase 10 or more tickets in one transaction (all tickets provide reserved seating). If you purchase 10 or more tickets online, your group discount will be applied automatically. Parties reserving VIP Alcoves (alcoves provide anywhere from 0 to 28 seats) may arrive early to custom decorate their alcoves, and may contact us for custom seating arrangements, reserving multiple adjacent alcoves, etc. Click here to reserve an alcove.

Food & Drinks: You may bring your own food to this event, or purchase a variety of snacks from the Coliseum's snack bar (everything from popcorn to ice cream to coffee). For drinks, the Coliseum will run a full cash bar, with beer, wine, mixed drinks, soft drinks, bottled water, and champagne. No outside beverages are allowed into the Coliseum, and no coolers are allowed.

The spectacular St. Petersburg Coliseum provides historic swing-era ambiance and an unparalleled 15,000 square foot oak dance floor! It's located at 535 4th Ave. N., St. Petersburg FL 33701.

Purchase Tickets More Info Map & Directions
---
SWING TIME HOLIDAY SCHEDULE

Dec 25, 2013 (Wed): Gulfport Casino Closed Christmas Day...No Dance

Dec 31, 2013 (Tue): SWINGIN' THE NEW YEAR at the St. Petersburg Coliseum
GRAND NEW YEAR'S EVE CELEBRATION FOR ALL AGES

Jan 1, 2014 (Wed): Gulfport Casino Swing Night - 1st Swing Dance of 2014!

---
GET THE SWING NEWS Delivered to Your Email

© All contents of this web site (www.SwingNews.com) except where otherwise stated are Copyright 1998-2017 Retro Production Company with all rights reserved
---