SUBSCRIBE to Swing Time's Weekly Email Newsletter
Swing Time Newsletter — Tuesday JANUARY 21st 2014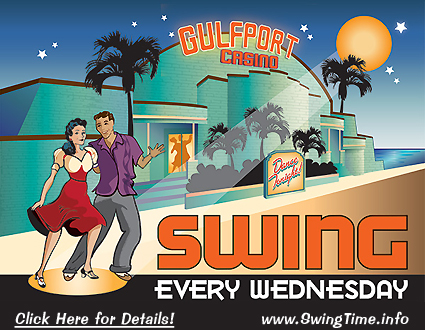 This Wednesday (Jan 22) — Gulfport Casino Swing Night! Balboa Lesson 6-7pm...Swing-Dance Lesson 7-8pm... Dancing 8-11pm. Just $7 includes both lessons and the dance and students get 2-for-1 admission! Is your birthday coming up? Celebrate your birthday at the Gulfport Casino Swing Night!

Balboa featuring Special Guest Instructor Nathan Foreman is the 6-7pm Bonus Lesson topic every Wednesday in January at the Gulfport Casino Swing Night! Balboa guru, Nathan Foreman, has traveled the universe the past 20 years studying Balboa. Now he shares his expertise with you in these lessons!
---
Bonus Lessons: (6-7pm Wednesdays at the Gulfport Casino Swing Night)
1/22/2014: Balboa
1/29/2014: Balboa
2/05/2014: Shim Sham
2/12/2014: Charleston Lines
2/19/2014: Shim Sham
2/26/2014: Pretzel Night 2014
---
---
In Memory of Liz Fitzpatrick
"There are two ways to journey through life. You can march or you can dance. I have done both. Choose to dance."

Today, we take time to remember Liz Fitzpatrick, one of our dearest dancers who passed away on Friday, two months shy of her 84th birthday. She will be missed. Liz was a lifelong dancer who was part of Tampa Bay's dance scenes from as far back as I can remember...from Swing to Contra to Cajun to Clogging, she danced it all. Fellow dancers are planning a Celebration of Life for her this Wednesday at the Gulfport Casino. A Memorial Mass will be held on Friday. ( Addresses/Times/Obituary )

It's not often that a person gets to deliver a portion of their own obituary, but four years ago, a middle school asked Swing Time to create a cultural/educational program for their students who were studying the World War II era. Knowing that Liz had grown up during that era and had joined the Army as part of the WACs (Women's Army Corps) after WWII, I asked her to be the featured speaker at this program, and she graciously volunteered. It became an annual event and she spoke to the kids for four consecutive years. The above black & white photo is Liz in 1944 at age 14. Watch the video to hear Liz speak about growing up during WWII & the Swing Era, about her time in the Women's Army Corps, and most of all, about what it meant to her to be a dancer. —Sam
---
---
Tampa Fusion Dance — Saturday, February 8th, 2014
PARTNER DANCING TO MODERN MUSIC

Thank-you to all who attended January's Fusion Dance and who made this night's debut a success! It was exciting to see all the dancers from different backgrounds and scenes come together, share ideas, and do what dancers do best...dance! Look for future Fusion Dances on the 2nd Saturday of each month, now with an extra half-hour of dancing starting at 11pm!


Saturday February 8th is the next Tampa Fusion Dance, happening 11pm-3am and featuring DJ Mineh Ishida. Bring your entire repertoire of partner-dance skills and dance to a fusion mix of pop, r&b, electronica, etc, ranging from today's club hits to the sultry, groovy, and more! Admission is $7. Dancing fun starts at 11:00pm. Whatever's your favorite style of dance, join us!

Simone Salsa's main studio on Hillsborough Avenue features awesome atmosphere, lighting, and sound, plus 2500 square feet of smooth hardwood dance floor! Address — It's located in the Home Design Plaza shopping center at 8336 W. Hillsborough Ave., Tampa, FL 33615. Parking — Simone Salsa has a huge (and free) parking lot just a few feet from its entrance. Drinks — You can BYO beverages to this venue (as long as you keep 'em off the dance floor). Bottled water is also available for purchase.
---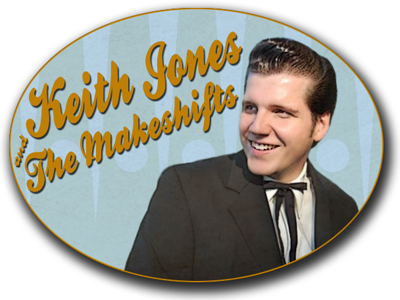 Wednesday March 12th, Keith Jones & the Makeshifts play the Gulfport Casino Swing Night! This Ohio band swings hot jump-blues and traditional rock'n'roll for your dancing pleasure. Mark your calendars now for a special evening of live music & swing dancing! The evening starts with a West-Coast Dance Lesson 6-7pm, followed by Swing Dance Lesson 7-8pm, then Live Music & Dancing 8-11pm. Admission is just $10 (no free passes accepted on band nights); get your tickets at the door. Making their second appearance at the Gulfport Casino Swing Night, Keith Jones & the Makeshifts were a huge hit with dancers when they played for us last summer!
---
Saturday FEB 8th, the Carrollwood Cultural Center hosts a WWII-Themed Big-Band Swing Dance & Concert with live music by the Sounds of Swing Orchestra. Dancing runs 8-10pm. Swing Time's Sam & Katy open the event with two dance lessons, Balboa 6:30-7:15pm and Big Apple 7:15-8:00pm, both of which we'll dance later that evening! Tickets are $12-$18. Visit the link above for tickets or more information. The Carrollwood Cultural Center is located at 4537 Lowell Rd, Tampa, FL 33618; Phone 813-269-1310.
---
---
GET THE SWING NEWS Delivered to Your Email

© All contents of this web site (www.SwingNews.com) except where otherwise stated are Copyright 1998-2017 Retro Production Company with all rights reserved
---