SUBSCRIBE to Swing Time's Weekly Email Newsletter
Swing Time Newsletter — Tuesday MARCH 18th 2014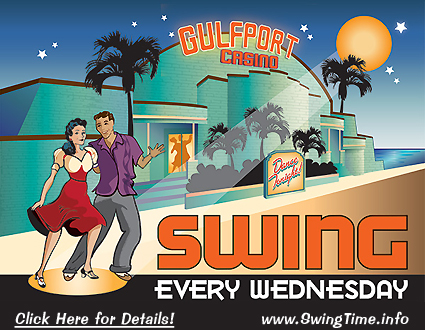 Dance this Wednesday MAR 19th at the Gulfport Casino Swing Night! West-Coast Swing Lesson 6-7pm with John & Tina... East-Coast Swing Lesson 7-8pm with Sam & Katy... Dance 8-11pm. Just $7 includes EVERYTHING and Students Get 2-for-1 Admission! Is your birthday coming up? Celebrate Your Birthday at the Gulfport Casino Swing Night. We'll be celebrating at least 5 birthdays this Wednesday!
---
Bonus Lessons: (6-7pm Wednesdays at the Gulfport Casino Swing Night)
---
---
Tampa Fusion Dance — BLACK & WHITE — Saturday, April 12th
PARTNER DANCING TO MODERN MUSIC
Photos from March's Fusion Dance What is Fusion Dancing?

Saturday April 12th is the next Tampa Fusion Dance, happening in Black & White! Dress to impress in your best black & white (or shades of gray); photographers will be in the house to capture this incredible night. Dancing happens 10:30pm-3:00am and features DJ Mineh Ishida spinning for a talented gathering of dancers from all across Florida! Bring your entire repertoire of partner-dance skills and dance to a mix of pop, r&b, electronica, and other musical fusions ranging from today's club hits to the sultry, groovy, and more. Admission is $7. Whatever's your favorite style of dance, join us!

Simone Salsa's main studio on Hillsborough Avenue features awesome atmosphere, lighting, and sound, plus 2500 square feet of smooth hardwood dance floor! Address — It's located in the Home Design Plaza shopping center at 8336 W. Hillsborough Ave., Tampa, FL 33615. Parking — Simone Salsa has a huge (and free) parking lot just a few feet from its entrance. Drinks — You can BYO beverages to this venue (as long as you keep 'em off the dance floor). Bottled water is also available for purchase.
---
---
GET THE SWING NEWS Delivered to Your Email

© All contents of this web site (www.SwingNews.com) except where otherwise stated are Copyright 1998-2017 Retro Production Company with all rights reserved
---