SUBSCRIBE to Swing Time's Weekly Email Newsletter
Swing Time Newsletter — Tuesday APRIL 15th 2014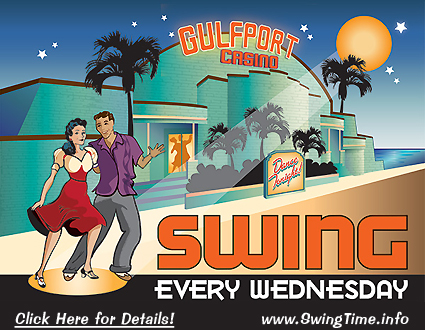 Dance this Wednesday APR 16th at the Gulfport Casino Swing Night! Lindy Hop Lesson 6-7pm... Swing Dance Lesson 7-8pm... Dance 8-11pm. Just $7 includes EVERYTHING and Students Get 2-for-1 Admission! Is your birthday coming up? Celebrate Your Birthday at the Gulfport Casino Swing Night. Join us for Katy's birthday dance and celebration this Wednesday!

CHARLESTON FOR LINDY HOPPERS including some never-before-taught material is the 6-7pm lesson topic this Wednesday APR 16th at the Gulfport Casino Swing Night! We'll cover essential variations for swing dancers that go beyond the basics, including Tandem Charleston, Traveling Charleston, Hand-to-Hand Charleston, and Suzy Q's. Then we'll put them all together to dance Part II of our choreographed routine, the Lindy Chorus!

Here's Sam & Katy's Video Recap of Part I of the Lindy Chorus...for your reviewing and practicing pleasure. While we don't teach individual moves in this video, the recap will be helpful for both experienced lindy hoppers AND dancers who were there last Wednesday. Get a big head start by getting together with your favorite partner and practicing it! We'll rehearse the Lindy Chorus at the Gulfport Casino on Wednesday April 30th during the 6pm lesson, and we'll dance/video it on Wednesday May 7th for Frankie Manning's 100th Birthday Celebration!
---
Bonus Lessons: (6-7pm Wednesdays at the Gulfport Casino Swing Night)
APR 2014: Lindy Hop (Click to See Lindy Chorus)
MAY 2014: Shag (Click to Watch Rebirth of Shag Movie)
---
---
JUNE 1ST BALLROOM DANCE — SAVE THE DATE! Mark your calendars for Sunday June 1st, when Swing Time hosts ballroom dance night at the Gulfport Casino! Beginning Lesson 6-7pm (Learn the Rumba)...Intermediate Lesson 7-8pm (Rumba/Blues Fusion)...Dance 8-11pm. Admission $7. More details to come!
---
5 YEARS AGO, Swing Time took part in the Global Shim Sham, a tribute to grandaddy of swing, Frankie Manning, prior to his 95th birthday. After the 6pm lesson on Shim Sham, dancers gathered at the Gulfport Casino to dance three takes of the Shim Sham, one in front of the Casino (street side), one in back of the Casino (waterfront side), and another inside the ballroom. This was expertly captured by videographer, Jim Webb, posted to YouTube, and submitted to the Global Shim Sham video compilation which debuted in Manhattan at Frankie's 95th Birthday Celebration!

This year, we're doing it again! ...for Frankie Manning's 100th Birthday Celebration...except this time it's a choreographed Lindy Hop routine we'll be dancing. The routine, choreographed by Frankie Manning himself, is known as the Lindy Chorus (watch it here). Swing dancers from around the globe will be learning the Lindy Chorus, then posting and submitting their videos for the Frankie 100 celebration!

To be part of this, all you have to do is learn the Lindy Hop (if you're not already an expert) and then learn the Lindy Chorus. We'll be teaching Lindy Hop, along with every single move in the Lindy Chorus, during the 6-7pm lessons in April at the Gulfport Casino. On April 30th (6-7pm), we'll put all the moves together to learn & practice the Lindy Chorus choreography. The next Wednesday (May 7th), we'll come back to the Gulfport Casino to dance and video the Lindy Chorus!
---
Tampa Fusion Dance — Saturday, May 10th, 2014
PARTNER DANCING TO MODERN MUSIC

Thank-you to all who attended April's Fusion Dance, making it the biggest & best ever! Mark your calendars for future Fusion Dances, happening the 2nd Saturday of each month.

Saturday May 10th is the next Tampa Fusion Dance! Dancing happens 10:30pm-3:00am and features DJ Mineh Ishida spinning for a talented gathering of dancers from all across Florida! Bring your entire repertoire of partner-dance skills and dance to a mix of pop, r&b, electronica, and other musical fusions ranging from today's club hits to the sultry, groovy, and more. Admission is $7. Whatever's your favorite style of dance, join us!

Simone Salsa's main studio on Hillsborough Avenue features awesome atmosphere, lighting, sound, and smooth hardwood dance floor! Address — It's located in the Home Design Plaza shopping center at 8336 W. Hillsborough Ave., Tampa, FL 33615. Parking — Simone Salsa has a huge (and free) parking lot just a few feet from its entrance. Drinks — You can BYO beverages to this venue (as long as you keep 'em off the dance floor). Bottled water is also available for purchase.

PHOTOS from Recent Fusion Dances What is Fusion Dancing? FusionTampa Website
---
---
GET THE SWING NEWS Delivered to Your Email

© All contents of this web site (www.SwingNews.com) except where otherwise stated are Copyright 1998-2017 Retro Production Company with all rights reserved
---