SUBSCRIBE to Swing Time's Weekly Email Newsletter
Swing Time Newsletter — Monday APRIL 21st 2014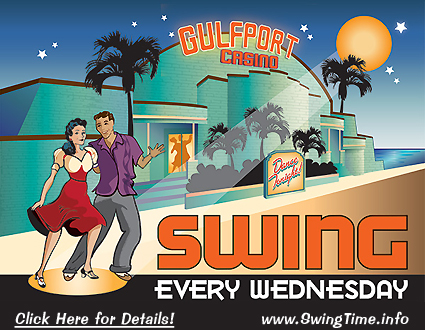 Dance this Wednesday APR 23rd at the Gulfport Casino Swing Night! Lindy Hop Lesson 6-7pm... Swing Dance Lesson 7-8pm... Dance 8-11pm. Just $7 includes EVERYTHING and Students Get 2-for-1 Admission! Is your birthday coming up? Celebrate Your Birthday at the Gulfport Casino Swing Night.

LINDY LESSON GRAND FINALE THIS WED (4/23) 6-7PM — Spice up & speed up your dancing with Beautiful Swivels, Cross-Breaks, Single-Time Swing-Outs, Crazy Jazz Steps, plus a Frankie-Manning Special! Ladies, here's your chance to gain that lovely swivel styling! Gentlemen (and ladies too), impress your partner and yourself by adding fancy cross-break footwork to your favorite Charlestons! Last year, when we taught the Single-Time Swing-Out, dancers told us that Lindy Hop had finally clicked for them, after weeks, months, even years of struggling with the dance! So the Single-Time Swing-Out will deepen your understanding of Lindy Hop AND it'll give you added speed with less effort. We'll cover crazy jazz steps, and we'll teach a trademark super-fun Frankie Manning combination. Finally, we'll put moves together to dance Part III of our choreographed routine, the Lindy Chorus. This will be our most advanced Lindy Hop lesson to date AND there are no prerequisites, so anyone can join in!

LINDY CHORUS GAMEPLAN — Two Wednesdays from now (Wed Apr 30), we'll teach and rehearse the Lindy Chorus at the Gulfport Casino during the 6-7pm lesson. Three Wednesdays from now (Wed May 7), it'll be show time as we dance/video the Lindy Chorus for Frankie Manning's 100th Birthday Celebration! Want to be ready to dance the Lindy Chorus? You can get valuable practice this Wednesday and the next during the 6pm lesson. Also, practice on your own by getting together with your favorite partner. Here's Sam & Katy's Video Recap of Part I of the Lindy Chorus...for your reviewing and practicing pleasure. While we don't teach individual moves in this video, the recap will be helpful for both experienced lindy hoppers AND dancers who are taking our lessons. See bottom of this newsletter for the full scoop on the Lindy Chorus.
---
Bonus Lessons: (6-7pm Wednesdays at the Gulfport Casino Swing Night)
APR 2014: Lindy Hop (Click to See Lindy Chorus)
MAY 2014: Shag (Click to Watch Rebirth of Shag Movie)
---
---
JUNE 1ST BALLROOM DANCE — SAVE THE DATE!
AT THE GULFPORT CASINO BALLROOM
Beginning Lesson 6-7pm (Learn the Rumba)
Intermediate Lesson 7-8pm (Rumba/Blues Fusion)
Dance 8-11pm
Admission $7

Sunday June 1st, Swing Time hosts ballroom dance night at the Gulfport Casino! We'll be modernizing the ballroom-dance concept, expanding it from the standard 10 dances to over 25 dances, including all of today's most popular partner dances! Gone will be the one-song/one-dance mindset, where you have to dance a particular dance to a particular song. Instead, most songs will support multiple dances, and dancers will choose what to dance based on their current skills and desires. No longer will ballroom music seem random and disconnected. Instead, it'll be played in sets that flow, that create an atmosphere in the ballroom, and that enhance both the listener's and the dancer's enjoyment. Finally, the lessons will aim to create well-rounded social dancers who are capable of dancing to any music! Wouldn't you like to be able to JUST DANCE, automatically and beautifully without thinking, to immerse yourself in the music, to smoothly interact with your partner...that's our goal for you in these lessons! Beginning lessons will teach the concepts and moves of a single dance; for June 1st's inaugural dance, we've chosen the Rumba, a dance that gives you the most "bang for your buck" when dancing to modern music. Intermediate lessons will teach fusion: ie, 1. how to transfer moves from one dance to another; 2. the similarities and differences between two chosen dances; 3. what happens when you dance one dance to another's music; and 4. how to create new moves and steps! June 1st's intermediate lesson will be Rumba vs Blues, inspired by the popularity of Blues Dancing and the prevalence of Rumba beats in blues music. Prerequisite for the intermediate lesson is to either take the beginning lesson that precedes it, or to already know the beginning lesson's material (in this case the Rumba). Stay tuned for more details!
---
---
Tampa Fusion Dance — Saturday, May 10th, 2014
PARTNER DANCING TO MODERN MUSIC

Thank-you to all who attended April's Fusion Dance, making it the biggest & best ever! Mark your calendars for future Fusion Dances, happening the 2nd Saturday of each month.

Saturday May 10th is the next Tampa Fusion Dance! Dancing happens 10:30pm-3:00am and features DJ Mineh Ishida spinning for a talented gathering of dancers from all across Florida! Bring your entire repertoire of partner-dance skills and dance to a mix of pop, r&b, electronica, and other musical fusions ranging from today's club hits to the sultry, groovy, and more. Admission is $7. Whatever's your favorite style of dance, join us!

Simone Salsa's main studio on Hillsborough Avenue features awesome atmosphere, lighting, sound, and smooth hardwood dance floor! Address — It's located in the Home Design Plaza shopping center at 8336 W. Hillsborough Ave., Tampa, FL 33615. Parking — Simone Salsa has a huge (and free) parking lot just a few feet from its entrance. Drinks — You can BYO beverages to this venue (as long as you keep 'em off the dance floor). Bottled water is also available for purchase.

PHOTOS from Recent Fusion Dances What is Fusion Dancing? FusionTampa Website
---
5 YEARS AGO, Swing Time took part in the Global Shim Sham, a tribute to grandaddy of swing, Frankie Manning, prior to his 95th birthday. After the 6pm lesson on Shim Sham, dancers gathered at the Gulfport Casino to dance three takes of the Shim Sham, one in front of the Casino (street side), one in back of the Casino (waterfront side), and another inside the ballroom. This was expertly captured by videographer, Jim Webb, posted to YouTube, and submitted to the Global Shim Sham video compilation which debuted in Manhattan at Frankie's 95th Birthday Celebration!

This year, we're doing it again! ...for Frankie Manning's 100th Birthday Celebration...except this time it's a choreographed Lindy Hop routine we'll be dancing. The routine, choreographed by Frankie Manning himself, is known as the Lindy Chorus (watch it here). Swing dancers from around the globe will be learning the Lindy Chorus, then posting and submitting their videos for the Frankie 100 celebration!

To be part of this, all you have to do is learn the Lindy Hop (if you're not already an expert) and then learn the Lindy Chorus. We'll be teaching Lindy Hop, along with every single move in the Lindy Chorus, during the 6-7pm lessons in April at the Gulfport Casino. On April 30th (6-7pm), we'll put all the moves together to learn & practice the Lindy Chorus choreography. The next Wednesday (May 7th), we'll come back to the Gulfport Casino to dance and video the Lindy Chorus!
---
GET THE SWING NEWS Delivered to Your Email

© All contents of this web site (www.SwingNews.com) except where otherwise stated are Copyright 1998-2017 Retro Production Company with all rights reserved
---