SUBSCRIBE to Swing Time's Weekly Email Newsletter
Swing Time Newsletter — Monday APRIL 28th 2014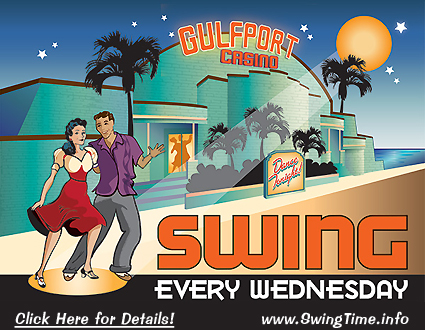 Dance this Wednesday APR 30th at the Gulfport Casino Swing Night! Lindy Chorus Lesson 6-7pm... Swing Dance Lesson 7-8pm... Dance 8-11pm. Just $7 includes EVERYTHING and Students Get 2-for-1 Admission! Is your birthday coming up? Celebrate Your Birthday at the Gulfport Casino Swing Night.

LEARN THE LINDY CHORUS THIS WED 4/30 & DANCE YOUR WAY TO A FREE PASS! This Wednesday, April 30th, 6-7pm at the Gulfport Casino Swing Night, we'll teach & run through the entire Lindy Chorus choreography. Join us to dance the Lindy Chorus and celebrate FRANKIE 100! Anyone who can demonstrate the entire choreography (without mess-ups) by the end of Wednesday's Swing Night will win a free pass to the following Wednesday's (May 7th) Gulfport Casino Swing Night, where we'll dance and video the Lindy Chorus, as we celebrate Frankie Manning's 100th Birthday!

Want a head start? ...to be ready to dance the Lindy Chorus? Swing Time's comprehensive guide to the Lindy Chorus is now online! This breakdown of the dance includes a quick reference guide, detailed move descriptions, and video links...great for practicing on your own AND with your favorite partner.

WEDNESDAY NIGHT HOP — Celebrate Frankie 100! May 7th at the Gulfport Casino Ballroom, Tampa Bay joins the rest of the world in celebrating the 100th birthday of Frankie Manning, a man who played a pivotal role in the history of swing dancing AND its modern-day revival, a dancer who traveled the world spreading the joy and love of not just Lindy Hop, but dancing itself! As part of the worldwide celebration, we'll be dancing and filming Frankie Manning's Lindy Chorus, not once, but three times...outdoors on the waterfront, outdoors in front of the Casino, and indoors in the ballroom. Join the fun! Learn the Lindy Chorus this Wednesday so that you can dance it the next. Here's the lineup for May 7th's Wednesday Night Hop:

6:00- 6:40pm: Lindy Chorus Run-throughs
6:40- 7:00pm: Dance/Video Lindy Chorus Take 1 & Take 2 Outside
7:00- 8:00pm: Swing Dance Lesson
8:00-11:00pm: Dancing, Fun & Celebration!
9:00pm: Shim Sham & Big Prize Drawing
9:30pm: Dance/Video Lindy Chorus Take 3 Inside Ballroom
The Big Prize Drawing includes two hardcover copies of the autobiography Frankie Manning: Ambassador of Lindy Hop straight from the Swing Time library, plus free passes to upcoming Swing Nights! The evening's musical mix will include some of Frankie's favorite tunes...we'll be dancing the Lindy Chorus to a song that's named Wednesday Night Hop! Admission's just $7. Students get 2-for-1 admission. All ages are welcome. More Info
---
SHAG lessons start Wednesday May 14th at the Gulfport Casino Swing Night and run through the end of May (three Wednesdays total) in the 6-7pm time slot. What's Shag? — just the most popular dance of the swing era! Watch the Rebirth of Shag movie.
---
---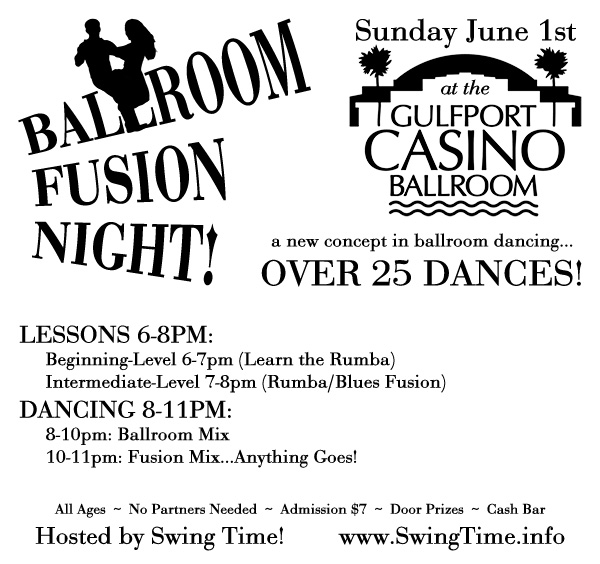 Sunday June 1st, Swing Time hosts Ballroom Fusion Night at the Gulfport Casino! We'll be modernizing the ballroom-dance concept, expanding it from the standard 10 dances to over 25 dances, including all of today's most popular partner dances! Most songs will support multiple dances, and dancers will choose what to dance based on their current skills and desires. Lessons will aim to create well-rounded social dancers who are capable of dancing to any music! Beginning lessons will teach the concepts and moves of a single dance; for June 1st's inaugural dance, we've chosen the Rumba, a dance that gives you the most "bang for your buck" when dancing to modern music. Intermediate lessons will teach fusion: ie, 1. how to transfer moves from one dance to another; 2. the similarities and differences between two chosen dances; 3. what happens when you dance one dance to another's music; and 4. how to create new moves and steps! June 1st's intermediate lesson will be Rumba vs Blues, inspired by the popularity of Blues Dancing and the prevalence of Rumba beats in blues music. Prerequisite for the intermediate lesson is to either take the beginning lesson that precedes it, or to already know the material covered in the beginning lesson.

JUNE 1ST BALLROOM FUSION NIGHT — SAVE THE DATE!
AT THE GULFPORT CASINO BALLROOM
Beginning Lesson 6-7pm (Learn the Rumba)
Intermediate Lesson 7-8pm (Rumba/Blues Fusion)
Dance 8-11pm
Admission $7
---
---
Tampa Fusion Dance — Saturday, May 10th, 2014
PARTNER DANCING TO MODERN MUSIC

Thank-you to all who attended April's Fusion Dance, making it the biggest & best ever! Mark your calendars for future Fusion Dances, happening the 2nd Saturday of each month.

Saturday May 10th is the next Tampa Fusion Dance! Dancing happens 10:30pm-3:00am and features DJ Mineh Ishida spinning for a talented gathering of dancers from all across Florida! Bring your entire repertoire of partner-dance skills and dance to a mix of pop, r&b, electronica, and other musical fusions ranging from today's club hits to the sultry, groovy, and more. Admission is $7. Whatever's your favorite style of dance, join us!

Simone Salsa's main studio on Hillsborough Avenue features awesome atmosphere, lighting, sound, and smooth hardwood dance floor! Address — It's located in the Home Design Plaza shopping center at 8336 W. Hillsborough Ave., Tampa, FL 33615. Parking — Simone Salsa has a huge (and free) parking lot just a few feet from its entrance. Drinks — You can BYO beverages to this venue (as long as you keep 'em off the dance floor). Bottled water is also available for purchase.

PHOTOS from Recent Fusion Dances What is Fusion Dancing? FusionTampa Website
---
5 YEARS AGO, Swing Time took part in the Global Shim Sham, a tribute to grandaddy of swing, Frankie Manning, prior to his 95th birthday. After the 6pm lesson on Shim Sham, dancers gathered at the Gulfport Casino to dance three takes of the Shim Sham, one in front of the Casino (street side), one in back of the Casino (waterfront side), and another inside the ballroom. This was expertly captured by videographer, Jim Webb, posted to YouTube, and submitted to the Global Shim Sham video compilation which debuted in Manhattan at Frankie's 95th Birthday Celebration!

This year, we're doing it again! ...for Frankie Manning's 100th Birthday Celebration...except this time we'll be dancing the Lindy Chorus. To be part of this, learn the Lindy Chorus this Wednesday April 30th during the 6-7pm lesson. The next Wednesday (May 7th), we'll come back to the Gulfport Casino to dance and video it!
---
Saturday MAY 10th, the Carrollwood Cultural Center hosts a Mother's Day edition of its Big-Band Dance & Concert. Moms get a free ticket with each paid admission (limited number available). Live music is provided by the Sounds of Swing Orchestra, tonight featuring vocalists Eddy Dean and Faye Turke. Dancing runs 8-10pm. Swing Time opens the event with waltz & swing lessons 6:30-8:00pm. Tickets are $12-$18. Visit the link above for tickets or more information. The Carrollwood Cultural Center is located at 4537 Lowell Rd, Tampa, FL 33618; Phone 813-269-1310.
---
---
GET THE SWING NEWS Delivered to Your Email

© All contents of this web site (www.SwingNews.com) except where otherwise stated are Copyright 1998-2017 Retro Production Company with all rights reserved
---