SUBSCRIBE to Swing Time's Weekly Email Newsletter
Swing Time Newsletter — Tuesday JUNE 24th 2014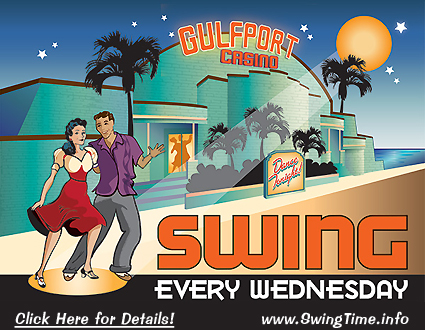 Swing Dance this Wednesday June 25th at the Gulfport Casino — Charleston Lesson 6-7pm...Swing Lesson 7-8pm...Dance 8-11pm. Just $7 includes both lessons and the dance!
• Enter the prize drawing this Wednesday for your chance to win admission ($50 value) to Celebrate Sinatra TAMPA (event details below) + free passes to upcoming Swing Nights.
• School's out for the summer and students get 2-for-1 admission every Wednesday at the Gulfport Casino Swing Night! Take advantage of this sweet deal while it lasts!
• Is your birthday coming up? Celebrate your birthday at the Gulfport Casino Swing Night.
---
Upcoming Bonus Lessons: (6-7pm Wednesdays at the Gulfport Casino Swing Night)
---
---
Get ready to learn the Cha Cha at Sunday July 6th's Ballroom Fusion Night! Though it started in the 1950's, Cha Cha today is danced to a wide selection of modern pop hits. Cha Cha is an easy-to-learn alternative (and stepping stone) to West-Coast Swing, and can be danced to much of the same modern music. Special guest instructor, Juan Uribe from Dance Forever studio, leads the 6pm Cha Cha lesson; Swing Time's Sam leads the 7pm Cha Cha/Swing Fusion lesson. (full details below)
---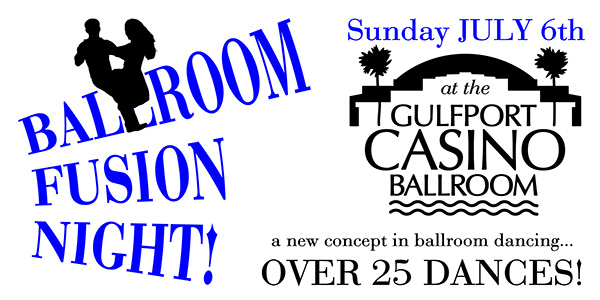 BALLROOM FUSION NIGHT — SUNDAY JULY 6TH at the GULFPORT CASINO
A new concept in ballroom dancing...over 25 dances!

LESSONS 6-8PM:
Beginning-Level 6-7pm (Learn the Cha Cha)
Intermediate-Level 7-8pm (Cha Cha/Swing Fusion)

DANCING 8-11PM:
8-10pm: Ballroom Mix
10-11pm: Fusion Mix...Anything Goes!

All Ages No Partners Needed Admission $7 Door Prizes Cash Bar

Cha Cha Lesson — July 6th's beginning lesson covers the Cha Cha, an extremely useful dance for dancing to modern music.

Cha Cha/Swing Fusion Lesson — July 6th's intermediate lesson is Cha Cha vs Swing. In this fusion of Cha Cha & Swing Dancing, we'll cover some intermediate-level Cha Cha, then use moves from the Cha Cha to widen everyone's swing dancing repertoire. (You can apply this new material to a variety of swing dances, including East-Coast Swing, West-Coast Swing, Lindy Hop, and Charleston.) We'll cover musical/timing/footwork similarities & differences. Finally, we'll use concepts from swing dancing to invent a fancy new move in the Cha Cha!

Dance Lessons — Free with Admission! Map & Directions More Info
---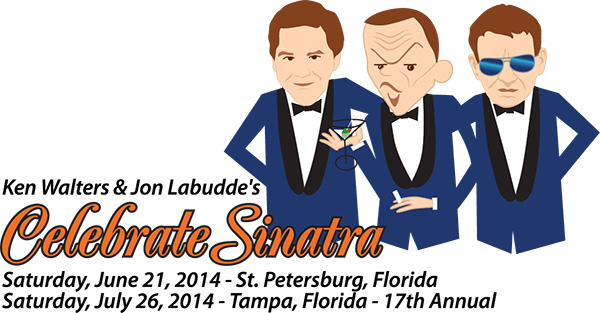 Saturday July 26th is Celebrate Sinatra TAMPA. One of Tampa Bay's premier parties, this black-tie optional affair happens at the historic Ritz Ybor, 1503 E 7th Ave, Tampa, FL 33605. (See Jim Webb's Video #1 and Video #2 from a prior Celebrate Sinatra.) Celebrate the life and music of Frank Sinatra with dancing 9pm-1am to a live big-band orchestra with male and female vocalists. A Latin Quartet opens the show (and the dance floor) 8-9pm. The event runs 8pm-1am and features passed hors d'oeuvres by Cassis, complimentary signature vodka martinis the first hour, a cash bar, casino gaming tables, and valet parking. Celebrate Sinatra recreates an era of style and sophistication. Join Swing Time and a who's who list of Tampa Bay personalities for this grand celebration! Reserve your admission now.... Admission is $50 if purchased by July 22nd; $60 after or at the door. Must be 21+ to attend. Visit www.CelebrateSinatra.com or phone 813-251-0500 for tickets or more information.
---
GET THE SWING NEWS Delivered to Your Email

© All contents of this web site (www.SwingNews.com) except where otherwise stated are Copyright 1998-2019 Retro Production Company with all rights reserved
---