SUBSCRIBE to Swing Time's Weekly Email Newsletter
Swing Time Newsletter — Monday AUGUST 4th 2014
Thank-you to everyone who attended last Sunday's Ballroom Fusion Night. We set a new attendance record and got some great photos of the night...stay tuned for photo highlights! Mark your calendars for the next Ballroom Fusion Night happening Sunday September 7th, and featuring special guest instructor...the one & only, Simone Amaral, from Simone Salsa Dance School! Simone will teach Bachata 6-7pm (the hottest new Latin dance) and will teach Bachata/Tango Fusion 7-8pm. We have many innovations planned for upcoming Ballroom Fusion Nights, starting with September 7th's...announcements coming soon. Last Sunday, we added a couple of short performances, and plan to feature performers on a regular basis. Thanks again for your support of this premier night of social dancing, and please keep spreading the word!
---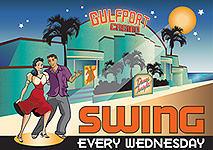 This Wednesday August 6th is the Gulfport Casino Swing Night! Learn Triple-Time Swing in the 6-7pm dance lesson. Swing Dance Lesson 7-8pm...Dancing 8-11pm. Just $7 includes both lessons and the dance; students get 2-for-1 admission. If your birthday's coming up, celebrate your birthday at the Gulfport Casino Swing Night.

Kick your dancing up a notch with Triple-Time Swing! Triple-time swing forms the basis for most advanced swing dancing (including Lindy Hop, West-Coast Swing, and advanced East-Coast Swing), for the simple reason that if you add more steps, you can perform more intricate moves. But triple-time is not just steps; it's a whole new attitude of dancing! In these classes, we focus on movement. We show you how to easily impress your partner. We show you a variety of more advanced six-count moves. We work on improving leading and following skills. Our overall goal is to raise your dancing to the next level! Triple-Time Swing classes run 6-7pm every Wednesday in August at the Gulfport Casino Swing Night. Just buy your ticket to the dance and you get each class, a $10 value, for free!
---
GET THE SWING NEWS Delivered to Your Email

© All contents of this web site (www.SwingNews.com) except where otherwise stated are Copyright 1998-2017 Retro Production Company with all rights reserved
---