SUBSCRIBE to Swing Time's Weekly Email Newsletter
Swing Time Newsletter — Tuesday SEPTEMBER 16th 2014
---
Breaking News — Mitch Woods & his Rocket 88's play this year's Swingin' the New Year at the spectacular St. Petersburg Coliseum! Stay tuned for full event info & ticket sales.
---
More Big News — TBLX II — Florida's best swing-dance weekend — is coming to Tampa Bay. Get ready for 3 days & 3 nights of nonstop dancing! 24-Hour Registration Blitz — Weekend Pass + T-shirt for only $65! Registration opens 1pm this Wednesday (Sep 17)...register during the first 24 hours to get the entire weekend, including official TBLX II T-shirt, for just $65!
---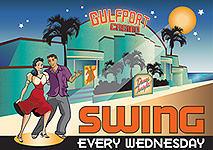 This Wednesday September 17th is the Gulfport Casino Swing Night! Learn Blues Dancing in the 6-7pm dance lesson, featuring special guest instructor, Steve Stone. Swing Dance Lesson 7-8pm...Dancing 8-11pm. Just $7 includes both lessons and the dance; students get 2-for-1 admission. If your birthday's coming up, celebrate your birthday at the Gulfport Casino Swing Night.

FOXTROT IN OCTOBER — Get ready for Foxtrot Lessons, happening 6-7pm Wednesdays October 1st-22nd at the Gulfport Casino Swing Night, and featuring special guest instructors from Dance Forever studio.

The next Ballroom Fusion Night happens Sunday October 5th at the Gulfport Casino. Ballroom Fusion Nights start with two lessons, Beginning-Level 6-7pm and Intermediate-Level 7-8pm, covering a wide variety of dances and dance fusion topics...stay tuned for October topics, but here's a hint...get ready to waltz! Lessons are followed by dancing to an exciting musical mix supporting over 25 partnered dances. Please spread the word. Because of your enthusiasm for the night, the first four Ballroom Fusion Nights were great successes, each bringing over 200 dancers to the Gulfport Casino. We have some great announcements, surprises, and fun times in store for future Ballroom Fusion Nights!
---

Tampa Bay Lindy Exchange — November 21st-23rd 2014
24-Hour Registration Blitz — Weekend Pass + T-shirt for only $65

What's New for 2014? TBLX II starts with an incredible 5-band lineup at the Friday Night Swing Dance, keeping the best 3 acts from last year, and adding 2 exciting new bands to the lineup, the amazing Midiri Brothers out of Pennsylvania, and festival favorites and Cajun/Zydeco/Blues/Boogie artists, Tom Rigney & Flambeau! Friday's dance will feature an expanded dance floor. The Betty Fox Band returns this year to Friday's Late-Night Blues Dance! The Crossroads Dance happens Saturday night featuring three simultaneous rooms of Lindy, Blues, and Modern/Fusion! Outdoor dancing returns Saturday at Clearwater Beach's world-famous Pier 60 Pavilion and Sunday at USF's Marshall Center Amphitheater. The Jack & Jill Contest returns, with $100 Cash 1st Prize! Swing Sunday features a jumpin' new band, Professor Pennygoode's Mighty Flea Circus! We round out the weekend with fun group activities including Lindy Bombs (flashmobs), lunch & dinner meetups, and outdoor beach activities including Beach Volleyball and the Polar Bear Plunge! www.TampaLindy.com

Registration opens 1:00pm this Wednesday September 17th. Register during the first 24 hours to get the entire weekend, including official TBLX II T-shirt, for just $65! Buy your Weekend Pass -or- Advance Tickets to Friday Night's Swing Dance here.
---
GET THE SWING NEWS Delivered to Your Email

© All contents of this web site (www.SwingNews.com) except where otherwise stated are Copyright 1998-2017 Retro Production Company with all rights reserved
---