SUBSCRIBE to Swing Time's Weekly Email Newsletter
Swing Time Newsletter — Tuesday SEPTEMBER 23rd 2014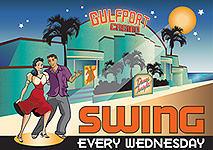 This Wednesday September 24th, dance at the Gulfport Casino Swing Night! Learn Blues Dancing 6-7pm featuring special guest instructor, Steve Stone. (Last chance for Blues...next week Foxtrot lessons start in the 6-7pm time slot.) Swing Dance Lesson 7-8pm with Sam & Bri...Dance 8-11pm. Just $7 includes both lessons and the dance; students get 2-for-1 admission. If your birthday's coming up, celebrate your birthday at the Gulfport Casino Swing Night.

FOXTROT IN OCTOBER — Get ready for Foxtrot Lessons, happening 6-7pm Wednesdays October 1st-22nd at the Gulfport Casino Swing Night, and featuring special guest instructor, Cathy Nelson from Dance Forever studio.
---
HUGE NEWS — Starting October 5th, Ballroom Fusion Night happens EVERY SUNDAY at the Gulfport Casino! (with a few exceptions for Sundays the Casino already has booked). Thank-you for your overwhelming support of this night, and for helping make this an every-week event! Please keep spreading the word, and this premier night of social dancing will keep happening, growing, and thriving at the grand Gulfport Casino Ballroom. Stay tuned to this newsletter...we have some great new features, surprises, and fun times in store for upcoming Ballroom Fusion Nights! The first four Ballroom Fusion Nights were great successes, each bringing 200-250 dancers to the Gulfport Casino. We look forward to seeing you Sunday October 5th for the fifth Ballroom Fusion Night, with Lessons 6-8pm, and Dancing 8-11+pm to an exciting musical mix supporting over 25 partnered dances.


OCTOBER LESSONS — Get ready to waltz! October will feature Waltz Lessons 6-7pm and Viennese Waltz Lessons 7-8pm every Sunday, taught by special guest instructor, Julie Fisher from Dance Forever studio! Learn how to waltz beautifully to both slower and faster music. Each Sunday in October, expect to see some review of needed steps and concepts, then a collection of new steps, new moves, and new dance ideas! Lessons are semi-progressive, meaning there will be review of fundamentals each time (good for solidifying the material and for dancers who drop in starting week number 2, or 3, or 4) AND there will be new material each time so that dancers who attend prior weeks will progress. Ballroom Fusion Night features Tampa Bay's most talented dance professionals teaching a wide variety of dance and dance-fusion topics.&nbsp Topics continue for an entire calendar month, allowing instructors to teach each selected dance in greater depth.

PERFORMANCES — Future Ballroom Fusion Nights will feature up to two dance performances per evening! Performers can be either professional, amateur, or pro/am dancers; and songs/performances should be 1 to 5 minutes in length. Want to perform, or recommend performers? Contact us.
---
Breaking News — Mitch Woods & his Rocket 88's play this year's Swingin' the New Year at the spectacular St. Petersburg Coliseum! Stay tuned for full event info & ticket sales.
---

Tampa Bay Lindy Exchange — November 21st-23rd 2014
Register Now through October 18th — Weekend Pass for only $65

TBLX II — Florida's best swing-dance weekend is coming to Tampa Bay....Get ready for 3 days & 3 nights of nonstop dancing!

What's New for 2014? TBLX II starts with an incredible 5-band lineup at the Friday Night Swing Dance, keeping the best 3 acts from last year, and adding 2 exciting new bands to the lineup, the amazing Midiri Brothers out of Pennsylvania, and festival favorites and Cajun/Zydeco/Blues/Boogie artists, Tom Rigney & Flambeau! Friday's dance will feature an expanded dance floor. The Betty Fox Band returns this year to Friday's Late-Night Blues Dance! The Crossroads Dance happens Saturday night featuring three simultaneous rooms of Lindy, Blues, and Modern/Fusion! Outdoor dancing returns Saturday at Clearwater Beach's world-famous Pier 60 Pavilion and Sunday at USF's Marshall Center Amphitheater. The Jack & Jill Contest returns, with $100 Cash 1st Prize! Swing Sunday features a jumpin' new band, Professor Pennygoode's Mighty Flea Circus! We round out the weekend with fun group activities including Lindy Bombs (flashmobs), lunch & dinner meetups, and outdoor beach activities including Beach Volleyball and the Polar Bear Plunge! www.TampaLindy.com

REGISTRATION — Register now through October 18th (deadline) to get the entire weekend for just $65! Buy your Weekend Pass -or- Advance Tickets to Friday Night's Swing Dance here.
---
---
This Saturday September 27th, The Club at Treasure Island presents I Won't Dance — The Music of Fred Astaire. "In this 75-minute cabaret show, you'll enjoy American Songbook classics like Night and Day, Cheek to Cheek, Puttin' on the Ritz, They Can't Take That Away from Me, and lots more. Plus, you'll hear backstage stories from Astaire's long career in stage and film. The show features Paul Wilborn on vocals and piano, Ms. Eugenie Bondurant on vocals, Frank Bowman on multiple horns, and Matt Cowley on drums, plus special guest dancers" from Swing Time! Tickets are $20-$25. Visit the link above for tickets or more information. The Club at Treasure Island is located at 400 Treasure Island Causeway, Treasure Island, FL 33706; Phone 727-367-4511.
---
---
Saturday OCT 4th, the Carrollwood Cultural Center hosts a Big-Band Dance & Concert with live music by the Sounds of Swing Orchestra. Dancing runs 8-10pm. Swing Time opens the event with dance lessons 6:30-8:00pm. Tickets are $12-$18. Visit the link above for tickets or more information. The Carrollwood Cultural Center is located at 4537 Lowell Rd, Tampa, FL 33618; Phone 813-269-1310.
---
---
GET THE SWING NEWS Delivered to Your Email

© All contents of this web site (www.SwingNews.com) except where otherwise stated are Copyright 1998-2017 Retro Production Company with all rights reserved
---