SUBSCRIBE to Swing Time's Weekly Email Newsletter
Swing Time Newsletter — Tuesday OCTOBER 7th 2014
BREAKING NEWS — Tickets just went on sale for Swingin' the New Year at the spectacular St. Petersburg Coliseum. Already, people are buying tickets and the first three alcoves have sold. This year's Celebration features the world-renowned Mitch Woods & His Rocket 88's! Get ready to jump & boogie, rock & swing! Buy tickets now to get the best seats. Earlybird Special — Save $6/Ticket — Purchase by October 31st. Group discounts and VIP Alcoves and Tables are available for parties of 10 or more, so start organizing your group today. Free Alcove SuperSpecial — Save $323! This Grand New Year's Eve Celebration for All Ages has become Florida's biggest annual swing-dance event...make plans now to join us! Info & Tickets — www.TampaBaySwing.com
---
TBLX2 — Prices increase to $75 October 19th — Register now to get the entire weekend for just $65
Friday Swing-Dance (5 BANDS) a-la-carte advance tickets and t-shirts now available
---
Gulfport Casino Swing Night on NATIONAL TV NEWS! — CBS Sunday Morning aired a story last week, The Timeless Allure of Swing Dancing, featuring footage from the Gulfport Casino Swing Night. Check it out....Thanks to Dennis for the video and to Jim Webb for filming us in the first place!
---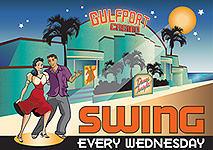 Foxtrot Lessons continue this Wednesday OCT 8th at the Gulfport Casino Swing Night! Wednesdays 6-7pm, October 8th-22nd, it's Social Foxtrot for Swing Dancers, featuring special guest instructor, Cathy Nelson from Dance Forever studio. If you missed last week, you can jump in this week; there will be some review before advancing to fresh new patterns in the Foxtrot.

Swing Lessons follow, 7-8pm, with Sam & Bri. Dance 8-11+pm. Just $7 includes both lessons and the dance; students get 2-for-1 admission. Celebrate your birthday at the Gulfport Casino Swing Night.
---
HALLOWEEN COSTUME BALL — Mark your calendars for Wednesday October 29th at the Gulfport Casino Swing Night for Tampa Bay's Best Halloween Dance Party...13 Years Running! Last year's PHOTOS
---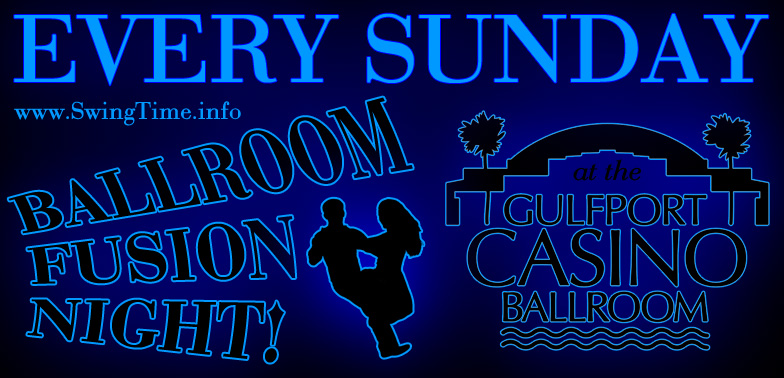 Come dance this Sunday October 12th at Ballroom Fusion Night! From Ballroom Dances to Swing Dances to Latin Dances to West-Coast to Blues to Hustle to Salsa/Bachata to Tango to Street Dances, to fusions of all of the above, to dances people make up on the spot, we dance it all! Learn Waltz & Viennese Waltz in October's lessons (6-8pm) then Dance 8-11pm to a modern ballroom/fusion musical mix. Please spread the word. We look forward to seeing you this Sunday!

SPECIAL DANCE PERFORMANCE THIS SUNDAY — Instructor, Julie Fisher, and her long-time student, Bob Westphal, will showcase one of their creative collaborations! Want to perform or recommend performers for a future Ballroom Fusion Night? Contact us. Ballroom Fusion Nights feature up to two dance performances per evening. Performers can be either professional, amateur, or pro/am dancers; and songs/performances should be 1 to 5 minutes in length. All types of dancing are welcome!

OCTOBER WALTZ & VIENNESE WALTZ LESSONS — Learn how to waltz beautifully to both slower and faster music. October features Waltz Lessons 6-7pm and Viennese Waltz Lessons 7-8pm every Sunday, taught by special guest instructor, Julie Fisher, from Dance Forever studio. Last Sunday's Waltz lessons brought rave reviews for our special guest instructor...and it was great to see nearly perfectly balanced classes with equal numbers of men and ladies! This coming Sunday, gain new Ballroom Waltz & Viennese Waltz skills as these classes and everyone in them progress to higher levels. But if you missed week #1 and you have a little dance experience, don't worry; you'll be fine jumping in starting week #2, because there's always review before advancing to new topics. Ballroom Fusion Night features Tampa Bay's most talented dance professionals teaching a wide variety of dance and dance-fusion topics.&nbsp Topics continue for an entire calendar month, allowing instructors to teach each selected dance in depth.
---

Tampa Bay Lindy Exchange — November 21st-23rd 2014
Register Now through October 18th — Weekend Pass for only $65

Register now to get the entire weekend for just $65! Prices increase to $75 October 19th. Buy your Weekend Passes, T-Shirts, and Friday Swing-Dance Tickets.

TBLX II — Florida's best swing-dance weekend is coming to Tampa Bay....Get ready for 3 days & 3 nights of nonstop dancing!

What's New for 2014? TBLX II starts with an incredible 5-band lineup at the Friday Night Swing Dance, keeping the best 3 acts from last year, and adding 2 exciting new bands to the lineup, the amazing Midiri Brothers out of Pennsylvania, and festival favorites and Cajun/Zydeco/Blues/Boogie artists, Tom Rigney & Flambeau! Friday's dance will feature an expanded dance floor. The Betty Fox Band returns this year to Friday's Late-Night Blues Dance! The Crossroads Dance happens Saturday night featuring three simultaneous rooms of Lindy, Blues, and Modern/Fusion! Outdoor dancing returns Saturday at Clearwater Beach's world-famous Pier 60 Pavilion and Sunday at USF's Marshall Center Amphitheater. The Jack & Jill Contest returns, with $100 Cash 1st Prize! (You must be a Weekend Pass holder to enter the contest.) Swing Sunday features a jumpin' new band, Professor Pennygoode's Mighty Flea Circus! We round out the weekend with fun group activities including Lindy Bombs (flashmobs), lunch & dinner meetups, and outdoor beach activities including Beach Volleyball and the Polar Bear Plunge! www.TampaLindy.com
---
GET THE SWING NEWS Delivered to Your Email

© All contents of this web site (www.SwingNews.com) except where otherwise stated are Copyright 1998-2017 Retro Production Company with all rights reserved
---