SUBSCRIBE to Swing Time's Weekly Email Newsletter
Swing Time Newsletter — Tuesday OCTOBER 14th 2014
Florida's best swing-dance weekend is coming to Tampa Bay NOV 21-23....Get ready for 3 days & 3 nights of nonstop dancing at TBLX2, the Tampa Bay Lindy Exchange...and you don't have to be a "lindy hopper" to join in; if you're a swing dancer, you're going to have a great time! ONLY 4 DAYS REMAIN (Discount Deadline) — Register now to get the entire weekend for just $65! ( 8 HUGE BENEFITS of Registration ) Prices increase to $75 October 19th.
---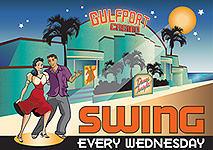 Dance this Wednesday OCT 15th at the Gulfport Casino Swing Night! Start with Foxtrot Lessons 6-7pm featuring special guest instructor, Cathy Nelson from Dance Forever studio. (If you missed the prior two weeks, you can still jump in this week; there will be some review before advancing to fresh new patterns in the Foxtrot.) Continue with Swing Lessons 7-8pm taught by Sam & Bri. Dance 8-11+pm. Just $7 includes both lessons and the dance; students get 2-for-1 admission. Celebrate your birthday at the Gulfport Casino Swing Night.

ADVANCING YOUR SWING IN NOVEMBER — Get ready for Advancing Your Swing lessons, happening 6-7pm every Wednesday in November at the Gulfport Casino Swing Night! Learn Cool Moves, Footwork Variations, Multiple Turns, Dips, Leans, and more! Add style to your swing dancing. Become a better leader or follower, and get asked to dance much more often. (For dancers who've taken this series before, we have some fun new material in store!)
---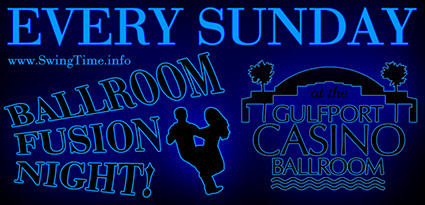 DANCE CARD DANCE
This Sunday October 19th at Ballroom Fusion Night
Click for Last Sunday's Dance Program

We're introducing a classic twist to this Sunday's (Oct 19th) Ballroom Fusion Night. Upon entry, all dancers will receive a Dance Card containing the evening's dance & musical program, along with suggested dances for each song, AND a space where you can reserve a dance with a partner! No longer will you be in the dark about what dance(s) to do to a particular piece of music, and no longer will you have to sprint across the dance hall to snag your favorite partner when that Tango you've been waiting for (or any of 29 other dances) comes on...you get to plan in advance! The best part is over 70% of the songs support YOUR CHOICE among multiple dances, meaning dance skills (or lack thereof) need not keep you off the dance floor. We're going to have a lot of fun with this!

PRIZES will be awarded for Fullest Dance Card (most dances danced) and Most Social Dance Card (highest number of unique dance partners). Turn in your dance card at the end of the night to be eligible. Prizes include $25 Gift Certificates to La Cote Basque Winehouse (restaurant walking distance from Gulfport Casino), $15 Gift Certificates to Dance Forever studio, and Free Passes to upcoming dance nights at the Gulfport Casino!

This Sunday October 19th's Ballroom Fusion Night features Waltz Lessons 6-7pm and Viennese Waltz Lessons 7-8pm, taught by special guest instructor, Julie Fisher, from Dance Forever studio. Lessons are followed by Dancing 8-11pm to an exciting modern musical mix supporting 30 different partnered dances! Please spread the word. We look forward to seeing you this Sunday!
---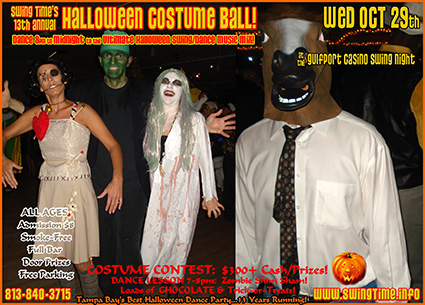 HALLOWEEN COSTUME BALL — Mark your calendars for Wednesday October 29th at the Gulfport Casino Swing Night for Tampa Bay's Best Halloween Dance Party...13 Years Running! Last year's PHOTOS

Put on your best costume and get ready to swing with all sorts of exciting characters! It's Swing Time's 13th Annual Halloween Costume Ball! The Ball starts with a one-of-a-kind dance lesson: Shim Sham (with Special Zombie Styling!) 7-8pm; no partner needed. Starting at 8pm, dance 'til the midnight hour to the Ultimate Halloween Swing/Dance Music Mix... that's right! — all Halloweeny music, all the way to midnight! The Halloween Costume Ball features a Costume Parade & Contest with $300+ worth of Cash & Prizes for the Best, Scariest, Hottest, Funniest, Swingiest, and Most Original costumes! The Ball features loads of Chocolate, Candy, & Trick-or-Treats; Door Prizes; a Zombie Shim Sham; a Steal Dance Mixer; plus Special Halloween Decor & Atmosphere! Gulfport Casino's vintage waterfront grand ballroom is smoke-free and provides a full bar and free parking. Just $8 admission includes EVERYTHING, and all ages are welcome! (Free passes and student specials will not be accepted for this special event.)
---
SWING TIME SECTION — We've reserved a central block of 60 of the best seats in the house for Swing Time regulars, and are selling these Wednesdays at the Gulfport Casino Swing Nights and Sundays at the Ballroom Fusion Nights, while they last! Buy one of these tickets and you'll be among friends and fellow dancers. Tickets in the Swing Time Section are available exclusively to dancers who attend (and purchase them in person at) prior Swing Time events.
Tickets are now on sale for Swingin' the New Year at the spectacular St. Petersburg Coliseum! This year's Celebration features the world-renowned Mitch Woods & His Rocket 88's! Get ready to jump & boogie, rock & swing! This Grand New Year's Eve Celebration for All Ages has become Florida's biggest annual swing-dance event...make plans now to join us! Buy tickets now to get the best seats. Earlybird Special — Save $6/Ticket — Purchase by October 31st. Group discounts and VIP Alcoves and Tables are available for parties of 10 or more, so start organizing your group today. Free Alcove SuperSpecial — Save $323!
---
Tampa Bay Lindy Exchange — November 21st-23rd 2014
Register Now through October 18th — Weekend Pass for only $65

ONLY 4 DAYS REMAIN — Register now to get the entire weekend for just $65! Prices increase to $75 October 19th. Buy your Weekend Passes, T-Shirts, and Friday Swing-Dance Tickets.

TBLX II — Florida's best swing-dance weekend is coming to Tampa Bay....Get ready for 3 days & 3 nights of nonstop dancing!

What's New for 2014? TBLX II starts with an incredible 5-band lineup at the Friday Night Swing Dance, keeping the best 3 acts from last year, and adding 2 exciting new bands to the lineup, the amazing Midiri Brothers out of Pennsylvania, and festival favorites and Cajun/Zydeco/Blues/Boogie artists, Tom Rigney & Flambeau! Friday's dance will feature an expanded dance floor. The Betty Fox Band returns this year to Friday's Late-Night Blues Dance! The Crossroads Dance happens Saturday night featuring three simultaneous rooms of Lindy, Blues, and Modern/Fusion! Outdoor dancing returns Saturday at Clearwater Beach's world-famous Pier 60 Pavilion and Sunday at USF's Marshall Center Amphitheater. The Jack & Jill Contest returns, with $100 Cash 1st Prize! (You must be a Weekend Pass holder to enter the contest.) Swing Sunday features a jumpin' new band, Professor Pennygoode's Mighty Flea Circus! We round out the weekend with fun group activities including Lindy Bombs (flashmobs), lunch & dinner meetups, and outdoor beach activities including Beach Volleyball and the Polar Bear Plunge! www.TampaLindy.com
---
Gulfport Casino Swing Night on NATIONAL TV NEWS! — CBS Sunday Morning aired a story on 9/27/2014, The Timeless Allure of Swing Dancing, featuring footage from the Gulfport Casino Swing Night. Check it out....Thanks to Dennis for the video and to Jim Webb for filming us!
---
---
GET THE SWING NEWS Delivered to Your Email

© All contents of this web site (www.SwingNews.com) except where otherwise stated are Copyright 1998-2017 Retro Production Company with all rights reserved
---