SUBSCRIBE to Swing Time's Weekly Email Newsletter
Swing Time Newsletter — Monday NOVEMBER 17th 2014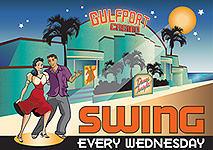 Dance this Wednesday NOV 19th at the Gulfport Casino Swing Night! Start with Advancing-Your-Swing Lessons 6-7pm. (If you missed the prior two weeks, you can still jump in this week or next; all lessons teach different topics and are self-contained.) Continue with Swing Lessons 7-8pm. Dance 8-11+pm. Just $7 includes both lessons and the dance; students get 2-for-1 admission. Celebrate your birthday at the Gulfport Casino Swing Night.

Advancing Your Swing lessons happen 6-7pm Wednesdays in November at the Gulfport Casino Swing Night...2 more weeks only! Learn Cool Moves, Footwork Variations, Multiple Turns, Dips, Leans, and more! Become a more advanced swing dancer, a better leader or follower, and get asked to dance much more often. (For dancers who've taken this series before, we have lots of fun new material in store!)
---
ADVANCE PURCHASE DEADLINE WEDNESDAY @ 11:59pm for TBLX2 and Friday's 5-Band Swing Dance, both happening this weekend! Save $5-$10 if you buy tickets in advance.
---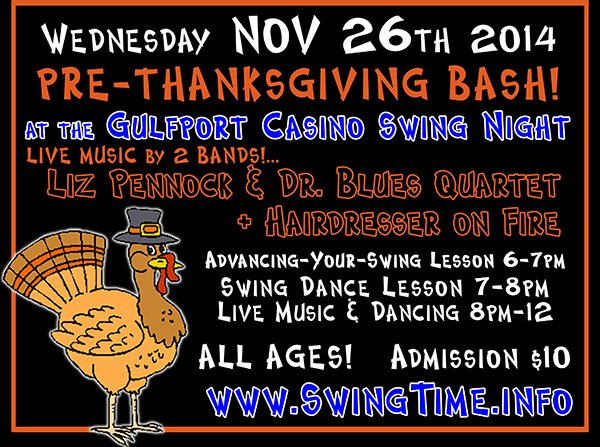 Wednesday, November 26th — With Thanksgiving on Thursday, the weekend starts Wednesday night, when Swing Time hosts a special evening of live music and swing dancing! Join in celebration at the Gulfport Casino Swing Night for Swing Time's Pre-Thanksgiving Bash! This huge swing-dance party is always one of the biggest Wednesday Swing Nights of the year, attracting not just locals but out-of-towners who are home for the holidays.
The Bash features live & swingin' music by two different bands, boogie-woogie hall-of-famers, the Liz Pennock & Dr Blues Quartet, plus rock'n'roll sensations, Hairdresser on Fire! It starts with an Advancing-Your-Swing Dance Lesson 6-7pm, followed by Swing Dance Lesson 7-8pm, then Live Music & Dancing 8pm-Midnight. Admission's just $10 (get your tickets at the door), all ages are welcome, no partner is needed, and it all happens in the spectacular waterfront ballroom of the Gulfport Casino!
FRIDAY NIGHT SWING DANCE
at the Suncoast Jazz Classic festival
This Friday November 21st, 6pm-Midnight+, at Marriott Sand Key
Dance to FIVE superbly swinging bands from across the USA! Each band performs one full set of music for your dancing pleasure. The lineup is:

6:15- 7:15pm - Bill Allred's Classic Jazz Band (Orlando, FL)
7:30- 8:30pm - Tom Rigney & Flambeau (San Francisco, CA)
8:45- 9:45pm - Wally's Warehouse Waifs (Michigan)
10:00-11:00pm - Midiri Brothers (Pennsylvania)
11:15-12:15am - Dave Bennett & the Memphis Boys (Detroit, MI)

SOMETHING FOR EVERYONE: Attention Dancers — Your ticket gets you into both the Swing Dance AND the other four music halls of the festival from 6pm onward! If you'd like to check out more bands, or follow your favorite bands around, you're welcome to do so. From Big Band Swing to Cajun/Zydeco to New Orleans & Dixieland Jazz to Rock'n'Roll/Rockabilly, to Funk & Blues, this festival has it all! Complete Band Schedule

HUGE DANCE FLOOR — This dance takes place in the big Sand Key Ballroom (2nd Floor) of the fabulous Marriott on Sand Key. For one night only, the Sand Key Ballroom will be set up dance-style, with chairs moved to the walls and the entire floor cleared for dancing! This year's dance floor will be even bigger than last year's! Doors open 6pm.

Tickets are $25 in advance (deadline to purchase advance tickets is 11:59pm Wednesday 11/19/2014) -or- $30 at the door. Advance tickets are available now online or this Wednesday at the Gulfport Casino Swing Night.
---
Next BALLROOM FUSION NIGHT — Sunday January 11th 2015 — Ballroom Fusion Nights will resume on a once-a-month basis starting January 11th 2015...please mark your calendars.
---
THIS COMING WEEKEND
Tampa Bay Lindy Exchange — NOV 21-23
Register Now through November 19th — Weekend Pass for only $75
Weekend Passes Friday Swing-Dance Tickets

Advance Registration Deadline Wednesday (11/19)

Florida's best swing-dance weekend is coming to Tampa Bay NOV 21-23....Get ready for 3 days & 3 nights of nonstop dancing at TBLX2, the Tampa Bay Lindy Exchange...and you don't have to be a "lindy hopper" to join in; if you're a swing dancer, you're going to have a great time! More Info
Swingin' the New Year happens 12/31/2014 at the spectacular St. Petersburg Coliseum! This annual Grand New Year's Eve Celebration for All Ages has become Florida's biggest swing-dance event...make plans now to join us! This year's Celebration features the world-renowned Mitch Woods & His Rocket 88's! Get ready to jump & boogie, rock & swing! Get details & purchase tickets at www.TampaBaySwing.com.

Purchase Tickets Now securely online to save $4 AND secure the best seats! Tickets are $26 if purchased by December 10th, or $30 after December 10th. Group discounts and VIP Alcoves and Tables are available for parties of 10 or more, so start organizing your group today.

Free Alcove SuperSpecial — Save $267! — Only 5 Alcoves Remain

SWING TIME SECTION — We've reserved a central block of 60 of the best seats in the house for Swing Time regulars, and are selling these Wednesdays at the Gulfport Casino Swing Nights, while they last! Buy one of these tickets and you'll be among friends and fellow dancers, AND you'll save an extra buck by buying in person (currently $25). Tickets in the Swing Time Section are available exclusively to dancers who attend (and purchase them in person at) prior Swing Time events.
---
GET THE SWING NEWS Delivered to Your Email

© All contents of this web site (www.SwingNews.com) except where otherwise stated are Copyright 1998-2019 Retro Production Company with all rights reserved
---