SUBSCRIBE to Swing Time's Weekly Email Newsletter
Swing Time Newsletter — Monday DECEMBER 8th 2014
DISCOUNT DEADLINE THIS WEDNESDAY (Dec 10th) — Purchase Tickets before midnight Wednesday to secure the best seats and save. Save $4 by purchasing online or save $5 in person at this Wednesday's Gulfport Casino Swing Night. Tickets are $26 online ($25 at Wednesday's Swing Night) if purchased by December 10th, or $30 after December 10th.

NEW TICKET OPTIONS! * BALCONY * SINGLES TABLES * DANCER TICKETS *

SWING TIME SECTION — We've reserved a central block of 60 of the best seats in the house for Swing Time regulars, and are selling these Wednesdays at the Gulfport Casino Swing Nights, while they last! Buy one of these tickets and you'll be among friends and fellow dancers, AND you'll save an extra buck by buying in person (currently $25). Tickets in the Swing Time Section are available exclusively to dancers who attend (and purchase them in person at) prior Swing Time events.

ONLY 5 ALCOVES REMAIN — Free Alcove SuperSpecial...Save $267! So far, alcoves have been available for parties of 20-28 people. After December 10th, any remaining alcoves will be put online, first-come first-serve, for a $99 alcove rental fee plus $30 a ticket (10 ticket minimum; group discount available).

Swingin' the New Year happens 12/31/2014 at the spectacular St. Petersburg Coliseum! This annual Grand New Year's Eve Celebration for All Ages has become Florida's biggest swing-dance event. This year's Celebration features the world-renowned Mitch Woods & His Rocket 88's! Get ready to jump & boogie, rock & swing! Get details & purchase tickets at www.TampaBaySwing.com. This year's Swingin' the New Year promises to be the greatest ever...make plans now to join us!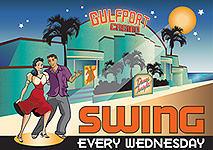 This Wednesday (Dec 10) — Gulfport Casino Swing Night! Balboa Lesson 6-7pm ... Swing-Dance Lesson 7-8pm ... Dancing 8-11pm. Just $7 includes both lessons and the dance and students get 2-for-1 admission. Is your birthday coming up? Celebrate your birthday at the Gulfport Casino Swing Night.

BALBOA LESSONS happen two more Wednesdays only (Dec 10th & 17th, 6-7pm) at the Gulfport Casino Swing Night. Balboa is one of the world's most popular swing dances, with weekends, competitions, workshops and events specifically devoted to Balboa happening across the globe. Swing Time instructors, Sam & Bri, will get you dancing and enjoying Balboa in 2 easy lessons. Balboa is a fun dancer's dance, with footwork, lead-follow, and patterns that range from simple to intricate. Many songs you hear, wherever you go, are calling you to dance Balboa, so learning Balboa will greatly expand your dance repertoire!

Check out Sam & Bri's BALBOA VIDEO from a recent Great-Gatsby-themed fundraiser. (The Balboa segments are 1:55-3:50 and 5:30-6:08 of the video, with Shim Sham, 20's-Style Partner Charleston, and Misc Swing making up the rest of the dancing.) We'll teach a lot of what you see in the video this Wednesday and next Wednesday at the Gulfport Casino Swing Night!

LAST CHANCE THIS WEDNESDAY 12/10 — Save $5 on tickets to Swingin' the New Year if you buy them in person this Wednesday at the Gulfport Casino Swing Night. Ticket prices increase to $30 after December 10th.
---
GULFPORT CASINO SWING NIGHT
Holiday Christmas Dance Party! — Wednesday, December 17th, 2014

Celebrate the Christmas season at Wednesday December 17th's Gulfport Casino Swing Night with refreshments, lights & decor, plus we'll mix in the best of swingable holiday music! The whole City of Gulfport, especially the waterfront/Casino area, will be beautifully decorated for the holidays,... and wait 'til you see the Casino itself, with beautiful lights and festive decor both inside & out! Join us for this holiday dance celebration!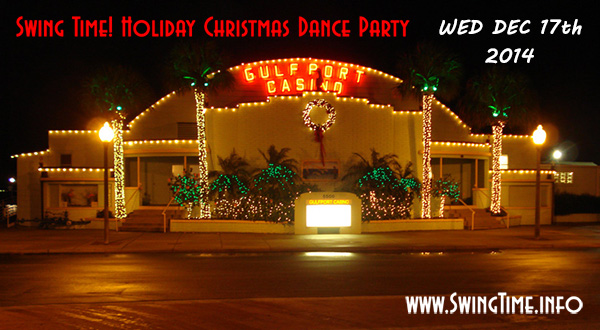 The Gulfport Casino is one of the world's best ballrooms, offering up social dance excitement in a picturesque beachfront setting

Balboa Dance Lesson 6-7pm
Swing Dance Lesson 7-8pm
Swing Music & Dance 8-11pm

Admission $7 (includes 2 Free Lessons!)
Students get 2-for-1 Admission!
---
---
Next BALLROOM FUSION NIGHT — Sunday January 11th 2015 — Ballroom Fusion Nights will resume on a once-a-month basis starting January 11th 2015...please mark your calendars.
---

Swingin' the New Year!
GRAND NEW YEAR'S EVE CELEBRATION FOR ALL AGES
Wednesday, December 31st, 2014
at the ST PETERSBURG COLISEUM
featuring MITCH WOODS & HIS ROCKET 88'S!

Live Music & Dancing + Celebration! 9pm-1am
Swing Dance Lesson: 8-9pm (no partner needed)
Doors Open 7:30pm

Midnight Countdown & BALLOON DROP
Vintage Fashion Photo Shoot & Contest!
Party Favors ~ Noisemakers ~ Chocolates ~ Prize Giveaways
Full Cash Bar w/ Champagne Bottles & Toasts Available
* All Ages * Smoke-Free * New Year's Decor * Free Parking *
Dress to Impress! New Year's and Vintage Attire Encouraged
MITCH WOODS & HIS ROCKET 88's — Swingin' the New Year proudly presents...boogie-woogie piano legend, Mitch Woods, who's traveling all the way from California to rock the house LIVE on grand piano at the spectacular St. Petersburg Coliseum! Mitch is joined by his band of swinging rhythm section and horns, the Rocket 88's, who will kick the Coliseum Ballroom into high gear, as they jump & boogie, rock & swing the place like you've never seen! From swingin' New Orleans rhythm & blues dance grooves (in the style of Fats Domino and others), to soulful ballads, to rockin' high-energy originals, Mitch Woods & his Rocket 88's deliver music that'll make you want to jump up and dance!

TICKETS: $26/by DEC 10th -or- $30/after DEC 10th
Purchase Advance Tickets:
Securely Online at www.TampaBaySwing.com
By Phone at 727-669-7830 or 727-773-0064
In Person at the Gulfport Casino Swing Night (Wednesdays 6-11pm)
---
Group Discount — Groups of 10+ take an extra $2 off per ticket!
---
FREE ALCOVE SuperSpecial — Save $267! Buy 28 tickets by December 10th and get the group discount plus a Free VIP Alcove with 28 reserved seats and deluxe chocolates included! You must buy all 28 tickets in ONE transaction over the internet. Act now while alcoves last! Only 5 Alcoves remain.
---

Food & Drinks: You may bring your own food to this event, or purchase a variety of snacks from the Coliseum's snack bar (everything from popcorn to ice cream to coffee). For drinks, the Coliseum will run a full cash bar, with beer, wine, mixed drinks, soft drinks, bottled water, and champagne. No outside beverages are allowed into the Coliseum, and no coolers are allowed.

The spectacular St. Petersburg Coliseum provides historic swing-era ambiance and an unparalleled 15,000 square foot oak dance floor! It's located at 535 4th Ave. N., St. Petersburg FL 33701.

---
GET THE SWING NEWS Delivered to Your Email

© All contents of this web site (www.SwingNews.com) except where otherwise stated are Copyright 1998-2019 Retro Production Company with all rights reserved
---