SUBSCRIBE to Swing Time's Weekly Email Newsletter
Swing Time Newsletter — Tuesday FEBRUARY 24th 2015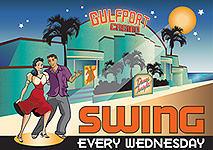 Dance this Wednesday FEB 25th at the Gulfport Casino Swing Night! Learn West-Coast Swing 6-7pm... Swing Dance Lesson 7-8pm... Dance 8-11pm. Just $8 includes both lessons and the dance and students get $5 admission. Is your birthday coming up? Celebrate your birthday at the Gulfport Casino Swing Night.

Want to learn more West-Coast Swing after Wednesday? Come to Sunday March 8th's 1960's-themed Ballroom Fusion Night, where we're offering two hours of beginning-level & intermediate-level West-Coast & West-Coast Fusion classes, taught by the Tampa Bay West Coast Swing Association!

Lindy Hop lessons start Wednesday March 4th at the Gulfport Casino Swing Night, and run every Wednesday in March during the 6-7pm Bonus Lesson hour. Swing Time instructors, Sam & Bri, will get you dancing Lindy Hop in four easy lessons, using an approach that relates Lindy Hop to dances and dance steps that you probably already know. Sam has over 15 years of Lindy Hop experience, traveling the USA to dance and learn from the world's top masters and legends of Lindy Hop.
---
Living legend of Lindy Hop, Jean Veloz, celebrates her 91st birthday on March 1st! Jean Lindy Hopping at age 90 (one of dozens of videos; just follow the links)... Jean Lindy Hopping in 1943 (dance scene starts at 2:30).
---
---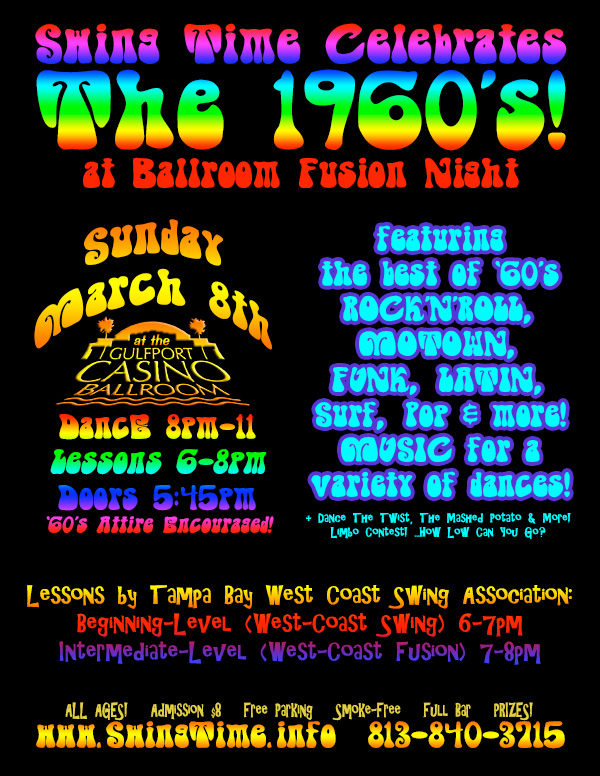 BALLROOM FUSION NIGHT — Sunday March 8th
Swing Time Celebrates the 1960's!
LESSONS 6-8PM:
Beginning-Level (Ballroom) 6-7pm — West Coast Swing
Intermediate-Level (Fusion) 7-8pm — West Coast Fusion
Lessons Taught by Tampa Bay West Coast Swing Association

DANCING 8-11PM:
8-10pm: Ballroom Mix
10-11pm: Fusion Mix...Anything Goes!
1960's ATTIRE ENCOURAGED
All Ages No Partners Needed Admission $8 (Students $5) Door Prizes Cash Bar
Celebrate the 1960's on Sunday March 8th at Ballroom Fusion Night at the Gulfport Casino. 1960's attire is encouraged! DJ Sam spins the best of 1960's Rock'n'Roll, Motown, Funk, Latin, Blues, Soul, Jazz, Surf, Pop & more! ...and YES, we will play music that supports a wide variety of your favorite dances, including most ballroom, swing, and latin dances, plus some fun fad dances of the '60's! Most songs during the evening will support multiple dances. Doors open 5:45pm, followed by dance lessons 6-8pm and dancing 8-11pm to the best dance music of 1960-1969! The night includes a Limbo Contest at 9:30pm with prizes to the winners!
Ballroom Fusion Night is held one Sunday per month at the Gulfport Casino. All social dancers from a diversity of dance scenes, ranging from Swing to Latin/Salsa to Tango to Ballroom to West-Coast to Blues and more, are encouraged to attend and help create this partner-dancing fusion! Ballroom Fusion Night is social dancing "outside the box", featuring lessons and music for over 30 different partner dances! We've modernized the ballroom-dance concept, expanding it to include all of today's most popular partner dances, plus exciting new dance music. Mark your calendar with 2015's Schedule of Ballroom Fusion Nights and Ballroom Fusion Night Lessons. The Gulfport Casino Ballroom is one of the world's top dance destinations, offering social dance excitement in a picturesque beachfront setting. It features a rich history, a grand dance floor, a full cash bar, a smoke-free atmosphere, and free parking. It's located in the St. Petersburg, Florida area at 5500 Shore Blvd. S., Gulfport, FL 33707.
---
---
GET THE SWING NEWS Delivered to Your Email

© All contents of this web site (www.SwingNews.com) except where otherwise stated are Copyright 1998-2017 Retro Production Company with all rights reserved
---