SUBSCRIBE to Swing Time's Weekly Email Newsletter
Swing Time Newsletter — Tuesday MARCH 10th 2015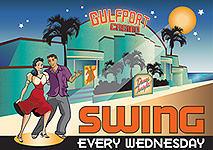 Dance this Wednesday MAR 11th at the Gulfport Casino Swing Night! Learn LINDY HOP in the 6-7pm Bonus Lesson. Swing Dance Lesson 7-8pm... Dance 8-11pm. Just $8 includes both lessons and the dance and students get $5 admission. Is your birthday coming up? Celebrate your birthday at the Gulfport Casino Swing Night.

Lindy Hop lessons continue this Wednesday March 11th at the Gulfport Casino Swing Night. Last week, we covered Moves #1 through #6 in our Lindy Hop progression; this week, after reviewing Moves 1-6, we'll add Moves 7-9. Get to the ninth move and you'll know all of the basic Lindy Hop patterns! Swing Time instructors, Sam & Bri, will get you dancing Lindy Hop using our unique one-step-at-a-time approach, where each move builds upon the previous by varying exactly one step. Sam has over 15 years of Lindy Hop experience, traveling the USA to dance and learn from the world's top masters and legends of Lindy Hop.
---
BALLROOM FUSION NIGHT — Sunday, April 12th
LESSONS 6-8PM:
Beginning-Level (Ballroom) 6-7pm
Intermediate-Level (Fusion) 7-8pm

DANCING 8-11PM:
8-10pm: Ballroom Mix
10-11pm: Fusion Mix...Anything Goes!
All Ages No Partners Needed Admission $8 (Students $5) Door Prizes Cash Bar
Ballroom Fusion Night is held one Sunday per month at the Gulfport Casino. All social dancers from a diversity of dance scenes, ranging from Swing to Latin/Salsa to Tango to Ballroom to West-Coast to Blues and more, are encouraged to attend and help create this partner-dancing fusion! Ballroom Fusion Night is social dancing "outside the box", featuring lessons and music for over 30 different partner dances, plus exciting new dance music! Mark your calendar with 2015's Schedule of Ballroom Fusion Nights. The Gulfport Casino Ballroom is one of the world's top dance destinations, offering social dance excitement in a picturesque beachfront setting. It features a rich history, a grand dance floor, a full cash bar, a smoke-free atmosphere, and free parking. It's located in the St. Petersburg, Florida area at 5500 Shore Blvd. S., Gulfport, FL 33707.
---
---
This Saturday MAR 14th, the Carrollwood Cultural Center hosts a Big-Band Dance & Concert with live music by the Sounds of Swing Orchestra. Dancing runs 8-10pm. Swing Time opens the event with dance lessons 6:30-8:00pm. Tickets are $12-$18. Get $13 tickets ($3 off) if you mention "Swing Time" when buying your tickets (phone or box office purchases only; discount deadline 6pm this Friday). Visit the Cultural Center's link above for more information. The Carrollwood Cultural Center is located at 4537 Lowell Rd, Tampa, FL 33618; Phone 813-269-1310.
---
---
Friday MAR 27th, The Club at Treasure Island presents Midnight in Paris Cabaret. "Catch the late-night taxi back to Paris in the 1920's". The show features Paul Wilborn on vocals and piano; Ms. Eugenie Bondurant on vocals; Frank Bowman on multiple horns; Nate Najar on guitar, bass & drums; plus special guest dancers from Swing Time. Tickets are $20. Visit The Club's link above for tickets or more information. The Club at Treasure Island is located at 400 Treasure Island Causeway, Treasure Island, FL 33706; Phone 727-367-4511.
---
---
GET THE SWING NEWS Delivered to Your Email

© All contents of this web site (www.SwingNews.com) except where otherwise stated are Copyright 1998-2017 Retro Production Company with all rights reserved
---