SUBSCRIBE to Swing Time's Weekly Email Newsletter
Swing Time Newsletter — Monday APRIL 6th 2015
---
Breaking News — Keith Jones & the Makeshifts appear live at Wednesday April 29th's Gulfport Casino Swing Night! See bottom of this newsletter for details.
---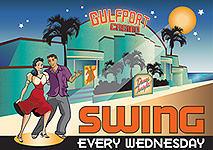 This Wednesday APR 8th is the Gulfport Casino Swing Night! Take Advancing Your Swing 6-7pm... Swing Dance Lesson 7-8pm... Dance 8-11pm. Just $8 includes both lessons and the dance and students get $5 admission. Is your birthday coming up? Celebrate your birthday at the Gulfport Casino Swing Night. This Wednesday's Swing Night features a special tap dance performance number at 9pm by the Jeanne Lynn Dancers!
ADVANCE YOUR SWING APRIL 8TH-29TH — Advancing Your Swing is a series of four intermediate-level swing lessons, happening 6-7pm, April 8th through April 29th, at the Gulfport Casino Swing Night. Learn Cool Moves, Footwork Variations, Multiple Turns, Dips, Leans, and more! Add style to your swing dancing. Become a better leader or follower, and get asked to dance much more often. (For dancers who've taken this series before, we have lots of fun new material in store!)
---
BALLROOM FUSION NIGHT — THIS SUNDAY (April 12th)
This Sunday APR 12th is Ballroom Fusion Night at the Gulfport Casino! Special guest instructor, Bogdan from Magic Dance Club, kicks off the evening teaching two related dances, Rumba 6-7pm and Bolero 7-8pm. Dance 8-11pm to a variety (and fusion) of music supporting over 30 different partnered dances! This Sunday's intermission features special door prizes and dance performances by Magic Dance Club and the Tampa Bay West Coast Swing Association. Join us!

LESSONS 6-8PM:
Beginning-Level (Rumba) 6-7pm
Intermediate-Level (Bolero) 7-8pm
Special Guest Instructor, Bogdan Wienc, from Magic Dance Club

DANCING 8-11PM:
8-10pm: Ballroom Mix
10-11pm: Fusion Mix...Anything Goes!
SPECIAL DANCE PERFORMANCES AT INTERMISSION
All Ages No Partners Needed Admission $8 (Students $5) Door Prizes Cash Bar
Ballroom Fusion Night is held one Sunday per month at the Gulfport Casino. All social dancers from a diversity of dance scenes, ranging from Swing to Latin/Salsa to Tango to Ballroom to West-Coast to Blues and more, are encouraged to attend and help create this partner-dancing fusion! Ballroom Fusion Night is social dancing "outside the box", featuring lessons and music for over 30 different partner dances, plus exciting new dance music! Mark your calendar with 2015's Schedule of Ballroom Fusion Nights. The Gulfport Casino Ballroom is one of the world's top dance destinations, offering social dance excitement in a picturesque beachfront setting. It features a rich history, a grand dance floor, a full cash bar, a smoke-free atmosphere, and free parking. It's located in the St. Petersburg, Florida area at 5500 Shore Blvd. S., Gulfport, FL 33707.
---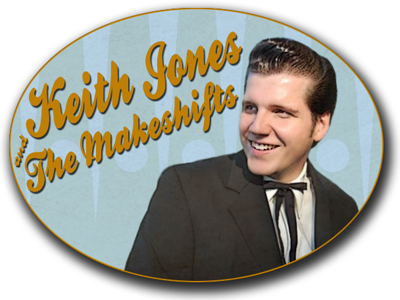 Wednesday April 29th, Keith Jones & the Makeshifts play the Gulfport Casino Swing Night! One of the best groups to ever play the Gulfport Casino, this Ohio band swings hot jump-blues and traditional rock'n'roll for your dancing pleasure. Mark your calendars now for a special evening of live music & swing dancing! The evening starts with an Advancing-Your-Swing Dance Lesson 6-7pm, followed by Swing Dance Lesson 7-8pm, then Live Music & Dancing 8-11pm. Admission is just $12 (no free passes accepted on band nights); get your tickets at the door. Making their third appearance at the Gulfport Casino Swing Night, Keith Jones & the Makeshifts were a huge hit with dancers when they played for us before. In fact, last year, they helped set a new Wednesday Swing Night attendance record!
---
GET THE SWING NEWS Delivered to Your Email

© All contents of this web site (www.SwingNews.com) except where otherwise stated are Copyright 1998-2017 Retro Production Company with all rights reserved
---