SUBSCRIBE to Swing Time's Weekly Email Newsletter
Swing Time Newsletter — Tuesday APRIL 28th 2015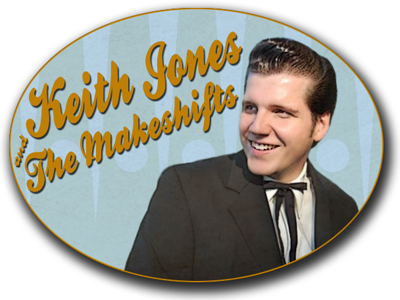 This Wednesday April 29th, Keith Jones & the Makeshifts play the Gulfport Casino Swing Night! One of the best groups to ever play the Gulfport Casino, this Ohio band swings hot jump-blues and traditional rock'n'roll for your dancing pleasure. The evening starts with an Advancing-Your-Swing Dance Lesson 6-7pm, followed by Swing Dance Lesson 7-8pm, then Live Music & Dancing 8-11pm. Admission is just $12 (no free passes or student specials accepted on band nights); get your tickets at the door. Making their third appearance at the Gulfport Casino Swing Night, Keith Jones & the Makeshifts were a huge hit with dancers when they played for us before. In fact, last year, they helped set a new Wednesday Swing Night attendance record!
---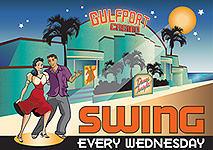 Upcoming Bonus Lessons (6-7pm Wednesdays @ Gulfport Casino Swing Night):

CHARLESTON IN MAY — Charleston is the 6pm Bonus Lesson topic every Wednesday in May at the Gulfport Casino Swing Night. Half of swing dancing is Charleston-based, so get good at Charleston, and you'll get A LOT better at swing! In these classes, we'll cover partnering, leading & following, and dozens of Charleston moves that you should immediately incorporate into your swing dancing. We'll get you feeling and dancing those Charlestons!
Next Wednesday MAY 6th is the Gulfport Casino Swing Night! Charleston Lesson 6-7pm... Swing Lesson 7-8pm... Dance 8-11pm. Just $8 includes both lessons and the dance and students get $5 admission. Is your birthday coming up? Celebrate your birthday at the Gulfport Casino Swing Night.
---
FUSION NIGHT — SUNDAY MAY 24TH — GULFPORT CASINO BALLROOM
Sunday MAY 24th is Fusion Night at the Gulfport Casino Ballroom! Come experience Tampa Bay's hottest new dance event, and plan to stay out late dancing, because it's Memorial Day weekend, and you have Monday off! The night features two dance lessons, 6-8pm, (topics to be announced). Lessons are followed by Dancing 8-11pm to a variety (and fusion) of music supporting your favorite partnered dances! Please spread the word!
All Ages No Partners Needed Admission $8 (Students $5) Door Prizes Cash Bar
---
---
Saturday MAY 9th, the Carrollwood Cultural Center hosts a Mother's Day edition of its Big-Band Dance & Concert. Moms get a free ticket with each paid admission (limited number available). Live music is provided by the Sounds of Swing Orchestra. Dancing runs 8-10pm. Swing Time opens the event with waltz & swing lessons 6:30-8:00pm. Tickets are $12-$18. Get $13 tickets ($3 off) if you mention "Swing Time" when buying your tickets (phone or box office purchases only; discount deadline 6pm Friday May 8th). Visit the Cultural Center's link above for more information. The Carrollwood Cultural Center is located at 4537 Lowell Rd, Tampa, FL 33618; Phone 813-269-1310.
---
---
GET THE SWING NEWS Delivered to Your Email

© All contents of this web site (www.SwingNews.com) except where otherwise stated are Copyright 1998-2019 Retro Production Company with all rights reserved
---