SUBSCRIBE to Swing Time's Weekly Email Newsletter
Swing Time Newsletter — Tuesday MAY 12th 2015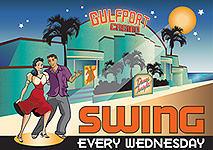 This Wednesday MAY 13th is the Gulfport Casino Swing Night. Charleston Lesson 6-7pm (Dancers have been asking us for years to teach the very exciting Tandem Charleston, so get ready...we're teaching it this Wednesday!) Swing Lesson 7-8pm... Dance 8-11pm. Just $8 includes both lessons and the dance and students get $5 admission. Is your birthday coming up? Celebrate your birthday at the Gulfport Casino Swing Night.

CHARLESTON IN MAY — Charleston is the 6pm Bonus Lesson topic every Wednesday in May at the Gulfport Casino Swing Night, and we've added three all-new classes this year! (See list of classes below.) Half of swing dancing is Charleston-based, so get good at Charleston, and you'll get A LOT better at swing, whether you dance East-Coast Swing or Lindy Hop. In these classes, we'll cover partnering, leading & following, and dozens of Charleston moves that you should immediately incorporate into your swing dancing. We'll get you feeling and dancing those Charlestons!
---
FUSION NIGHT — SUNDAY MAY 24TH — GULFPORT CASINO BALLROOM
Sunday MAY 24th is Fusion Night at the Gulfport Casino Ballroom! Come experience Tampa Bay's hottest new dance event, and plan to stay out late dancing, because it's Memorial Day weekend, and you have Monday off! The night's lessons feature special guest instructors, Tatyana & Brian (pictured below), from The Way 2 Dance studio in Brandon. They'll be teaching Samba & Tango (American-style), two incredibly useful dances for music ranging from retro to modern. Lessons are followed by Dancing 8-11pm to an exciting mix of music supporting your favorite partnered dances. (We also take requests, if you have a special dance you want to dance or song you want to hear.) Please spread the word!
LESSONS 6-8PM:
Beginning-Level (Samba & Tango) 6-7pm
Intermediate-Level (Samba & Tango) 7-8pm
Special Guest Instructors, Tatyana & Brian, from The Way 2 Dance

DANCING 8-11PM:
Modern Musical Mix — Ballroom/Fusion/Requests
All Ages No Partners Needed Admission $8 (Students $5) Door Prizes Cash Bar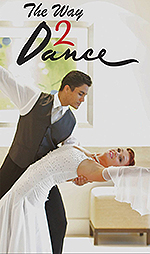 THE LESSONS — Learn Tango & Samba for social dancing! In the 6-7pm Beginner's Lesson, you'll spend 30 minutes each learning the basics of both dances (as done in the American ballroom style) along with several moves. In the 7-8pm Intermediate Lesson, you'll advance in both dances and learn essential Tango posture, frame, leg action, do's and don'ts; plus Samba bounce action, timing application, and an incredibly fun Samba line dance!

THE INSTRUCTORS — Tatyana Frost is the owner of The Way 2 Dance studio, and has been a professional dance instructor for 15 years. In addition to teaching, Tatyana and her partner, Brian Defreitas, are professional competitors in American-Style ballroom dancing. The Way 2 Dance offers private and group dance lessons seven days a week (no partner needed) in ballroom, latin, and swing. It features a fun and relaxing environment, along with talented and dedicated instructors. The Way 2 Dance is located at 610 Oakfield Drive, Brandon, FL 33511; Phone 813-966-4788.

Note: Previously, we announced Simone Amaral would be teaching on May 24th. However, Simone is currently recovering from knee surgery. We wish her a speedy recovery, and hope to bring her back later this year to teach Authentic Brazilian Samba and Samba/Salsa Fusion!
---
---
GET THE SWING NEWS Delivered to Your Email

© All contents of this web site (www.SwingNews.com) except where otherwise stated are Copyright 1998-2017 Retro Production Company with all rights reserved
---