SUBSCRIBE to Swing Time's Weekly Email Newsletter
Swing Time Newsletter — Tuesday JULY 14th 2015
---
A big thank-you goes to everyone who attended last Sunday's Fusion Night at the Gulfport Casino Ballroom. The level of dancing and the creative fusion keep getting better and better each time! It was amazing to see dancers from the Swing, Argentine Tango, Ballroom, West-Coast, Zouk, and other communities come together and dance...and it was great to see all the out-of-town dancers in the house! Get ready for the next Fusion Night with a Special 1970's Theme, happening Sunday August 9th at the Gulfport Casino!
---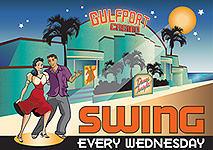 This Wednesday July 15th is the Gulfport Casino Swing Night. Learn Blues Dancing in the 6-7pm Bonus Lesson with instructors, Sam & Bri. (In this lesson, we'll bring you some of the blues-dance moves we picked up at Boston's Beantown Lindy Hop Camp!) Swing Lesson 7-8pm...Dance 8-11pm. Just $8 includes both lessons and the dance, and students get $5 admission. Is your birthday coming up? Celebrate your birthday at the Gulfport Casino Swing Night.
Upcoming Bonus Lessons (6-7pm Wednesdays at the Gulfport Casino Swing Night):
7/15/2015:

Blues Dancing

(Instructors, Sam & Bri)
7/22/2015:

Blues Dancing

(Instructors To Be Announced)
7/29/2015:

Blues Dancing

(Instructors To Be Announced)
8/ 5/2015:

Quickstep
---
School's out for the summer and students get $5 admission to every Swing Time dance this summer! That includes the Wednesday Gulfport Casino Swing Nights and the monthly Sunday Fusion Nights. Take advantage of this sweet deal this summer.
---
IMPORTANT SUNCOAST JAZZ CLASSIC / TBLX ANNOUNCEMENT — The last two years (2013 & 2014), Tampa Bay held a Lindy Exchange the weekend before Thanksgiving in conjunction with the Suncoast Jazz Classic festival. This year (2015), the Suncoast Jazz Classic will host a Friday-night swing dance with an amazing lineup of all-new bands and a new/bigger venue at the Sheraton Sand Key! All lindy hoppers, swing dancers, balboa dancers, etc, who appreciate swinging big-band and traditional jazz are encouraged to attend. This year, there will be NO LINDY EXCHANGE held in conjunction with the festival. The Lindy Exchange turned out to be a huge distraction from the main objective...of supporting the festival by getting dancers together with the live music that gave birth to their dance. We'll post more about this year's festival (and swing dance) later, but for now, mark your calendars for the evening of Friday November 20th. There has been SOME interest expressed in continuing a Tampa Bay Lindy Exchange during a month other than November...anyone who's interested in doing this, reply to this newsletter, and we'll put you in touch with any others who are interested. Swing Time will turn TBLX over to the lindy hop community if dancers step up who are willing to run it.
---
GET THE SWING NEWS Delivered to Your Email

© All contents of this web site (www.SwingNews.com) except where otherwise stated are Copyright 1998-2017 Retro Production Company with all rights reserved
---