SUBSCRIBE to Swing Time's Weekly Email Newsletter
Swing Time Newsletter — Tuesday AUGUST 18th 2015
---
Mark your calendars for the next Fusion Night at the Gulfport Casino Ballroom, happening Sunday September 13th.
---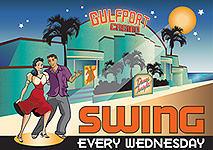 This Wednesday August 19th is the Gulfport Casino Swing Night. Learn Quickstep in the 6-7pm Bonus Lesson, featuring special guest instructor, Carol Baker. Swing Lesson 7-8pm with Sam & Bri... Dance 8-11pm. Just $8 includes both lessons and the dance, and students get $5 admission. Is your birthday coming up? Celebrate your birthday at the Gulfport Casino Swing Night. Quickstep is the 6-7pm Bonus Lesson topic every Wednesday in August 2015 at the Gulfport Casino Swing Night. Quickstep is a traveling dance, related to Foxtrot, but danced to faster swing music.
Upcoming Bonus Lessons (6-7pm Wednesdays at the Gulfport Casino Swing Night):
AUG 2015:

Quickstep

(Special Guest Instructor, Carol Baker)
SEP 2015:

West-Coast Swing

(Special Guest Instructor, Tina Castle)
OCT 2015:

Collegiate Shag

(Special Guest Instructor, Forrest Outman)
---
New Dance in Tampa...Saturday August 29th — Announcing Jazz Night, a Tampa Bay dance where you can Lindy Hop or Balboa all night long! Dance to the best of Big Band and Traditional Jazz. Lessons are included the hour before the dance. Support this first Jazz Night, and we can make this a once-a-month event! Jazz Night happens at Simone Salsa, 8336 W Hillsborough Ave, Tampa, FL 33615. Doors Open 7:45pm...Balboa Lesson 8-9pm...Dancing 9pm-Midnight+...Admission $8.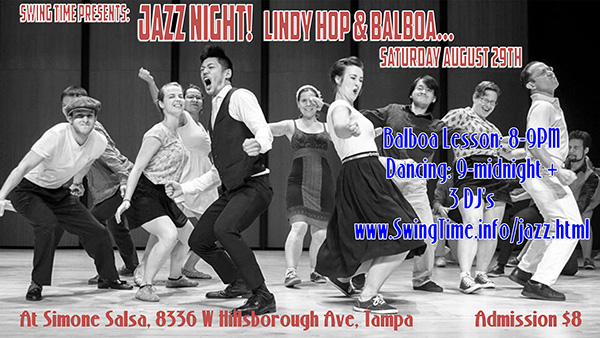 ---
---
This Saturday August 22nd, the Carrollwood Cultural Center hosts a Big-Band Dance & Concert with live music by the Sounds of Swing Orchestra. Dancing runs 8-10pm. Swing Time opens the event with dance lessons 6:30-8:00pm. Tickets are $12-$18. Get $13 tickets ($3 off) if you mention "Swing Time" when buying your tickets (phone or box office purchases only; discount deadline 6pm Friday August 21st). Visit the Cultural Center's link above for tickets or more information. The Carrollwood Cultural Center is located at 4537 Lowell Rd, Tampa, FL 33618; Phone 813-269-1310.
---
6TH ANNUAL FRIDAY SWING DANCE at the 25TH ANNUAL SUNCOAST JAZZ CLASSIC! — The weekend before Thanksgiving, the Suncoast Jazz Classic festival happens at the Sheraton and Marriott on Sand Key (Clearwater Beach). This year, the Suncoast Jazz Classic hosts a Friday-night swing dance with an amazing lineup of all-new bands and a new/bigger venue at the Sheraton Sand Key! All lindy hoppers, swing dancers, balboa dancers, etc, who appreciate swinging big-band and traditional jazz are encouraged to attend. Support your very own Tampa Bay jazz festival by bringing your dancing self and friends, and get ready to dance to some world-class live music! We'll post more about this year's festival (and swing dance) later, but for now, mark your calendars for the evening of Friday November 20th.
---
School's out for the summer and students get $5 admission to every Swing Time dance held this summer at the Gulfport Casino! That includes the Wednesday Gulfport Casino Swing Nights and the monthly Sunday Fusion Nights. Take advantage of this sweet deal this summer.
---
---
GET THE SWING NEWS Delivered to Your Email

© All contents of this web site (www.SwingNews.com) except where otherwise stated are Copyright 1998-2017 Retro Production Company with all rights reserved
---