SUBSCRIBE to Swing Time's Weekly Email Newsletter
Swing Time Newsletter — Tuesday SEPTEMBER 29th 2015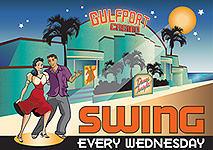 This Wednesday September 30th is the Gulfport Casino Swing Night. West-Coast Swing Lesson 6-7pm with special guest instructors, Tina Castle & Russ Morris... East-Coast Swing Lesson 7-8pm with Swing Time instructors, Sam & Bri... Dance 8-11pm. Just $8 includes both lessons and the dance, and students get $5 admission. Is your birthday coming up? Celebrate your birthday at the Gulfport Casino Swing Night.
---
Get Ready — Tickets go on sale October 1st to this year's Swingin' the New Year celebration at the spectacular St. Petersburg Coliseum, featuring the world-renowned Mitch Woods & His Rocket 88's!
---
---
FUSION NIGHT — SUNDAY OCTOBER 11TH — GULFPORT CASINO BALLROOM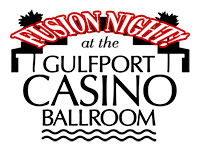 LESSONS 6-8PM:
Topics & Instructors to be Announced

DANCING 8-11PM:
Modern Musical Mix — Ballroom/Fusion/Requests
All Ages No Partners Needed Admission $8 (Students $5) Door Prizes Cash Bar More Info
---
---
Jazz Night! — Tampa's Lindy Hop & Balboa Dance
Saturday October 17th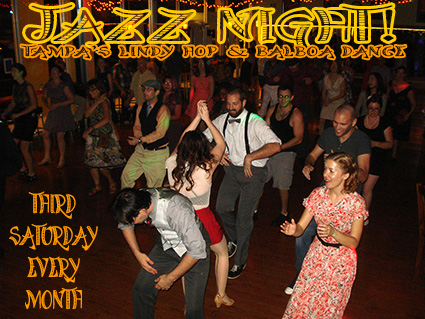 Saturday October 17th is Jazz Night in Tampa, a dance where you can Lindy Hop or Balboa (or Shag, Charleston, Shim Sham, etc) all night long! Dance to the best of Big Band and Traditional Jazz, featuring multiple DJs from all across Florida! October 17th's Jazz Night will include a Lindy Hop Lesson 8-9pm (instructors to be announced), followed by Dancing 9pm-Midnight+. Doors open 7:45pm and admission is $8 (which includes both the lesson and the dance). Jazz Night happens at Simone Salsa, 8336 W Hillsborough Ave, Tampa, FL 33615. Mark your calendars for future Jazz Nights on the 3rd Saturday of each month.
---

Upcoming Bonus Lessons (6-7pm Wednesdays at the Gulfport Casino Swing Night):
Shag (aka Collegiate Shag) is the 6-7pm Bonus Lesson Wednesdays October 7th, 14th & 21st at the Gulfport Casino Swing Night. What's Shag? — The most popular dance of the swing era! Special guest instructor, Forrest Outman, leads the Shag lessons. Forrest has spent the last many years researching the Shag, positioning himself as one of the world's foremost experts on the dance. Last year, he competed in the Shag division of the 2014 American Lindy Hop Championships!
FRIDAY NIGHT SWING DANCE
at the 25th annual Suncoast Jazz Classic festival
Friday November 20th, 6:15pm-12:15am, at Sheraton Sand Key
The weekend before Thanksgiving, the Suncoast Jazz Classic festival happens at the Sheraton and Marriott on Sand Key (Clearwater Beach). This year, the Suncoast Jazz Classic hosts its 6th annual Friday Night Swing Dance with an amazing lineup of all-new bands and a new/bigger venue at the Sheraton Sand Key! All lindy hoppers, swing dancers, balboa dancers, etc, who appreciate swinging big-band and traditional jazz are encouraged to attend. Support your very own Tampa Bay jazz festival by bringing your dancing self and friends, and get ready to dance to some world-class live music! Dance to FOUR superbly swinging bands from across the USA! Each band performs one full set of music for your dancing pleasure. The evening's lineup is:

6:15- 7:15pm - Swing Time Dance Lessons (Swing, Charleston, Balboa)
7:30- 8:30pm - Tom Rigney & Flambeau (San Francisco, CA)
8:45- 9:45pm - The Fat Babies (Chicago, IL)
10:00-11:00pm - Miss Ida Blue & the Yerba Buena Stompers (Brooklyn, NY)
11:15-12:15am - Dave Bennett Quartet (Detroit, MI)

SOMETHING FOR EVERYONE: Attention Dancers — Your ticket gets you into both the Swing Dance AND the other four music halls of the festival from 6pm onward! If you'd like to check out more bands, or follow your favorite bands around, you're welcome to do so. From Big Band Swing to Cajun/Zydeco to New Orleans & Dixieland Jazz to Blues, this festival has it all! Complete Band Schedule

LARGE DANCE FLOOR — This dance takes place in one of the ballrooms (Zorch's Place, 1st Floor) of the beautiful Sheraton Sand Key resort. For one night only, the ballroom will be set up dance-style, with chairs moved to the walls and the dance floor cleared for dancing! This year's ballroom will be even bigger than last year's. Doors open 6pm.

Tickets are $22 in advance -or- $25 at the door. Advance tickets are now available online or Wednesdays at the Gulfport Casino Swing Night.
---
GET THE SWING NEWS Delivered to Your Email

© All contents of this web site (www.SwingNews.com) except where otherwise stated are Copyright 1998-2019 Retro Production Company with all rights reserved
---