SUBSCRIBE to Swing Time's Weekly Email Newsletter
Swing Time Newsletter — Monday NOVEMBER 23rd 2015
This Wednesday, November 25th — With Thanksgiving on Thursday, the weekend starts Wednesday night, when Swing Time hosts a special evening of live music and swing dancing! Join in celebration at the Gulfport Casino Swing Night for Swing Time's Pre-Thanksgiving Bash! This huge swing-dance party is always one of the biggest Wednesday Swing Nights of the year, attracting not just locals but out-of-towners who are home for the holidays.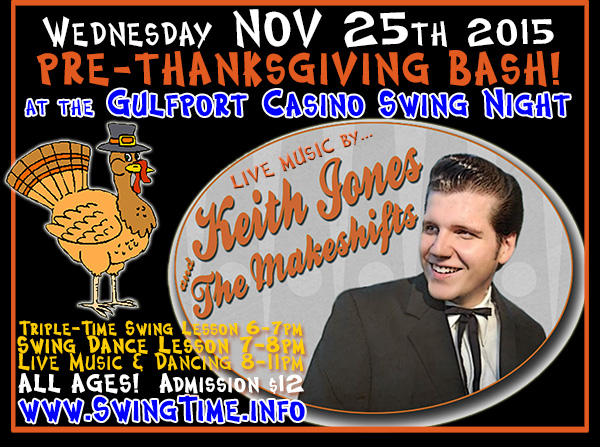 The Bash features live & swingin' music by Keith Jones & the Makeshifts! One of the best groups to ever play the Gulfport Casino, this Cincinnati band swings hot jump-blues and traditional rock'n'roll for your dancing pleasure. The evening starts with a Triple-Time Swing Dance Lesson 6-7pm, followed by East-Coast Swing Dance Lesson 7-8pm, then Live Music & Dancing 8-11pm. Admission's just $12 (get your tickets at the door), all ages are welcome, no partner is needed, and it all happens in the spectacular waterfront ballroom of the Gulfport Casino!
Making their fourth appearance at the Gulfport Casino Swing Night, Keith Jones & the Makeshifts were a huge hit with dancers when they played for us before. In fact, the band currently holds the Wednesday Swing Night attendance record!

Balboa is currently the top dance craze in the swing-dance world, and we're bringing it to you every Wednesday in December, 6-7pm, at the Gulfport Casino Swing Night! Swing Time instructors, Sam & Bri, have traveled the USA the last two years, studying and dancing Balboa at every opportunity. We're bringing you a brand new set of Balboa lessons in a fun, easy-to-learn format, with plenty of new moves, patterns, insight, and technique for beginning- to intermediate-level Balboa dancers. We'll also provide plenty of guided practice time during these lessons for you to get more comfortable and proficient dancing the dance. Learn more about Balboa here.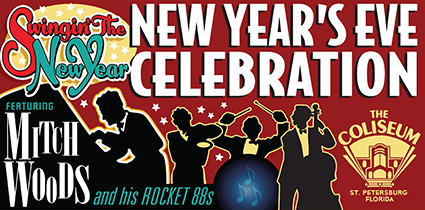 Swingin' the New Year happens 12/31/2015 at the spectacular St. Petersburg Coliseum. This 8th annual Grand New Year's Eve Celebration for All Ages has become Florida's biggest swing-dance event...make plans now to join us! This year's Celebration features the world-renowned Mitch Woods & His Rocket 88's! Get ready to jump & boogie, rock & swing! Get details & purchase tickets at www.NewYearSwing.com.
Purchase Tickets now securely online to save $3 AND secure the best seats! Tickets are $27 if purchased by December 10th, or $30 after December 10th. Group discounts and VIP Alcoves and Tables are available for parties of 10 or more, so start organizing your group today.
Free Alcove SuperSpecial — Save $239 — Only 6 Alcoves Remain
SWING TIME SECTION — We've reserved a central block of 60 of the best seats in the house for Swing Time regulars, and are selling these Wednesdays at the Gulfport Casino Swing Nights, while they last! Buy one of these tickets and you'll be among friends and fellow dancers, AND you'll save an extra dollar by buying in person (currently $26). Tickets in the Swing Time Section are available exclusively to dancers who attend (and purchase them in person at) prior Swing Time events.
---
FUSION NIGHT at the Gulfport Casino Ballroom
Sunday December 13th is Fusion Night at the Gulfport Casino Ballroom. Dance 8-11pm to a solid mix of music for all of your favorite dances — West-Coast Swing, Cha Cha, Waltz, Tango, Blues, Rumba, Hustle, Salsa, Bachata, East-Coast Swing, Fusion...you name it...all requests welcome! The night starts with two dance lessons 6-8pm (lesson topics & instructors to be announced). Just $8 admission includes both lessons and the dance, students get $5 admission, and all ages are welcome!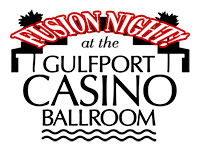 LESSONS 6-8PM:
Beginning-Level 6-7pm
Intermediate-Level 7-8pm

DANCING 8-11PM:
Modern Musical Mix — Ballroom/Fusion/Requests
All Ages No Partners Needed Admission $8 (Students $5) Door Prizes Cash Bar More Info
---
---
JAZZ NIGHT — Tampa's Lindy Hop & Balboa Dance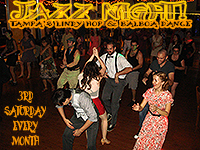 Saturday December 19th is Jazz Night in Tampa, a dance where you can Lindy Hop or Balboa (or Shag, Charleston, Shim Sham, etc) all night long! Dance to the best of Big Band and Traditional Jazz, featuring multiple DJs from all across Florida! Jazz Night includes a Lesson 8-9pm (lesson topic & instructors to be announced), followed by Dancing 9pm-Midnight+. Doors open 7:45pm and admission is $8 (which includes both the lesson and the dance). Jazz Night happens at Simone Salsa, 8336 W Hillsborough Ave, Tampa, FL 33615 on the 3rd Saturday of each month.
---
---
GET THE SWING NEWS Delivered to Your Email

© All contents of this web site (www.SwingNews.com) except where otherwise stated are Copyright 1998-2017 Retro Production Company with all rights reserved
---