SUBSCRIBE to Swing Time's Weekly Email Newsletter
Swing Time Newsletter — Monday DECEMBER 28th 2015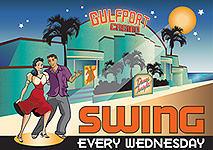 This Wednesday December 30th is the Gulfport Casino Swing Night. Balboa Lesson 6-7pm ...Swing Lesson 7-8pm ...Dance 8-11pm. Join us for the final Gulfport Casino Swing Night of 2015! Just $8 includes both lessons and the dance, and students get $5 admission. Is your birthday coming up? Celebrate your birthday at the Gulfport Casino Swing Night.
Mark your calendars — Foxtrot Lessons happen every Wednesday in January 2016, 6-7pm, at the Gulfport Casino Swing Night, featuring special guest instructor, John Neighbors, from 1st Dance Studio.
Join us New Year's Eve for Florida's biggest swing-dance event!
Bring your friends, bring your special someone, or just bring yourself...any way you make it, it's going to be a great time!



Photos from prior Swingin' the New Year celebration by Steve Wilcox

BUY LAST-MINUTE TICKETS HERE — READ THIS for last-minute ticket purchases, because EMAILS MAY NOT BE ANSWERED UNTIL JANUARY 4TH. SECTIONS A & B (entire left- & right-hand sides of Coliseum) are nearly sold out: a handful of tickets remain in these sections and are available now online. SECTION C (entrance side of Coliseum) has most of the remaining tickets: these are also available online. If you have a GROUP of at least 4 people, call 727-669-7830 today or Tuesday and we'll get you the best possible seating. Options include private tables for 4 or private tables for 10 in a shared ALCOVE. All seats New Year's Eve are great seats with easy access to the dance floor. The BALCONY is a very cool place to be, with its own dance floor and birds-eye view of the Celebration. Balcony tickets are all general admission (seats are first-come, first-serve); but there are always plenty of balcony seats available. Online and phone sales will be open until 7:30pm New Year's Eve; you can check what seats are still available by clicking the link above and selecting either Sections A & B or Section C. If you miss the 7:30pm 12/31 deadline, then get your tickets at the door...don't call first, just show up. We will have a ticket for you. If you're a dancer and don't intend to sit (much), buy your ticket anytime, even on New Year's Eve at the event; buying in advance, however, gets you in faster because you can print your own ticket, skip the sales window and Will Call line, and proceed straight to the entrance...choose the Dancer Ticket option. Singles Tables — Only 4 tickets remain. Swing Time Section: only 9 tickets remain; get these, first-come first-serve at Wednesday's Gulfport Casino Swing Night.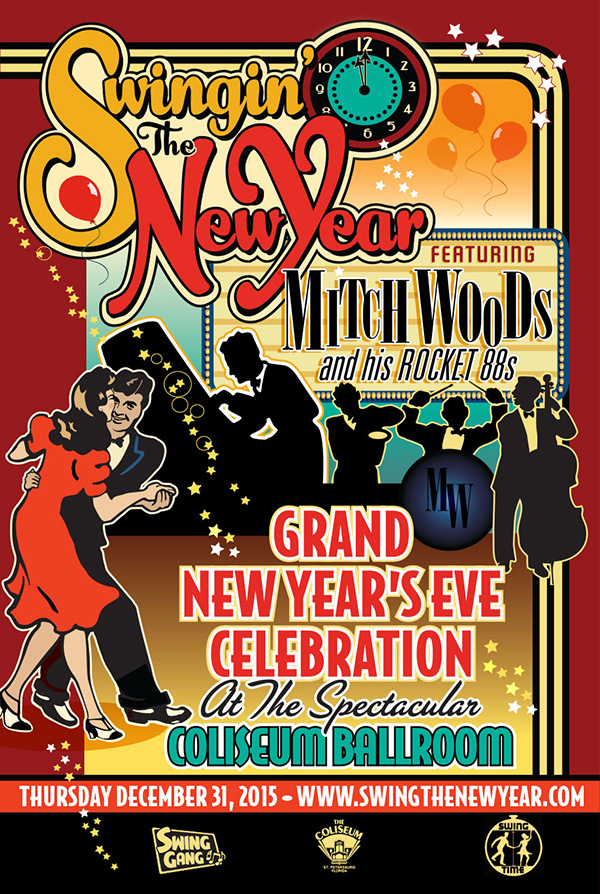 Swingin' the New Year!
GRAND NEW YEAR'S EVE CELEBRATION FOR ALL AGES
This Thursday, December 31st, 2015
at the ST PETERSBURG COLISEUM
featuring MITCH WOODS & HIS ROCKET 88'S!


Live Music & Dancing + Celebration! 9pm-1am
Swing Dance Lesson: 8-9pm (no partner needed)
Doors Open 7:30pm

Midnight Countdown & BALLOON DROP
Vintage Fashion Photo Shoot & Contest!
Party Favors ~ Noisemakers ~ Chocolates ~ Prize Giveaways
Full Cash Bar w/ Champagne Bottles & Toasts Available
All Ages * Smoke-Free * New Year's Decor * Free Parking
Dress to Impress! New Year's and Vintage Attire Encouraged

TICKETS: $30 — Purchase Advance Tickets:
Securely Online at www.newyearswing.com
By Phone at 727-669-7830 or 813-579-4645
In Person at the Gulfport Casino Swing Night (This Wednesday 12/30)
MITCH WOODS & HIS ROCKET 88's
Swingin' the New Year proudly presents...boogie-woogie piano legend, Mitch Woods, who's traveling all the way from California to rock the house LIVE on grand piano at the spectacular St. Petersburg Coliseum! Mitch is joined by his band of swinging rhythm section and horns, the Rocket 88's, who will kick the Coliseum Ballroom into high gear, as they jump & boogie, rock & swing the place like you've never seen! From swingin' New Orleans rhythm & blues dance grooves (in the style of Fats Domino and others), to soulful ballads, to rockin' high-energy originals, Mitch Woods & his Rocket 88's deliver music that'll make you want to jump up and dance!
SWING TIME SECTION — We've reserved a central block of the best seats in the house for Swing Time regulars, and are selling these Wednesdays at the Gulfport Casino Swing Nights. Buy one of these tickets and you'll be among friends and fellow dancers. Tickets in the Swing Time Section are available exclusively to dancers who attend (and purchase them in person at) prior Swing Time events. Tickets in the Swing Time Section are $30 this Wednesday 12/30, while they last (only 9 tickets remain).
---
Group Discount — Groups of 10+ take an extra $2 off per ticket!
---
VIP Alcoves available for groups of 10 or more people
---

Food & Drinks: You may bring your own food to this event, or purchase a variety of snacks from the Coliseum's snack bar (everything from popcorn to ice cream to coffee). For drinks, the Coliseum will run a full cash bar, with beer, wine, mixed drinks, soft drinks, bottled water, and champagne. No outside beverages are allowed into the Coliseum, and no coolers are allowed.

The spectacular St. Petersburg Coliseum provides historic swing-era ambiance and an unparalleled 15,000 square foot oak dance floor! It's located at 535 4th Ave. N., St. Petersburg FL 33701.

---
SWINGIN' THE NEW YEAR...BONUS ATTRACTIONS
Photo Booth Vintage Fashion Contest Prize Giveaway

PHOTO BOOTH: All ticketholders are encouraged to visit the Photo Booth at some point during the Celebration to get your pictures taken. Dress to impress!
VINTAGE FASHION CONTEST — $200+ WORTH OF PRIZES: To enter the Vintage Fashion Contest, dress up from the era of your choice, and be at the Photo Booth at the first band break (typically around 9:45pm). Judging will happen at the photo booth, plus you'll get your pictures taken. Finalists will be featured on stage later in the evening. GRAND PRIZE PACKAGES for both the top female and male contestants will include two tickets to see the Hot Sardines band at the Straz Center! Runners up will both receive a $25 Gift Certificate to La Cote Basque restaurant, plus swing event tickets. Additional prize packages will be awarded to 3rd place male & female contestants.

PRIZE GIVEAWAY: Enter the Prize Drawing to win a Dolphin Watch or Sunset Sail Cruise for Two courtesy of Dolphin Landings Charter Boat Center! Additional prizes include a $50 Gift Certificate to On Pointe Dancewear, plus deluxe gift boxes of chocolate, and swing event tickets! Drawing will happen at band intermission.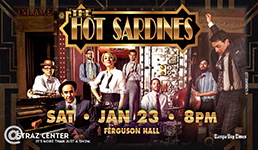 The Hot Sardines are coming to the Straz Center on Saturday January 23rd! "The Hot Sardines' distinctive recipe for making musical magic includes a blustery brass lineup layered over a rhythm section led by a stride-piano Fats Waller-style virtuoso. Tied together with a riveting front woman who sings in English and French, with a voice reminiscent of the Golden Age of hot jazz, this sizzling gumbo of sound fuses musical influences from New York, Paris, and New Orleans, and tours with its own tap dancer. Hailed as 'one of the best jazz bands in New York today' [Forbes], the Hot Sardines mix a little Parisian mischief into the rollicking controlled chaos of American hot jazz standards" [Straz Center]. The Straz Center is located at 1010 N MacInnes Place, Tampa, FL 33602 (Phone 813-229-7827). Tickets & Show Info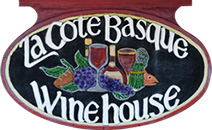 Dine before you dance at La Cote Basque Winehouse. La Cote Basque features fine French & Continental Cuisine, walking distance from the Wednesday Swing Nights at the Gulfport Casino. La Cote Basque is located at 3104 Beach Blvd S, Gulfport, FL 33707 (Phone 727-321-6888).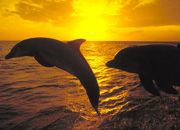 Experience local adventures at Dolphin Landings Charter Boat Center. Dolphin landings offers a variety of public day cruises and private charters including the ever popular Dolphin Watch and Sunset Sails, all departing from St Pete Beach. Dolphin Landings is located at 4737 Gulf Blvd, St Pete Beach, FL 33706 (Phone 727-360-7411).
Get your swing dance shoes at On Pointe Dancewear. On Pointe carries the full line of Aris Allen, Very Fine, Stephanie, and other dance shoes, plus dance clothing and accessories for everything from Swing to Latin, Ballroom, Ballet, Tap & Jazz. Tired of internet shipping fees and poor-fitting shoes? At On Pointe, you save money AND you get to try before you buy! On Pointe is located at 2113 Central Ave, St Petersburg, FL 33713 (Phone 727-895-1111).
---
Mark your calendars for a special BACK TO THE 1980'S DANCE at the Gulfport Casino Ballroom on Sunday, January 10th.
The next Jazz Night at Simone Salsa in Tampa is Saturday, January 16th.
---
GET THE SWING NEWS Delivered to Your Email

© All contents of this web site (www.SwingNews.com) except where otherwise stated are Copyright 1998-2017 Retro Production Company with all rights reserved
---