SUBSCRIBE to Swing Time's Weekly Email Newsletter
Swing Time Newsletter — Monday JANUARY 4th 2016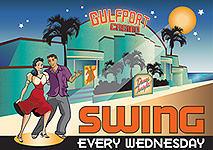 This Wednesday January 6th is the first Gulfport Casino Swing Night of 2016! Join us for the Foxtrot Lesson 6-7pm, the Swing Lesson 7-8pm, and Dancing 8-11pm. Just $8 includes both lessons and the dance, and students get $5 admission. Is your birthday coming up? Celebrate your birthday at the Gulfport Casino Swing Night.
Foxtrot Lessons start this Wednesday and happen every Wednesday in January, 6-7pm, at the Gulfport Casino Swing Night. Foxtrot Lessons feature special guest instructor, John Neighbors, from 1st Dance Studio.
This Sunday January 10th, Swing Time presents... BACK TO THE 1980's DANCE at the Gulfport Casino Ballroom, featuring the best of 1980's New Wave, Pop, Disco, Rock & more! 1980's attire is encouraged, with prizes for the best costumes! Dance Lessons happen 6-8pm, taught by instructors Sam & Bri from Swing Time: Swing Lesson 6-7pm covering Single-, Double-, and Triple-Time swing plus pop musicality (dancing swing to 1980's music). Fusion Lesson 7-8pm featuring cool intermediate-level moves for you to use in multiple dances. Dance 8-11pm to a 1980's mix of music for a variety of dances. Admission is $8 ($5 for students) which includes both lessons and the dance. All ages are welcome, and no partners are needed. Doors open 5:45pm and prize giveaways happen throughout the evening. Map & Directions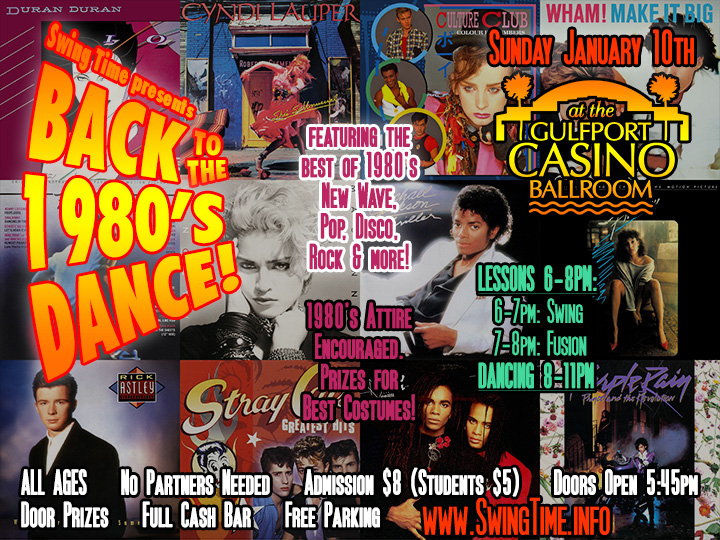 ---
Jazz Night — NEW FORMAT — Saturday January 16th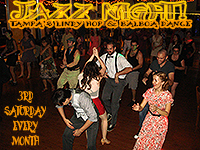 Saturday January 16th is Jazz Night, Tampa's Lindy Hop & Balboa dance. The night starts with Lindy Hop Lessons 8-9pm with 2 Simultaneous Levels! Beginning-Level features instructors, Nathan Foreman & Bri Emge. Intermediate-Level features instructors, Tom Blair & partner. Dance 9pm-Midnight+ to the best of Big Band and Traditional Jazz, featuring DJs Jony Navarro (Orlando) & Cindy Lyons (Tampa). Jazz Night is a dance where you can Lindy Hop or Balboa (or Shag, Charleston, Shim Sham, etc) all night long! Doors open 7:45pm and admission is $8 (which includes both the lessons and the dance). Jazz Night happens at Simone Salsa in Tampa on the 3rd Saturday of each month.
NEW LESSON FORMAT (2 LEVELS) — We'll use the huge partition to divide the place in half for the lessons. Instructors will place you either in the beginning level or intermediate level.

Simone Salsa's main studio on Hillsborough Avenue features awesome atmosphere, lighting, sound, and a large smooth hardwood dance floor! Address — It's located in the Home Design Plaza shopping center at 8336 W. Hillsborough Ave., Tampa, FL 33615. Parking — Simone Salsa has a big (and free) parking lot just a few feet from its entrance. Drinks — You can BYO beverages to this venue. Bottled water and soft drinks are also available for purchase; they're in the kitchen's cooler; just drop a dollar in the fishbowl.
---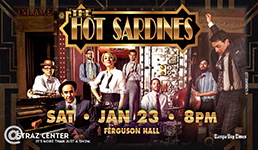 The Hot Sardines are coming to the Straz Center on Saturday January 23rd. "The Hot Sardines' distinctive recipe for making musical magic includes a blustery brass lineup layered over a rhythm section led by a stride-piano Fats Waller-style virtuoso. Tied together with a riveting front woman who sings in English and French, with a voice reminiscent of the Golden Age of hot jazz, this sizzling gumbo of sound fuses musical influences from New York, Paris, and New Orleans, and tours with its own tap dancer. Hailed as 'one of the best jazz bands in New York today' [Forbes], the Hot Sardines mix a little Parisian mischief into the rollicking controlled chaos of American hot jazz standards" [Straz Center]. The Straz Center is located at 1010 N MacInnes Place, Tampa, FL 33602 (Phone 813-229-7827). Tickets & Show Info
---
GET THE SWING NEWS Delivered to Your Email

© All contents of this web site (www.SwingNews.com) except where otherwise stated are Copyright 1998-2017 Retro Production Company with all rights reserved
---