SUBSCRIBE to Swing Time's Weekly Email Newsletter
Swing Time Newsletter — Monday FEBRUARY 15th 2016
---
Thank-you to everyone who attended last night's Valentine's Ball. You made our first live-music fusion dance a huge success! But we're not done yet. Mark your calendars for Sunday March 13th, when Swing Time presents the Betty Fox Band LIVE at the Gulfport Casino!
---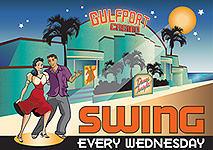 This Wednesday February 17th is the Gulfport Casino Swing Night, with Lindy Hop Lesson 6-7pm, Swing Lesson 7-8pm, and Dancing 8-11pm. Just $8 includes both lessons and the dance, and students get $5 admission. Is your birthday coming up? Celebrate your birthday at the Gulfport Casino Swing Night.
Lindy Hop Lessons happen every Wednesday in February, 6-7pm, at the Gulfport Casino Swing Night, featuring instructors Sam & Bri from Swing Time. Get ready for a fresh approach to learning and dancing the Lindy Hop! Then in March, continue your lindy hopping education with Charleston Lessons, 6-7pm, the entire month!
---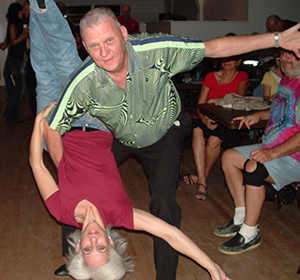 In Memory of John Henning
Today, we remember John Henning, one of Tampa Bay's foremost dance personalities, dance teachers, and dancers, who passed away on February 8th. John was a dedicated West-Coast Swing enthusiast who taught West-Coast lessons (along with partner, Tina Castle), the last six years at the Gulfport Casino. This coming Wednesday's Swing Night will be dedicated to John Henning, with fellow dancers planning a celebration-of-life and tribute to John at the dance.

I first met John Henning back in the late 1990's at Skipper's Smokehouse. The band, Dan Electro & the Silvertones, was swinging for dancers outdoors on the plywood and sand dance floor. John was on the dance floor teaching all comers, myself included, how to perform a couple of fancy swing-dance tricks. I didn't know his name then, but some of the other dancers referred to him as "That West-Coast Guy". My partner and I won an impromptu dance contest that night. Prizes were a Skipper's t-shirt plus a collection of home-recorded VHS videos of the U.S. Open Swing Dance Championships. Years later, John Henning became a regular at the Wednesday Gulfport Swing Nights, but I didn't know he was the same person from Skipper's years back...until one day he gave me another collection of VHS videos from the latest U.S. Open! John was a true dance ambassador, someone who was always welcoming and who spent countless hours dancing with and teaching newcomers. In addition, he was always quick to share a funny story or a dirty joke. We'll miss him. —Sam
---
---
Jazz Night — This Saturday February 20th
2 Lindy Lessons: Beginning-Level & Intermediate-Level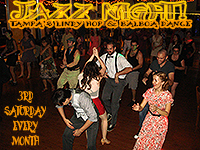 This Saturday February 20th is Jazz Night, Tampa's Lindy Hop & Balboa dance. The night starts with Lindy Hop Lessons 8-9pm with 2 Simultaneous Levels! (Instructors will place you either in the beginning level or intermediate level.) Beginning-Level features instructors, Nathan Foreman & Bri Emge. Intermediate-Level features instructors, Tom Blair & Andrea Kugelman. Dance 9pm-Midnight+ to the best of Big Band and Traditional Jazz, featuring DJs Dominic Howarth, Keegan Barkley, and Tom Blair. Jazz Night is a dance where you can Lindy Hop or Balboa (or Shag, Charleston, Shim Sham, etc) all night long! Doors open 7:45pm and admission is $8 (which includes both the lessons and the dance). Jazz Night happens at Simone Salsa in Tampa on the 3rd Saturday of each month.

Simone Salsa's main studio on Hillsborough Avenue features awesome atmosphere, lighting, sound, and a large smooth hardwood dance floor. Address — It's located in the Home Design Plaza shopping center at 8336 W. Hillsborough Ave., Tampa, FL 33615. Parking — Simone Salsa has a big (and free) parking lot just a few feet from its entrance. Drinks — You can BYO beverages to this venue. Bottled water and soft drinks are also available for purchase; they're in the kitchen's cooler; just drop a dollar in the fishbowl.
---
---
GET THE SWING NEWS Delivered to Your Email

© All contents of this web site (www.SwingNews.com) except where otherwise stated are Copyright 1998-2017 Retro Production Company with all rights reserved
---