SUBSCRIBE to Swing Time's Weekly Email Newsletter
Swing Time Newsletter — Monday MARCH 21st 2016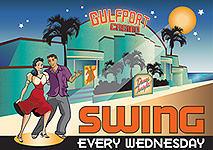 This Wednesday March 23rd is the Gulfport Casino Swing Night, with Charleston Lesson 6-7pm, Swing Lesson 7-8pm, and Dancing 8-11pm. Just $8 includes both lessons and the dance, and students get $5 admission. Is your birthday coming up? Celebrate your birthday at the Gulfport Casino Swing Night. Charleston Lessons happen every Wednesday in March, 6-7pm, at the Gulfport Casino Swing Night. Take these Charleston lessons to advance your East-Coast Swing or Lindy Hop while doubling your repertoire of swing-dance steps and moves.
---
Mark your calendars — There's no fusion dance in April due to an Argentine Tango weekend at the Casino. Ballroom Fusion Night returns Sunday May 8th (second Sunday of every month) to the Gulfport Casino....and Cincinnati swingsters, Keith Jones & the Makeshifts, return live to the Gulfport Casino on Wednesday May 18th!
---
---
Jazz Night — Saturday April 16th
2 Balboa Lessons: Beginning-Level & Intermediate-Level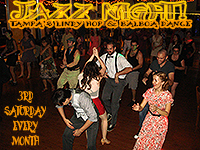 Saturday April 16th is Jazz Night, Tampa's Lindy Hop & Balboa dance. The night starts with Balboa Lessons 8-9pm with 2 Simultaneous Levels! Dance 9pm-Midnight+ to the best of Big Band and Traditional Jazz, featuring multiple DJs from across Florida. Jazz Night is a dance where you can Lindy Hop or Balboa (or Shag, Charleston, Shim Sham, etc) all night long! Doors open 7:45pm and admission is $8 (which includes both the lessons and the dance). Jazz Night happens at Simone Salsa in Tampa on the 3rd Saturday of each month.

Simone Salsa's main studio on Hillsborough Avenue features awesome atmosphere, lighting, sound, and a large smooth hardwood dance floor. Address — It's located in the Home Design Plaza shopping center at 8336 W. Hillsborough Ave., Tampa, FL 33615. Parking — Simone Salsa has a big (and free) parking lot just a few feet from its entrance. Drinks — You can BYO beverages to this venue. Bottled water and soft drinks are also available for purchase; they're in the kitchen's cooler; just drop a dollar in the fishbowl.
---
---
GET THE SWING NEWS Delivered to Your Email

© All contents of this web site (www.SwingNews.com) except where otherwise stated are Copyright 1998-2017 Retro Production Company with all rights reserved
---