SUBSCRIBE to Swing Time's Weekly Email Newsletter
Swing Time Newsletter — Monday APRIL 11th 2016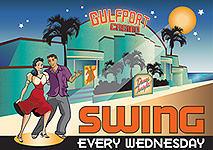 This Wednesday April 13th is the Gulfport Casino Swing Night, with Charleston Lines Lesson 6-7pm, Swing Dance Lesson 7-8pm, and Dancing 8-11pm. Just $8 includes both lessons and the dance, and students get $5 admission. Is your birthday coming up? Celebrate your birthday at the Gulfport Casino Swing Night.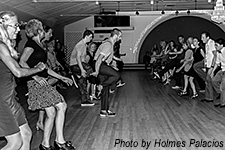 Learn Charleston Lines (danced to "Sing, Sing, Sing") this Wednesday April 13th. Upcoming Bonus Lessons (6-7pm Wednesdays at the Gulfport Casino Swing Night):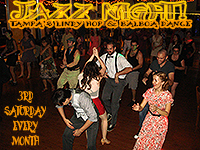 This Saturday April 16th is Jazz Night, Tampa's Lindy Hop & Balboa dance. The night starts with Balboa Lessons 8-9pm with 2 Simultaneous Levels! Beginning-Level features instructors, Keegan Barkley & Les J Wardell. Intermediate-Level features instructors, Tom Blair & Aryn Kelly Rathbone. Dance 9pm-Midnight+ to the best of Big Band and Traditional Jazz, featuring multiple DJs from across Florida. Doors open 7:45pm and admission is $8 (which includes both the lessons and the dance). Jazz Night happens at Simone Salsa studio, 8336 W. Hillsborough Ave., Tampa, FL 33615.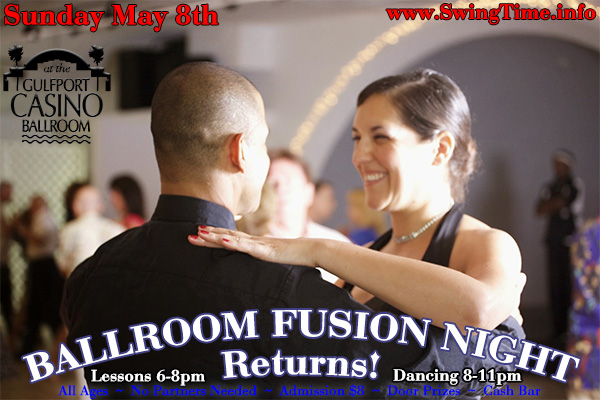 Ballroom Fusion Night returns Sunday May 8th (second Sunday of every month) to the Gulfport Casino!
---
Mark your calendars — Cincinnati swingsters, Keith Jones & the Makeshifts, return live to the Gulfport Casino on Wednesday May 18th!
---
---
GET THE SWING NEWS Delivered to Your Email

© All contents of this web site (www.SwingNews.com) except where otherwise stated are Copyright 1998-2019 Retro Production Company with all rights reserved
---