SUBSCRIBE to Swing Time's Weekly Email Newsletter
Swing Time Newsletter — Monday APRIL 25th 2016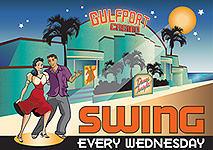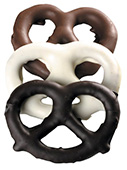 This Wednesday April 27th is Pretzel Night 2016 at the Gulfport Casino Swing Night! In honor of that fun & twisty swing-dance move, The Pretzel, Swing Time is providing free pretzels for everyone! Enter the prize drawing to win free passes and chocolate-covered pretzels. Learn a variety of pretzelly moves in the 6-7pm & 7-8pm dance lessons, plus the secret to doing these moves well. ...Swing-Dance Lesson 6-7pm (Pretzels Part A) ...Swing-Dance Lesson 7-8pm (Pretzels Part B) ...Swing Music & Dance 8-11pm ...Special Tap Dance Performance at 9pm by the Jeanne Lynne Dancers. Just $8 admission includes everything, students get $5 admission, and birthday people get free admission.
ADVANCE YOUR SWING MAY 4TH-25TH — Advancing Your Swing is a series of four intermediate-level swing lessons, happening 6-7pm, May 4th through May 25th, at the Gulfport Casino Swing Night. Learn Cool Moves, Footwork Variations, Multiple Turns, Dips, Leans, and more! Add style to your swing dancing. Become a better leader or follower, and get asked to dance much more often. (For dancers who've taken this series before, we have lots of fun new material in store.)
Ballroom Fusion Night returns Sunday May 8th to the Gulfport Casino! All social dancers from a diversity of dance scenes, ranging from Ballroom to Swing to Latin/Salsa to West-Coast to Tango to Blues and more, are encouraged to attend and help create this partner-dancing fusion! Ballroom Fusion Night is partnered social dancing "outside the box", featuring lessons and music for today's most popular partner dances, plus exciting new dance music! Ballroom Fusion Night is held the 2nd Sunday of every month at the Gulfport Casino.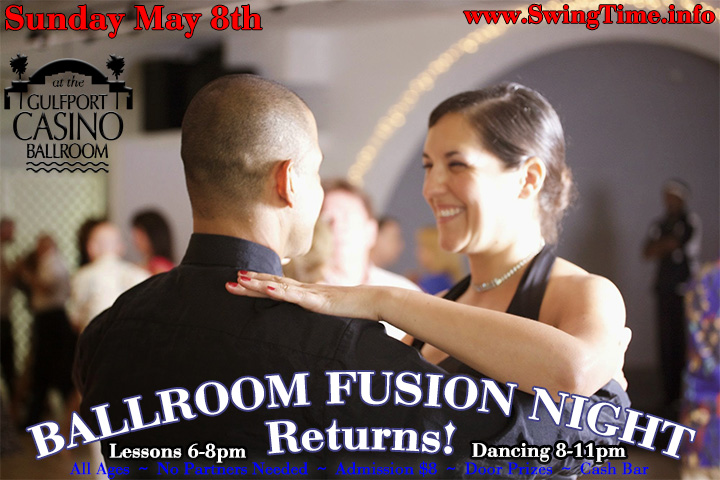 MOTHER's DAY SPECIAL — In honor of Mother's Day, bring your mom and she gets in free (with your paid admission). This also works the other way around...Moms, bring your son or daughter and YOU get in free (with their paid admission).
Doors Open 5:45pm

LESSONS 6-8PM
Salsa (Salsa on 1): 6-7pm
Mambo (Salsa on 2): 7-8pm
Special Guest Instructor, Carol Rivera

DANCING 8-11PM
8-10pm: Modern Ballroom Dance Mix
10-11pm: Fusion Mix...Anything Goes
All Ages No Partners Needed Admission $8 (Students $5) Door Prizes

The Gulfport Casino Ballroom is one of the world's top dance destinations, offering social dance excitement in a picturesque beachfront setting. It features a rich history, a grand dance floor, a full bar, a smoke-free atmosphere, and free parking. The Gulfport Casino Ballroom is located in the St. Petersburg, Florida area at 5500 Shore Blvd. S., Gulfport, FL 33707. Map & Directions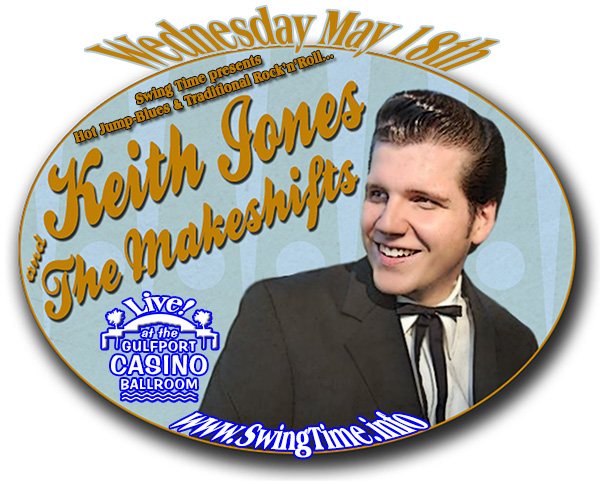 Wednesday May 18th, 2016, Keith Jones & the Makeshifts play the Gulfport Casino Swing Night! One of the best groups to ever headline the Gulfport Casino, this Cincinnati band swings hot jump-blues and traditional rock'n'roll for your dancing pleasure. Making their fifth appearance at the Gulfport Casino Swing Night, Keith Jones & the Makeshifts were a huge hit with dancers every time they played for us before. In fact, the band currently holds the Wednesday Swing Night attendance record!
Doors Open 5:45pm
Swing Dance Lesson (Intermediate-Level) 6-7pm
Swing Dance Lesson (Beginning-Level) 7-8pm
Live Music & Dancing 8-11pm

* All Ages * No Partner Needed *
Huge Dance Floor — One of World's Best!
Beautiful Retro-Era Waterfront Dance Hall
Full Bar ~ Prize Giveaways ~ Smoke-Free ~ Free Parking

Admission's just $12 (get your tickets at the door; cash only)
No free passes or student specials accepted on band nights
The Gulfport Casino Swing Night is one of the top swing dances in the U.S.A., attracting hundreds of dancers every Wednesday. The Gulfport Casino Ballroom is located in the St. Petersburg, Florida area at 5500 Shore Blvd. S., Gulfport, FL 33707. Map & Directions
---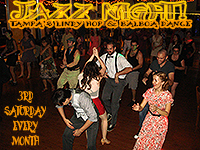 Saturday May 21st is Jazz Night, Tampa's Lindy Hop & Balboa dance. The night starts with Balboa Lessons 8-9pm with 2 Simultaneous Levels! Beginning-Level features instructors, Keegan Barkley & Les J Wardell. Intermediate-Level features instructor, Tom Blair. Dance 9pm-Midnight+ to the best of Big Band and Traditional Jazz, featuring multiple DJs from across Florida. Doors open 7:45pm and admission is $8 (which includes both the lessons and the dance). Jazz Night happens at Simone Salsa studio, 8336 W. Hillsborough Ave., Tampa, FL 33615.
---
Saturday MAY 7th, the Carrollwood Cultural Center hosts a Mother's Day edition of its Big-Band Dance & Concert. Moms get a free ticket with each paid admission (limited number available). Live music is provided by the Sounds of Swing Orchestra. Dancing runs 8-10pm. Swing Time opens the event with dance lessons 6:30-8:00pm. Tickets are $12-$18. Visit the Cultural Center's link above for more information. The Carrollwood Cultural Center is located at 4537 Lowell Rd, Tampa, FL 33618; Phone 813-269-1310.
---
---
GET THE SWING NEWS Delivered to Your Email

© All contents of this web site (www.SwingNews.com) except where otherwise stated are Copyright 1998-2017 Retro Production Company with all rights reserved
---