SUBSCRIBE to Swing Time's Weekly Email Newsletter
Swing Time Newsletter — Monday SEP 5th 2016
This Wednesday, September 7th, Swing Time's 16th Anniversary Celebration happens LIVE at the Gulfport Casino Ballroom! We're bringing, all the way from Cincinnati, Keith Jones & the Makeshifts! This all-ages celebration includes Anniversary Cake, Door Prizes, two free Dance Lessons, and all the dancing you can handle!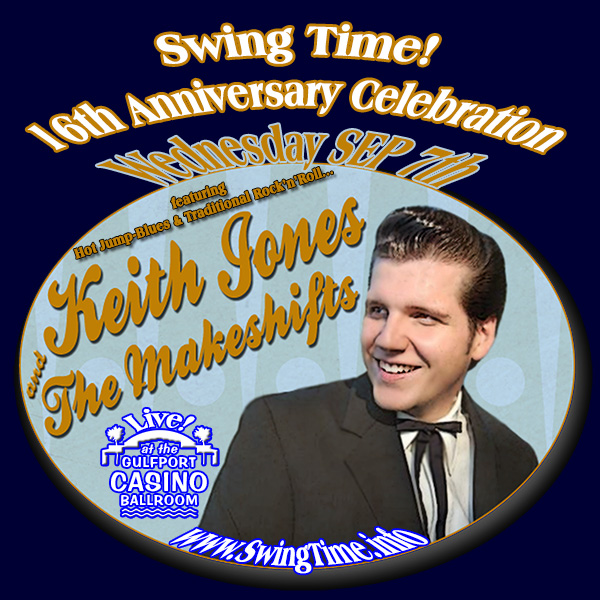 Keith Jones & the Makeshifts are one of the best musical groups to ever headline the Gulfport Casino. This Cincinnati band swings hot jump-blues and traditional rock'n'roll for your dancing pleasure, and they've been a huge hit with dancers every time they've played for us before. In fact, the band currently holds the Wednesday Swing Night attendance record!
Doors Open 5:45pm
Shim Sham Lesson 6-7pm
Swing Dance Lesson 7-8pm
Live Music & Dancing 8-11pm

* All Ages * No Partner Needed *
Huge Dance Floor — One of World's Best!
Beautiful Retro-Era Waterfront Dance Hall

Admission's just $12 (get your tickets at the door; cash only)
No free passes or student specials accepted on band nights
Full Bar ~ Prize Giveaways ~ Smoke-Free ~ Free Parking
Band Info Map & Directions Lesson Info
Upcoming Bonus Lessons (6-7pm) at Gulfport Casino Swing Night:
SEP 07 (Wed): Shim Sham
SEP 14 (Wed): West-Coast Swing
SEP 21 (Wed): Charleston Lines
SEP 28 (Wed): Shim Sham
This Sunday, September 11th, is Ballroom Fusion Night at the Gulfport Casino, with Hustle Lesson (Beginning) 6-7pm, Hustle Lesson (Beyond the Basics) 7-8pm, and Dancing 8-11pm. All social dancers from a diversity of dance scenes, ranging from Ballroom to Swing to Latin/Salsa to West-Coast to Tango to Blues and more, are invited to attend and help create this partner-dancing fusion. Swing Time welcomes special guest instructor, Tina Marie Price, who will teach Hustle lessons prior to the dance. Tina is an award-winning competitor, workshop instructor, and competition judge at Hustle and West-Coast Swing events across the USA. Tina has been dancing the Hustle for over 30 years and is originally from Cleveland Ohio, where she was a leader of the Cleveland Akron Swing & Hustle Club.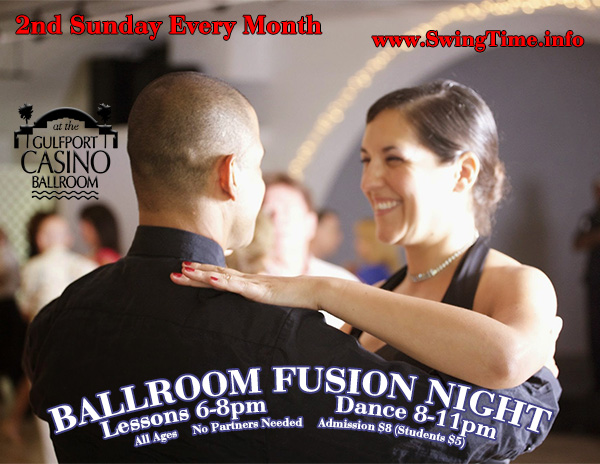 LESSONS 6-8PM
Hustle (Beginning): 6-7pm
Hustle (Beyond the Basics): 7-8pm
Special Guest Instructor, Tina Marie Price
DANCING 8-11PM
8-10pm: Modern Ballroom Dance Mix
10-11pm: Fusion Mix...Anything Goes
All Ages No Partners Needed Admission $8 (Students $5) Door Prizes
Ballroom Fusion Night is partnered social dancing "outside the box", featuring lessons and music for today's most popular partner dances, plus exciting new dance music! Ballroom Fusion Night is held the 2nd Sunday of every month at the Gulfport Casino.
The Gulfport Casino Ballroom is one of the world's top dance destinations, offering social dance excitement in a picturesque beachfront setting. It features a rich history, a grand dance floor, a full bar, a smoke-free atmosphere, and free parking. The Gulfport Casino Ballroom is located in the St. Petersburg, Florida area at 5500 Shore Blvd. S., Gulfport, FL 33707. Map & Directions
Upcoming Lessons/Instructors at Ballroom Fusion Night:
SEP 11 (Sun): Hustle Lessons (2 Levels) with Tina Marie Price
OCT 09 (Sun): West-Coast/Cha Cha Fusion Lessons with Tina Castle & Russ Morris
NOV 13 (Sun): Carolina Shag Lessons with Renee Lipman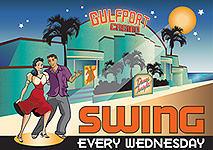 Wednesday, September 14th, is the Gulfport Casino Swing Night, with West-Coast Swing Lesson 6-7pm with Tina & Russ (grand finale WCS lesson, rescheduled from August 31st), East-Coast Swing Lesson 7-8pm with Sam & Teresa, and Dancing 8-11pm. Just $8 includes both lessons and the dance, and students get $5 admission. Is your birthday coming up? Celebrate your birthday at the Gulfport Casino Swing Night.
---
Spread the word! Join our events on Facebook and invite friends:
Swing Time's 16th Anniversary Celebration LIVE, WED 9/7
Ballroom Fusion Night, SUN 9/11
Lindy Hop Boot Camp III — Charleston Moves, SAT 9/17
Saturday Swing @ Simone Salsa, SAT 9/17

---
Get your registrations in for Saturday September 17th's Lindy Hop Boot Camp. Register online right now, or in person at Wednesday's Swing Time 16th Anniversary Celebration or Sunday's Ballroom Fusion Night. Registration is $30 by September 16th at 5:00pm, or $35 the day of event, and includes admission to that evening's Saturday Swing Dance!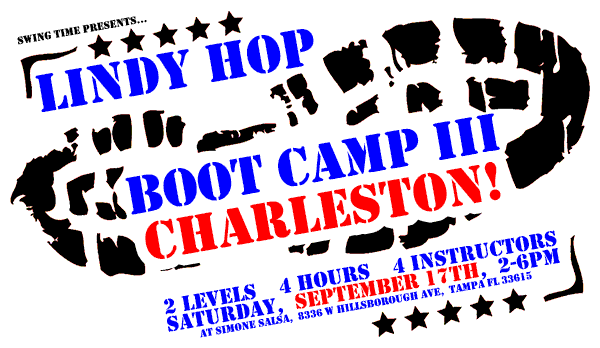 Swing Time presents Lindy Hop Boot Camp III, an intensive workshop that gives you the benefit of an entire four-week Lindy Hop course, all in one afternoon! This month's Boot Camp covers Charleston moves in Lindy Hop. Two levels are offered, with instructors determining your appropriate level. Lindy Hop Boot Camp happens Saturday, September 17th, 2-6pm, at Simone Salsa, 8336 W Hillsborough Ave in Tampa. No partners needed.
Level 1 (Beginning) — Learn Charleston Moves for Lindy Hop. No prior experience needed. Learn all of the major Charleston moves, positions, and variations in Lindy Hop, including Closed-Position, Side-to-Side, Hand-to-Hand, and Tandem Charleston, with dozens of moves/steps/variations in all! Learn good footwork, partnering, armwork, and posture. Level 1 features four hours of intensive instruction, drills, and practice, taking you step by step through the fundamental moves of Lindy-Charleston. Level 1 is taught by Sam Mahfoud & Teresa Ullman. (Click for instructor info.)
Level 2 (Intermediate) — Advance & Improve Your Lindy-Charleston. Level 2 is for dancers already proficient at Charleston (who can skillfully dance the Level 1 material). Learn intermediate-level Lindy-Charleston variations, entrances and exits, including flashy moves commonly seen in competitions! Expand and improve your Charleston footwork, partnering, armwork, and posture. Level 2 is taught by Tom Blair & Andrea Kugelman. (Click for instructor info.)
Lindy Hop Boot Camp is followed by the Saturday Swing evening dance, which is included in the price of your Boot Camp registration. Registration is $30 through September 16th at 5:00pm (Advance Registration), or $35 at the door (Day of Event). Register online right now to save $5.
SCHEDULE:
1:30-2:00pm – Doors Open, Registration, Warm Up
2:00-6:00pm – Boot Camp (includes breaks & practice time)
6:00-8:00pm – Dinner Break
8:00-9:00pm – Saturday Swing Dance Lesson (optional)
9:00pm-3:00 – Saturday Swing Dance
Online Registration & More Info
Saturday, September 17th is Saturday Swing in Tampa, with Swing Dancing 9pm-12:00, plus Blues Dancing Starting at Midnight! Join us at 8pm, prior to the dance, for the Swing Dance Lesson. $10 Admission includes both the lesson and the dance. All ages are welcome, no partners are needed, and prizes are given away at intermission. Doors open 7:45pm. Saturday Swing happens the 3rd Saturday of every month at Simone Salsa studio, 8336 W. Hillsborough Ave., Tampa, FL 33615.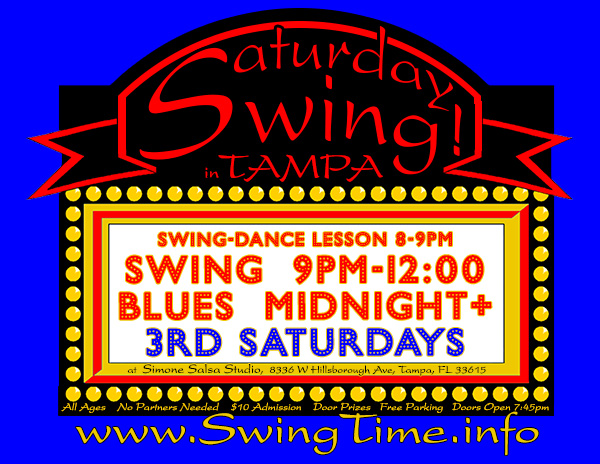 Simone Salsa's main studio on Hillsborough Avenue features awesome atmosphere, lighting, sound, and a large smooth hardwood dance floor. Address — It's located in the Home Design Plaza shopping center at 8336 W. Hillsborough Ave., Tampa, FL 33615. Parking — Simone Salsa has a big free parking lot just a few feet from its entrance. Drinks — You can BYO beverages to this venue. Bottled water and soft drinks are also available for purchase; they're in the kitchen's cooler; just drop a dollar per drink in the fishbowl.
---
Saturday September 24th, the Carrollwood Cultural Center hosts a Big-Band Dance & Concert with live music by the Sounds of Swing Orchestra. Dancing runs 7:45-10:00pm. Swing Time opens the event with dance lessons 6:30-7:45pm. Tickets are $12-$18. Get $13 tickets ($3 off) if you mention "Swing Time" when buying your tickets (phone or box office purchases only; discount deadline 6pm day before event). Visit the Cultural Center's link above for tickets or more information. The Carrollwood Cultural Center is located at 4537 Lowell Rd, Tampa, FL 33618; Phone 813-269-1310.
---
---
GET THE SWING NEWS Delivered to Your Email

© All contents of this web site (www.SwingNews.com) except where otherwise stated are Copyright 1998-2017 Retro Production Company with all rights reserved
---